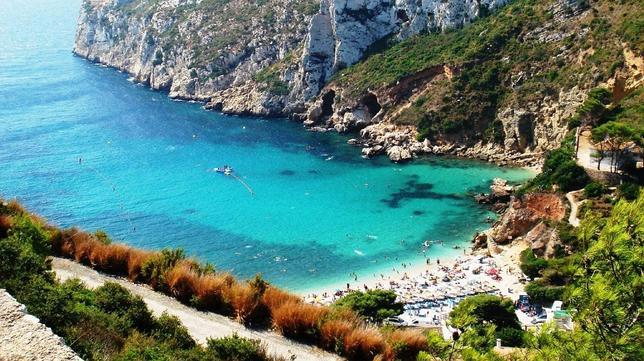 If you're planning a beach vacation in Spain, the Costa Blanca region is a great destination to consider. With miles of coastline and plenty of sun-soaked days, the area offers a wide range of beach options to choose from. To help you narrow down your choices, here are the top 10 beaches on the Costa Blanca, each with its own unique charm and attractions.
1. Playa La Granadella (Jávea)
Located near the charming town of Jávea, Playa La Granadella is a picturesque bay that forms a perfect horseshoe shape. Its stunning beauty, with intense blue waters, impressive cliffs, and Mediterranean pines, makes it one of the most magnificent beaches on the Costa Blanca. During the peak tourist season of July and August, the beach may get crowded, but you can still find some peace and quiet among the lovely pines that surround the bay. In addition to a beach bar and several nearby restaurants, Playa La Granadella is renowned for its snorkeling opportunities, thanks to its seagrass beds.
2. Playa El Altet (Alicante)
Playa El Altet, located approximately 10 kilometers south of Alicante near the small town of El Altet, is a pristine and unspoiled beach with a beautiful expanse of untouched sand. The beach is surrounded by protected dunes and can be accessed via a wooden boardwalk. There are no amenities or facilities available at the beach, so visitors should pack their own picnic, sunscreen, parasol, and plenty of water. However, the beach offers a peaceful and tranquil atmosphere, with crystal-clear waters that are ideal for swimming and relaxation.
3. Playa La Caleta de Villajoyosa (Villajoyosa)
Located just south of Villajoyosa, Costa Blanca, this hidden gem is one of the most beautiful coves on the Costa Blanca. Accessible via a dirt road, the cove is a well-kept secret among locals, with relatively few tourists visiting its shores. The rocky terrain cascades down to the intensely blue waters of the sea, creating a breathtaking vista that is sure to leave a lasting impression. Even during the peak tourist season, the beach remains relatively uncrowded, allowing visitors to fully enjoy the clean and transparent waters, perfect for snorkeling. The beach is covered in fine pebbles, so it's recommended to bring a comfortable surface to lie on. As there are no amenities or facilities available, visitors should pack a picnic and bring plenty of water for a day of relaxation at this secluded cove.
4. Playa de Tabarca (Alicante)
No trip to the Costa Blanca is complete without a day-trip to the picturesque island of Tabarca. The island, which is the smallest inhabited island in Spain, is accessible by ferry from Alicante or Sant Pola, with a short 5-kilometer journey to the island. Although there is only one small sandy beach on the island, visitors can explore the rocky coastline to discover secluded pebbled coves. The surrounding waters of Tabarca are a protected marine reserve, making it a popular spot for diving and snorkeling, with some of the best sites found in the region. Visitors can either bring their own picnic or indulge in a delicious meal at one of the island's restaurants.
5. Playa de Levante de Benidorm (Benidorm)
As the capital of Costa Blanca, Benidorm boasts two of the most exceptional sandy beaches on the entire Mediterranean coast. With a length of over two kilometers, the beach offers a wide range of amenities, from beach bars to sunlounger rentals, as well as thrilling activities like jet-skis and banana boats. Younger children will enjoy the play areas, while older and more confident swimmers can have fun on the diving boards and wet playgrounds located in the sea. The calm waters and gentle beach shelf make it a perfect location for families to enjoy a safe and relaxing beach day.
6. Playa Racó de l'Albir de Alfaz del Pi (Altea)
Located south of Altea, this beach is a popular destination for visitors. Despite its modest length of only 500 meters, it offers a wide range of amenities, including lifeguard posts (during summer), water sports activities, beach bars, sunlounger rentals, and showers. The promenade behind the beach is lined with shops, bars, and cafés, providing ample opportunities for visitors to enjoy their day out. However, the real attraction lies in the inviting cliffs and woods at the southern end of the bay, which is part of the Serra Gelada nature reserve. Visitors can take a hike up to the lighthouse and marvel at the stunning views or simply bask in the cool, pine-scented air of the woods.
7. Playa Les Marines (Denia)
Les Marines beach is a vast, expansive beach made of shimmering golden sand that extends approximately 3 kilometers north of the town center, making it easy to find a spot for your towel even during peak season. Due to its sheltered location and gentle slope into the sea, it is particularly popular among families. This beach has earned the coveted Blue Flag status and offers a wealth of amenities, including lifeguards (during summer) and beach bars for refreshments. Numerous restaurants and cafés are situated right behind the beach, and it also provides a magnificent viewpoint for admiring Denia's castle.
8. Playa de La Fossa de Calpe (Calpe)
One of the most attractive beaches in Calpe is also the second largest, boasting beautiful, light-colored sand. This beach extends northward for about a kilometer from the Penyal d'Ifach, the towering rock formation that is the area's most prominent landmark. The beach has been awarded Blue Flag status due to its crystal-clear waters and exceptional facilities, and there is a wide range of dining and drinking options along the seafront promenade that runs parallel to it. If you wish to ascend the Penyal, make sure to reserve your spot in advance as it is a nature reserve with restricted access, and only a limited number of tickets are available each day to hike to the summit.
9. Playa La Roda de Altea (Altea)
Prepare yourself for the pebbles by wearing a pair of waterproof shoes or jellies and bringing a comfortable beach mat, and you can spend a delightful day at this one-kilometre-long beach in the charming town of Altea. The water is clean and alluring, and a long wooden walkway runs the length of the beach, perfect for a leisurely stroll. During the summer, there are plenty of additional activities, and the coastline is ideal for snorkelling.
10. Playa San Juan (Alicante)
Stretching for three kilometers, this vast Costa Blanca sandy beach on the outskirts of Alicante is flanked by a plethora of bars, restaurants, and clubs that stay open until the wee hours of the morning during summer. Water sports enthusiasts will find plenty of options to choose from, including windsurfing, kayaking, and more. The beach also boasts facilities like beach bars, lifeguard stations (open in summer), fitness areas, and playgrounds for children. Conveniently, visitors can take the tram from central Alicante to reach the beach in just a few minutes.