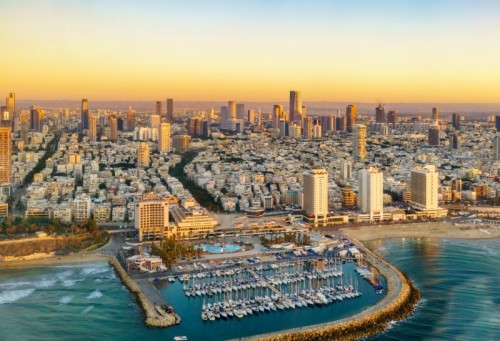 Wizz Air Opens Flights to Tel Aviv from Barcelona. Wizz Air and the Barcelona Air Route Development Committee (BARDC) meet today at Josep Tarradellas Barcelona – El Prat Airport to welcome a new route to Tel Aviv Ben Gurion International Airport. Tickets are available now on wizzair.com starting from EUR 54.99.
Wizz Air will offer flights to Tel Aviv from Barcelona throughout the year, with 4 weekly frequencies on an Airbus A321 NEO aircraft, which offers a capacity of 239 seats.
The airline, which has started its operation back in 2004 in Barcelona, in the very year when it started its operation is now flying to Tel Aviv as well, making it its 20 destination being offered from the capital of Catalunya.
Tel Aviv is the Israeli NONSTOP CITY, offering a combination of culture, history, entertainment, strong High-tech ecosystem and great beaches, young and old, tourists and locals, Jews, Muslims and Christians. In Tel Aviv you can find an excellent culinary scene, as well as cafes, bars and clubs, historical sites, and impressive museums.
It is also recommended to go to the southern part – Jaffa – and enjoy 3500 years of history on one hand, and modern entertainment places on the other. All of these of course in front of the beautiful beach where you can find young surfers and old fishermen. In Jaffa you can see the magic of combining different religions and people from different backgrounds, living side by side.
Wizz Air flights to Turkey are back, and flights to Istanbul, Antalya and Dalaman will commence as of March 2023