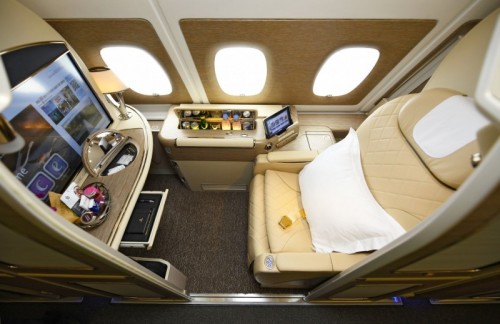 The first retrofitted A380 to be completely refurbished under the airline's US$ 2 billion retrofit program has been deployed today on the Dubai-London Heathrow service, operating as EK003.
The fully retrofitted A380 features Emirates' latest products and interiors across all cabins, including 56 Premium Economy class seats on the main deck, and new colour palettes evident in the carpeting and wall panels. On the upper deck, First and Business Class seats sport Emirates' latest cream-coloured leather upholstery and lighter-toned wood finishing, similar to the airline's 'game changer' product. Emirates' signature ghaf tree motif also features prominently throughout the interiors, including hand-stencilled panels in the First Class Shower Spa.
The next Emirates A380 aircraft lined up for its make-over is A6-EUW, and work is expected to be completed by the end of this month.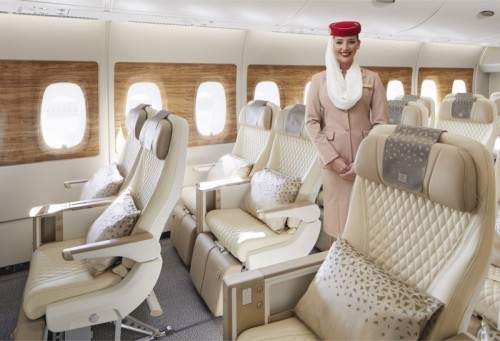 As the program progresses, engineers will work simultaneously on 2 aircraft. This means that one aircraft in the fleet will be withdrawn from service every eight days and transferred to Emirates Engineering facilities. By 2024, all 67 A380s assigned for refurbishment will have returned to service. Emirates will then begin work on its 53 Boeing 777s earmarked for this project. The airline expects to complete the program in 2025.
To deliver the largest known aircraft refurbishment program in aviation history, Emirates recruited 190 new project personnel, and is working with 48 major partners and suppliers who have also hired hundreds of skilled workers.
Teams of engineers and technicians have worked round the clock, taking apart the entire interior of the A380 and refitting the parts again in a carefully planned and tested sequence.
This ambitious project, representing a multi-billion dollar investment to ensure Emirates' customers "fly better" for the coming years, officially commences in November and is managed entirely by Emirates' Engineering team.
The target is to completely retrofit four Emirates aircraft from start to finish every month, continuously for over 2 years. Once the 67 earmarked A380s are refreshed and back in service, 53 777s will undergo their facelift. This will see nearly 4,000 brand new Premium Economy seats installed, 728 First Class suites refurbished and over 5,000 Business Class seats upgraded to a new style and design when the project is complete in April 2025.
In addition, carpets and stairs will be upgraded in Retrofitted A380, and cabin interior panels refreshed with new tones and design motifs including the iconic ghaf trees which are native to the UAE.
No other airline has handled a retrofit of this magnitude in-house, and there's no blueprint for such an undertaking. Therefore Emirates Engineering teams have been planning and testing extensively, to establish and streamline processes, and identify and address any possible snags.