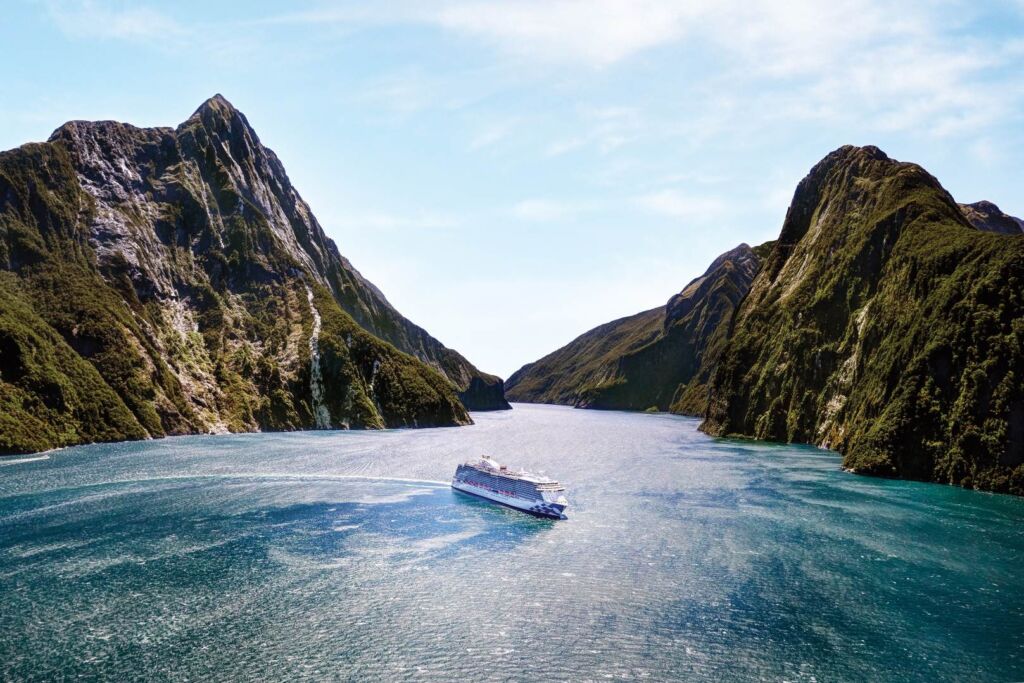 Milford Sound, New Zealand
New Zealand which had one of the world's strictest restrictions during the pandemic has opened its borders to international travelers.
According to New Zealand immigration authorities, the country is ready to welcome all foreign visitors with adequate travel documents like a visa or NZeTA.
Who Can Travel to New Zealand Now?
At present, New Zealand immigration accepts travelers with a visitor visa, a student visa, or a work visa.
International travelers who are planning to holiday in the island nation can apply for a visitor visa.
Citizens of certain countries that are eligible for a visa waiver can apply for an electronic travel authorization (NZeTA) to explore the country for a short term. They do not need a visitor visa.
A New Zealand visitor visa or a NZeTA allows foreign travelers to come to the country as a visitor. They can also take up short-term courses and attend job interviews.
A New Zealand student visa lets foreign students pursue various long-term courses in educational institutions approved by the country's government or NZ Qualification Authority (NZQA) provided they have enough money to pay tuition fees, or have a scholarship.
They also need to prove that they have enough money to support themselves during their stay.
A New Zealand work visa allows foreign citizens to engage in paid employment in the country.
To apply for this visa type, foreigners need to possess particular skills, qualifications, expertise and experience. Some of the work visas can later be converted to residence visas.
COVID-19 Testing/Vaccination Requirements to Visit NZ
All international travelers must meet certain requirements to be able to travel to, transit, or leave the country. This includes rules and regulations related to COVID-19 testing and vaccination.
Complete the NZ Travel Declaration
All travelers including minor children, infants, citizens, and permanent residents of New Zealand must complete this declaration to be able to enter, leave or transit through the country.
To complete the New Zealand Travel Declaration, travelers need to submit information such as the date of arrival, flight name and number, passport information, and contact details.
They also need to declare the name of the countries that they visited in the last 14 days and details of a person who can be contacted in case of emergencies.
Before starting the declaration, all travelers must fill out a form with basic details like their name, date of birth, nationality, passport information, and contact details including an email address.
Once they complete the travel declaration, all applicants will get a travel pass.
What Is a NZ Travel Pass?
All travelers who have completed the travel declaration and who meet all the requirements will receive a travel pass in their email.
This pass will contain a QR code. This code can be scanned and read by a machine and will be unique to each and every traveler.
The QR code will be valid for the duration of the journey.
Travelers can either take a printout of the pass or can save it in their cell phones.
Passengers who are eligible to use the eGate system at international airports in the country can scan the pass at the smart gates. Their details will be automatically registered.
At NZ Airport
According to the latest update by the government of New Zealand, travelers and airline crew do not need proof of COVID-19 vaccination to enter the country.
However, some airlines still may ask passengers and staff to submit a COVID-19 vaccination certificate. Travelers are encouraged to check with the airlines before booking the flight.
All travelers will get a free rapid antigen test (RAT) once they land at an international airport in the country. They are required to take the test on the day of arrival in New Zealand and on the fifth or sixth day.
In case one of these RAT tests gives a positive result, they have to report it to the authorities. They can call 0800 432 010, if they are using a New Zealand phone number or can contact +64 9 954 6118, if they are using an international SIM card.
Traveling by Sea
As per the latest update issued by the government of New Zealand in September 2022, travelers arriving in the country by sea are not required to provide a COVID-19 vaccination certificate.
Those who are coming on board Category 1 vessels such as cargo ships do not need to even take a test if they wish to enter the community.
However, those who came in contact with COVID-19-positive patients are encouraged to take RAT tests for five days consecutively.
On a cruise ship, those who traveled in the same cabin with a COVID-19-positive person need to take the test while on other ships all passengers on board are advised to take RAT tests for five days.
Advanced Notice of Arrival (ANA)
The owner or the master of a ship should submit an advanced notice of arrival at least 48 hours before anchoring at a New Zealand seaport.
This advanced notice is a legal requirement and should be emailed to the authorities, failure of which can lead to prosecution of the owner/master of the ship.
They are also required to submit a Maritime Declaration of Health even if there is no illness reported on board the vessel.
Apart from the above document the master/owner of the ship has to provide a No Change of Health Status Report to the Medical officer.
If a traveler tests positive for COVID-19 while on board the ship, he/she needs to self-isolate for seven days. He/she may be allowed to disembark in special cases.
The COVID-19-positive traveler who is permitted to disembark should strictly adhere to COVID-19 protocol like wearing a PPE kit and mask.
Testing COVID Positive in NZ
Foreigners who test positive while in New Zealand have to self-isolate for at least seven days.
It is their responsibility to find a place to stay in isolation.
They can either extend their stay in the current accommodation or book another place.
They are also expected to meet all the additional expenses related to the extended stay.
International travelers who are COVID-19-positive cannot take any commercial flight, long-distance road travel, or a ferry to their next accommodation. They can, however, make private travel arrangements. The government of New Zealand encourages such travelers to book a nearby hotel or motel.
They may need to cancel or reschedule their return or onward flights and are liable to bear the additional costs.
If they require medical care, they will have to pay for it.
All travelers coming to New Zealand are encouraged to get travel and medical insurance as they are responsible for all the expenses while touring the country.
They can also contact their respective embassies in case of emergencies.
Citizens and permanent residents of Australia and citizens of the UK are entitled to certain benefits. They can pay what a NZ citizen will have to pay for treatment because of the reciprocal health agreement between their governments and New Zealand.
Proof of Vaccination for Leaving NZ
Travelers including New Zealand citizens may need to submit proof of COVID-19 vaccination if they are planning to visit a foreign country that requires it.
The government of New Zealand issues an international travel vaccination certificate to all travelers including children above five years of age. The certificate is issued only for vaccine doses taken inside the country.
They can download the documents from My COVID Record, an official website launched by the NZ government. The certificate will have a unique QR code with information about the number of vaccine doses and dates.