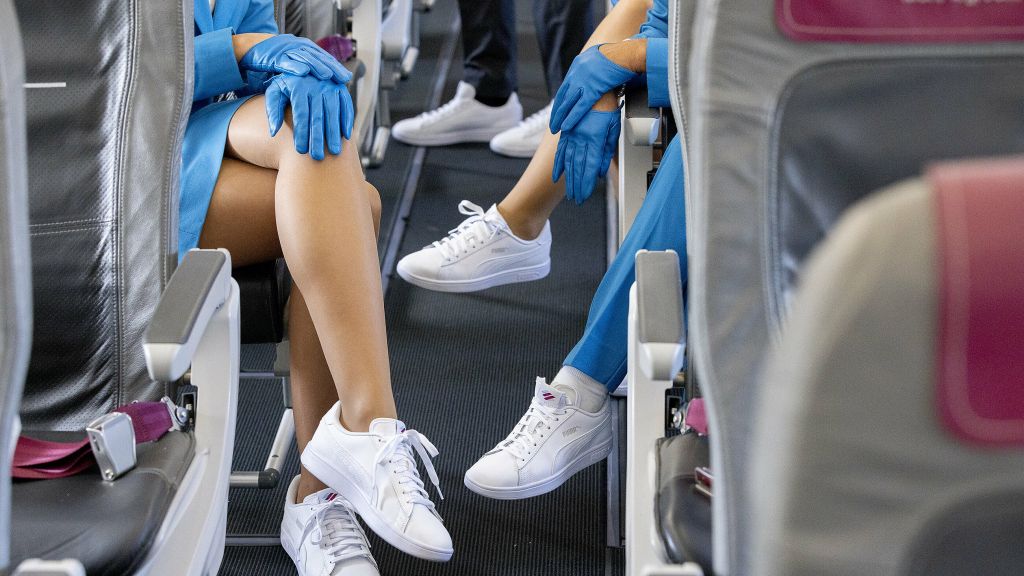 Eurowings doesn't just want to create a fashionable eye-catcher uniform but is also responding to the desire of its employees for an athletic travel companion- unveiling new flight attendant shoes – sneakers. As a token of appreciation for all the extra miles Eurowings employees went during the pandemic, they received free sports shoes from the airline's cooperation partner Puma at the beginning of September.
From now on, employees can wear the all-white sneakers with the Eurowings logo: not only privately and in the office, but also on board Eurowings flights – on selected Fridays, the so-called "Sneaker Flydays". The next Sneaker Flyday will take place on Friday, 7 October, and on the first Friday of each month after that.
A sports shoe to go with your uniform? Sneakers as part of the business look? While it would have been unthinkable in the past to wear sports shoes in the business world, today sneakers are suitable almost anywhere in the world and for any occasion. Like almost no other piece of clothing, the sneaker symbolizes the change in the zeitgeist that combines business and casual with an easygoing dress code.
The evolution of white sports shoes is remarkable: from "outsider" to "mainstream" to the veritable "sneaker mania" of today that sees sports shoes traded like expensive shares on the stock market or sold to the highest bidder at major auction houses. This should prove that sneakers – like jeans before them – have become an established product of the fashion industry.
Eurowings is now aiming to show that the sporty outfit is also a good match for its realignment as a value airline – far beyond Germany's borders. In addition to Eurowings Germany, the Eurowings Europe flight operations will also be taking part in the "Sneaker Flydays" – with sports-themed stops at the Mallorca, Stockholm, Prague, Salzburg and Pristina stations.