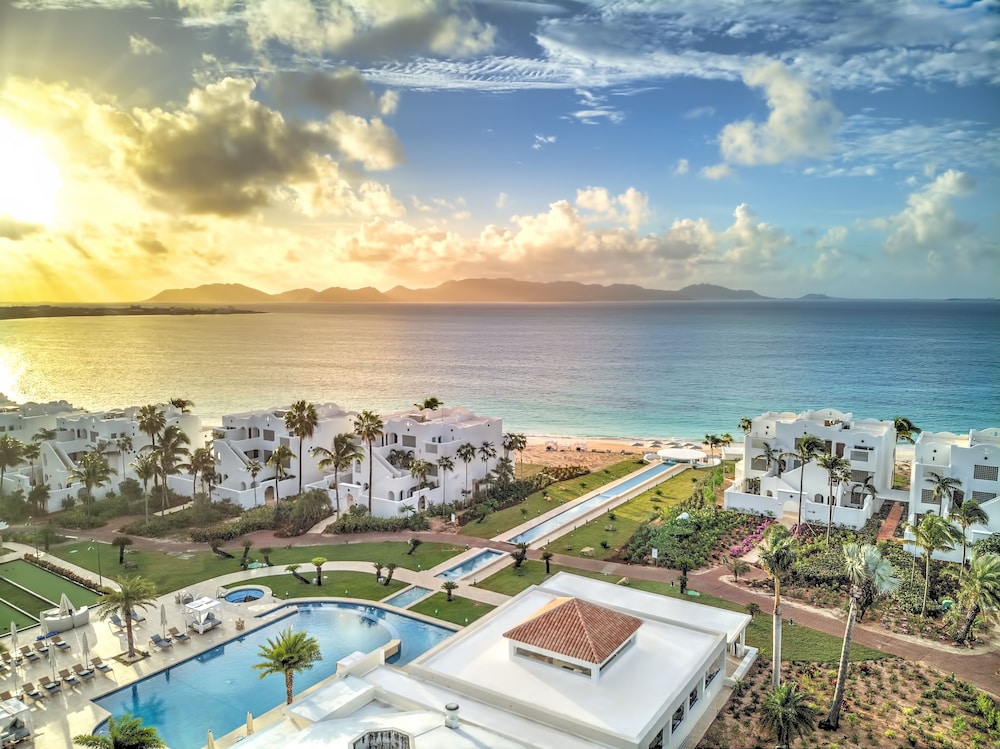 Anguilla is a northern Caribbean island chock-full of five-star luxury resorts, 33 beaches, and a booming culinary scene. Let's check what's new here.
Aurora Anguilla Resort & Golf Club, formerly CuisinArt Aurora Anguilla, debuted in 2021 under new ownership by Olympus Ventures. The re-imagined resort on the idyllic white-sand beaches of Rendezvous Bay features world-class amenities, including seven restaurants and bars, an 18-hole Greg Norman Signature Design championship golf course, and a holistic spa. The resort also possesses a fleet of jets exclusively for resort guests, which would mean offering private charter services to select U.S. markets.
ÀNI Private Resorts has unveiled plans for a second development on Anguilla. The 15-suite estate will be located on Shoal Bay and is planned for a 2024 opening. It will have a tennis court, a gym, an ÀNI Spa, a beach-fronted pavilion for living and dining and experiential pursuits such as a waterslide. The hotel will offer a 1-to-1 guest-to-staff ratio and all of ÀNI's signature services and amenities.
Each of ÀNI's private villa estates accommodates up to 20 or 30 individuals across just 10 to 15 suites. A stay at ÀNI is all-inclusive, from every personalized meal and spa treatment, to tailored excursions and kids' activities. This means no hidden costs or price lists. Stand-out guest privileges include up to 15 spa treatments per day (number dependent on resort), cooking classes, dance classes, personal training, sunset boat trips, local guided tours, cultural shows and rituals, visits to ÀNI Art Academies, various youth entertainment and babysitting. With reservations starting from a minimum of six suites for five nights, ÀNI Private Resorts offer rates starting from $13,000 per night for six suites.
As of Dec. 11, 2021, American Airlines launched a new route from Miami to Anguilla's International Airport (AXA) making it easier for travelers to get to the Caribbean island. Silver Airways commenced service from San Juan to Anguilla in 2021. The summer flights will operate twice weekly between the Luis Muñoz Marin International Airport in San Juan, Puerto Rico and the Clayton J. Lloyd International Airport in Anguilla through August 6, 2021.