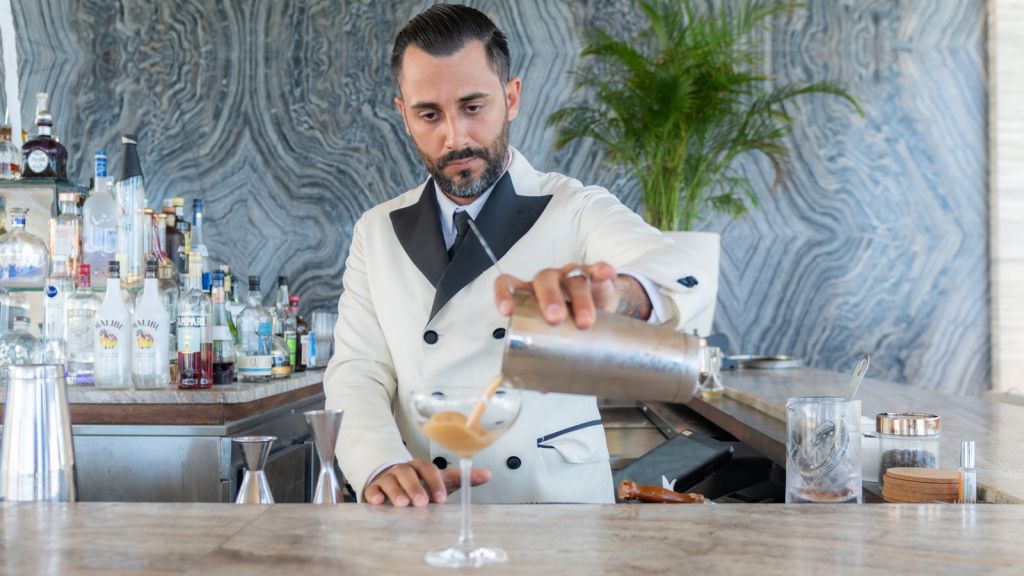 In celebration of the festive season, the island's most joyous, and busiest time of year, Four Seasons Anguilla will further develop its array of dynamic guest experiences and offerings by way of collaborations with internationally renowned experts in fitness, entertainment and mixology.
Four Seasons Anguilla remains one of the premier beachfront resorts in the Caribbean, an idyllic island destination, and an ongoing host to an ever-exciting programming roster. Beginning November 21, 2022 through January 2, 2023, the Resort will showcase a series of acclaimed talent:
Ring in the New Year to the rhythm of DJ Tay James: Justin Bieber's DJ and A&R at Sunset Lounge – December 31, 2022:
This year, DJ Tay James: Justin Bieber's DJ and A&R will headline the Resort's New Year's Eve celebration showcasing his original take on the rhythms of the island all night long. DJ Tay James has performed on some of the country's highest-rated television shows, including The Oprah Winfrey Show, The Ellen DeGeneres Show, Tonight Show with David Letterman, and NBC's The Today Show. The celebration will take place on December 31, 2022 at the Resort's Sunset Lounge and is exclusively open to hotel guests.
Train Like a Champion with 2-time Golden Gloves Boxing Legend and Iconoclast Fitness Founder Ngo Okafor – December 22, 2022 – January 2, 2023:
New York-based fitness guru and motivational expert Ngo Okafor returns to the Resort for his second residency on property. Okafor is known for his success as the 2-time Golden Gloves boxing champion and his prestigious reputation as one of the finest fitness trainers in the country among his celebrity clientele, including Brooke Shields, Chanel Iman, Naomi Campbell, Mariska Hargitay, Iman, and Jennifer Lopez. Available classes include Blast and Burn (Monday-Friday) 45-minute strength and conditioning series designed for extreme calorie burning and lean muscle mass building; Sculpt and Tone (Monday, Wednesday and Friday) 45-minute sculpt series using controlled movements with minimal resistance; and Awaken + Refresh (Tuesday and Thursday) 30-minute, oceanside stretching and meditation series. The 10-day residency will take place over Christmas and New Year's and will be available for guests to book at their leisure during their visit to the Resort.
Award-winning mixology maestro Valentino Longo returns to Sunset Lounge – December 21, 2022 – January 1, 2023:
The Resort's famed Sunset Lounge welcomes back Miami-based Italian mixologist Valentino Longo for a festive season residency. Offering a special menu that revisits classic cocktails from his homeland, infused with an Anguillian twist, the award-winning mixologist has an impressive background working within the Four Seasons family. Formerly Head Bartender at Four Seasons at The Surf Club and now Founder of Shōshin Art Club, Valentino has specially curated a collection of unique cocktails available nightly over the course of his residency.
Indulge in fun for the whole family with Camp Manitou at Anguilla – December 19-31, 2022:
The Resort's annual Camp Manitou at Anguilla returns from December 19-31, 2022. Offering endless fun and adventure for guests ages 9-17, the activity-filled day camp offers a range of experiences from pizza and pasta-making classes to snorkelling, paddle boarding, night kayaking, star-gazing, s'mores making, and much more. Enrolment is priced at USD 225 per person.
Anguilla is the soulful heart of the Caribbean, a peaceful oasis abounding with turquoise waters, vast blue skies, soft white sand, and endless sunshine. Often considered a private island-style paradise, Four Seasons Anguilla is the ultimate getaway providing guests with tranquility, seclusion, world-class food and beverage, and the finest of amenities.
For those who have yet to book their holiday travels, American Airlines will expand daily service from Miami to Anguilla with the addition of two flights every Saturday starting November 3, 2022.