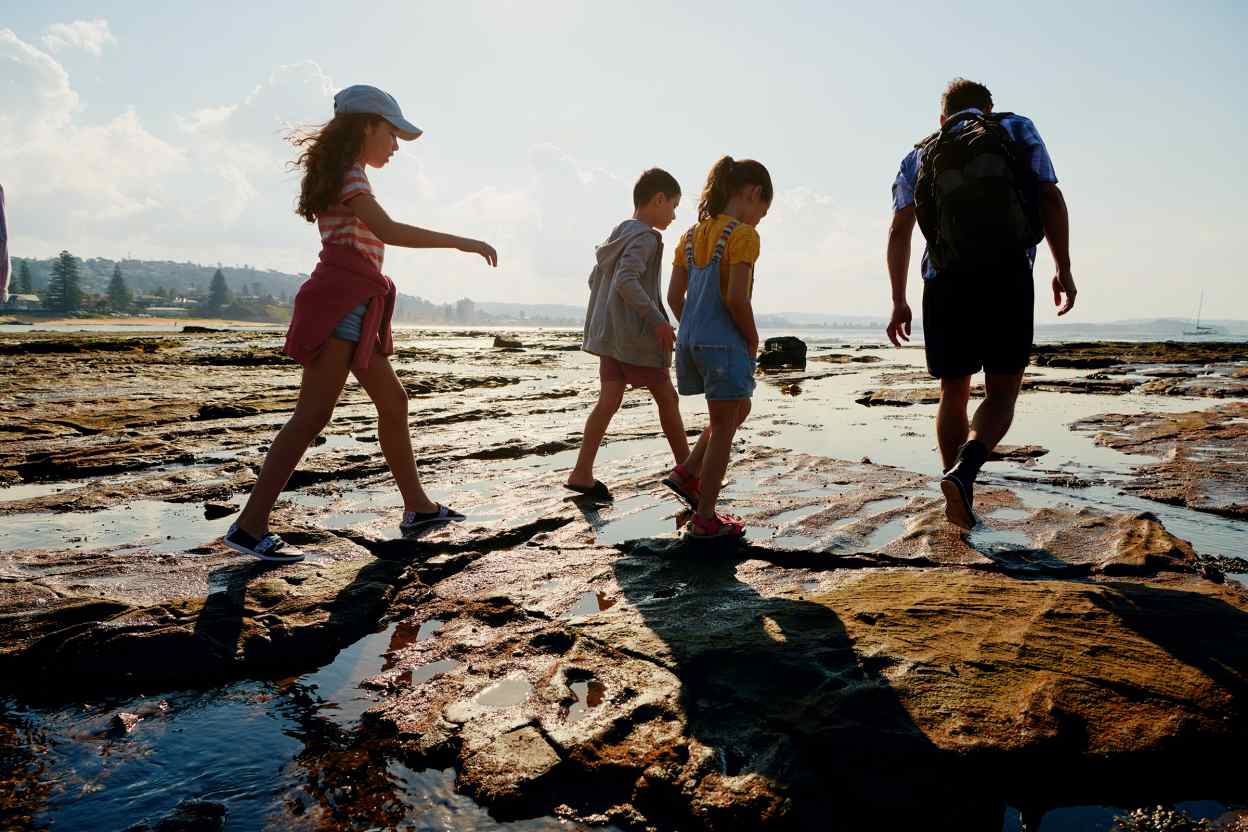 WhereverFamily, Global Traveler's sister web publication, is the trusted source for family travel, bringing readers daily content on all things family travel at a variety of budgets, destinations, familial configurations and much more. Readers from whereverfamily.com selected their favorites in the world of travel during the voting period, and now it's time for fun and celebration as we announce those winners. Congratulations to all the honorees in 2022 Wherever Awards, now in its fifth year.
Let's start with the family-friendly skies. United Airlines wins Best Family-Friendly Domestic Airline for the third year, alongside its MileagePlus program, Best Family-Friendly Frequent-Flyer Program, also three years running. Air Canada again takes home two honors: Best Family-Friendly Airline in North America, fourth year in a row, and Best Family-Friendly International Airline, third consecutive year. Let's also take a moment here to acknowledge the winning airports in this year's survey: For the third year in a row, Chicago Midway Airport is Best Family-Friendly Domestic Airport; its international counterpart is Istanbul Grand Airport, Best Family-Friendly International Airport.
Miami International Airport takes home its second nod for Best Family-Friendly Airport Dining, and two-time Best Family-Friendly Airport Shopping winner is Hartsfield-Jackson Atlanta International Airport. And whether you fly and drive upon arrival or road trip with the fam to your destination, choose Hertz, Best Family-Friendly Rental Car Company for the second consecutive year.
Where to pick for your family to lay their heads during travel? Choose Marriott Hotels & Resorts, Best Family-Friendly Hotel Chain and Best Family-Friendly Resort Chain. Upsetting a three-time winner in this category, Four Seasons Resort Orlando at Walt Disney World earns the title of Best Family-Friendly Individual Hotel. Sonesta Travel Pass makes its first appearance on the winners' list for Best Family- Friendly Frequent-Stay Program. Another first-timer on the scene: Club Med, winning Best Family-Friendly All- Inclusive Hotel and Best Family-Friendly Hotel Kids Club for its Club Med, Sandpiper Bay, Florida. We have a tie for Best Family-Friendly Pet Hotel: Ascend Collection and InterContinental Hotels & Resorts are both tops when it comes to your four-legged family members.
It's no surprise Disney makes several appearances on a list of bests in family travel. Its Adventures by Disney takes two honors: Best Family-Friendly Domestic Tour Company and Best Family-Friendly International Tour Company. Disney Vacation Club walks away with the Best Family-Friendly Vacation Club title, while Disney Cruise Line earns a nod for its Oceaneer Club, voted Best Family- Friendly Cruise Line Kids Club. Magic Kingdom in Walt Disney World is Best Family-Friendly Amusement Park.
Now is a perfect time to segue into our next category: the family-friendliest cruise lines. Celebrity Cruises is Best Family-Friendly Cruise Line, and Seabourn takes the honor of Best Family-Friendly MultiGen Cruise Line.
It can be expensive to take the whole clan on a first-rate getaway, and earning credit card points toward travel can be a smart decision for family travel. Our two credit card winners this year are also five-year winners — earning their titles for every year of the survey's life. As such, they receive the honor alongside induction into our Quint Status list of winners. Chase United Explorer Card is Best Family-Friendly Credit Card, and Marriott Bonvoy Boundless Card from Chase is Best Family-Friendly Credit Card Rewards Program.
We've covered how to get there, where to stay and even how to pay, but now let's look at the all-important where to. Three-time winner Tahiti is Best Family-Friendly International Destination. Domestically, Charleston, South Carolina, is Best Family-Friendly Domestic Destination for the second year in a row. For the third consecutive year, Dominican Republic is Best Family-Friendly Caribbean Island. In the Northeast, Ocean City, Maryland, wins Best Family-Friendly Beach Town, Northeast/Mid-Atlantic, while Virginia Beach takes that honor for the third time as Best Family-Friendly Beach, Southeast.
Three Florida cities represent Best Family-Friendly Beach Towns based on location: West Palm Beach, best in the east, with Sanibel Island in the west and Mexico Beach in the panhandle. Dauphin Island, Alabama, is Best Family-Friendly Beach Town, Gulf Coast; with other domestic winners including Galveston, Texas, Best Family-Friendly Beach Town, Texas; Huntington Beach, California, Best Family- Friendly Beach Town, West Coast; and Lanai City, Lanai, Best Family-Friendly Beach Town, Hawai'ian Islands. Ireland makes a repeat appearance as Best Family-Friendly Multigenerational Destination of the Year. Great Wolf Lodge rounds out our list of the best as Best Family- Friendly Waterpark.
Best Family-Friendly Domestic Airline
1. United Airlines
2. Delta Air Lines
3. Alaska Airlines
Best Family-Friendly Airline in North America
1. Air Canada
2. United Airlines
3. Delta Air Lines
Best Family-Friendly International Airline
1. Air Canada
2. TAP Air Portugal
3. United Airlines
Best Family-Friendly Frequent-Flyer Program
1. United MileagePlus
2. Southwest Rapid Rewards
3. Air Canada Aeroplan
Best Family-Friendly Hotel Chain
1. Marriott Hotels & Resorts
2. InterContinental Hotels & Resorts
3. Hilton Hotels
Best Family-Friendly Resort Chain
1. Marriott Hotels & Resorts
2. InterContinental Hotels & Resorts
3. Sonesta Hotels and Resorts
Best Family-Friendly Individual Hotel
1. Four Seasons Resort Orlando at Walt Disney World
2. Atlantis Paradise Island, Bahamas
3. Four Seasons Resort Seychelles
Best Family-Friendly Frequent-Stay Program
1. Sonesta Travel Pass
2. Marriott Bonvoy
3. IHG Rewards Club
Best Family-Friendly All-Inclusive Hotel
1. Club Med
2. Hyatt Ziva
3. Paradisus
Best Family-Friendly Pet Hotel
1. Ascend Collection/InterContinental Hotels & Resorts (TIE)
2. Kimpton Hotels & Restaurants
3. Sonesta Hotels and Resorts
Best Family-Friendly Hotel Kids Club
1. Club Med, Sandpiper Bay, Florida
2. Sea Island, Georgia
3. Atlantis Paradise Island, Bahamas
Best Family-Friendly Vacation Company
1. Disney Vacation Club
2. Marriott Vacation Club
3. Holiday Inn Club Vacations
Best Family-Friendly Domestic Tour Company
1. Adventures by Disney
2. REI Adventures
3. National Geographic Family Journeys
Best Family-Friendly International Tour Company
1. Adventures by Disney
2. Lindblad Expeditions
3. GOAWAY
Best Family-Friendly Cruise Line
1. Celebrity Cruises
2. Disney Cruise Line
3. Viking Ocean Cruises
Best Family-Friendly MultiGen Cruise Line
1. Seabourn
2. Azamara
3. Uniworld Boutique River Cruises
Best Family-Friendly Cruise Line Kids Club
1. Disney Cruise Line Oceaneer Club
2. MSC Cruise Line Junior Club
3. Royal Caribbean Adventure Ocean
Best Family-Friendly Credit Card
1. United Explorer Card from Chase
2. Marriott Bonvoy Boundless Card from Chase
3. Alaska Airlines Visa Signature Card
Best Family-Friendly Credit Card Rewards Program
1. Marriott Bonvoy Boundless Card from Chase
2. Sonesta Stay Rewarded Bank of America Mastercard
3. Alaska Airlines Visa Signature Card
Best Family-Friendly International Destination
1. Tahiti
2. Italy
3. Costa Rica
Best Family-Friendly Domestic Destination
1. Charleston, South Carolina
2. Savannah, Georgia
3. Arizona
Best Family-Friendly Caribbean Island
1. Dominican Republic
2. Aruba
3. Jamacia
Best Family-Friendly Beach Town, Northeast/Mid-Atlantic (Maine-Maryland)
1. Ocean City, Maryland
2. Kennebunkport, Maine
3. Boothbay Harbor, Maine
Best Family-Friendly Beach Town, Southeast (Virginia-Georgia)
1. Virginia Beach, Virginia
2. Savannah, Georgia
3. Hilton Head Island, South Carolina
Best Family-Friendly Beach Town, Florida (East)
1. West Palm Beach, Florida
2. Amelia Island, Florida
3. St. Augustine, Florida
Best Family Friendly Beach Town, Florida (West)
1. Sanibel Island, Florida
2. Siesta Key, Florida
3. Marco Island, Florida
Best Family-Friendly Beach Town, Florida (Panhandle)
1. Mexico Beach, Florida
2. Fort Walton Beach, Florida
3. Seagrove Beach, Florida
Best Family-Friendly Beach Town, Gulf (Alabama/Mississippi/Louisiana)
1. Daulphin Island, Alabama
2. Orange Beach, Alabama
3. Gulfport, Mississippi
Best Family-Friendly Beach Town, Texas
1. Galveston, Texas
2. Corpus Christi, Texas
3. Seabrook, Texas
Best Family-Friendly Beach Town, West Coast
1. Huntington Beach, California
2. Laguna Beach, California
3. Monterey, California
Best Family-Friendly Beach Town, Hawai'ian Islands
1. Lanai City, Lanai
2. Waikiki, Oahu
3. Kailua-Kona, Big Island
Best Family-Friendly Multigenerational Destination of the Year
1. Ireland
2. Greece
3. Italy
Best Family-Friendly Amusement Park
1. Magic Kingdom, Disney World, Orlando, Florida
2. Sesame Place, Langhorne, Pennsylvania
3. Hersheypark Hershey, Pennsylvania
Best Family-Friendly Waterpark
1. Great Wolf Lodge
2. Schlitterbahn Waterparks Resorts, South Padre Island, Texas
3. Aquatica by SeaWorld
Best Family-Friendly Rental Car Company
1. Hertz
2. Sixt
3. National Car Rental
Best Family-Friendly Domestic Airport
1. Chicago Midway Airport
2. Chicago O'Hare International Airport
3. Orlando International Airport
Best Family-Friendly International Airport
1. Istanbul Grand Airport
2. Hamad International Airport, Doha
3. Incheon International Airport
Best Family-Friendly Airport Dining
1. Miami International . Airport
2. Hamad International Airport, Doha
3. Chicago International Airport
Best Family-Friendly Airport Shopping
1. Hartsfield-Jackson Atlanta International Airport
2. Orlando International Airport
3. Miami International Airport
Family Innovator of the Year, Airline
Southwest Airlines
Family Innovator of the Year, Hotel
Great Wolf Lodge
Family Innovator of the Year, Resort
Club Med
Family Innovator of the Year, Rental Car
Sixt
Family Innovator of the Year,
Disney Cruise Line
Family Innovator of the Year, Destination
Ireland