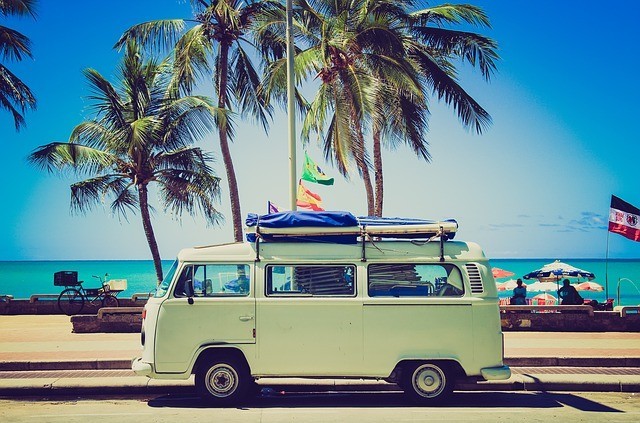 Summertime is camping time! Moving all your stuff into a camper, discovering new places every day, enjoying long summer nights at the campsite – sounds good? Then it's high time to plan your very own camper trip! These five routes are perfect for a summer adventure with a motorhome.
From Bavaria to Tuscany
Discover Sweden's south
Following the sea in Portugal
The wild southwest of Great Britain
France's Atlantic coast: from Bordeaux to Normandy
From southern Germany to Tuscany with a camper
You want to start your tour in Germany, but still discover more than just one country? Then we recommend picking up your camper in Munich and driving comfortably down to Italy via the infamous Brenner Pass. Lake Garda is the perfect first stop. This region is well equipped for tourists and has countless great campsites. If you are looking for a bit more peace and quiet, simply switch to the Valsugana Valley east of Trento. From there, you can continue your camper trip to Tuscany, where even the smallest village has a cool campsite – probably not far from the most delicious restaurants.
By the way: The small, narrow streets in Italian cities are beautiful, but not really ideal for motorhomes. So it's better to leave it at the campsite and take public transport to the city centre.
Discover Sweden's south
Looking for that North American feeling while still staying in Europe this summer? Then southern Sweden with its fjords, forests and plenty of peace and quiet is the perfect destination for you. You can start your road trip in Germany and drive from Hamburg across the Öresund Bridge. Alternatively, you can take a ferry from Denmark or Germany to Sweden.
If you would rather skip a long journey to Sweden, you can of course also take the plane and start your motorhome tour in Malmö. From here, the camper takes you through the green heart of Småland. A special highlight is the famous town of Vimmerby, where Astrid Lindgren's stories came to life. Equally beautiful: summer evenings at a campsite by one of the many idyllic lakes. Our recommendation is Halens Camping in Blekinge on the shores of Lake Halen.
Following the sea in Portugal
Is a summer vacation without the sea really a summer vacation? You don't have to worry about that on this camper trip through Portugal, because you will always have your eyes on the ocean. On the journey from Porto to Faro, there is only one direction: south. On this route, which is only about 800 kilometres long, there is plenty of time to discover the many highlights of this beautiful region – from nature reserves such as the Parque Natural de Arrábida to the surfing mecca of Peniche. And as if the wild Atlantic coast in the west isn't already spectacular enough, the Algarve in the south offers fantastic bays and beaches for long days of swimming and sunbathing.
You can drive this route as one-way by picking up a camper in Porto and returning it in Faro. However, there are usually additional fees for such one-way routes. If you want to save money, drive the camper back to the pick-up station – perhaps through central Portugal for a bit of variety?
The wild southwest of Great Britain
You don't feel like having a beach vacation in intense summer heat? Then we recommend rugged coastlines, mountainous national parks, Celtic culture and over one hundred striking castles and ruins for your camper trip this summer. All this – and also some great beaches – can be found in the southwest of the UK. This route through southern England and Wales starts in Bristol. From there, you follow the road to Cardiff and then to the beautiful Pembrokeshire Coast National Park. Park your motorhome at a seaside campsite and hike a section of the Pembrokeshire Coast Path which follows the entire Welsh coastline.
Would you rather walk uphill? Then head for the mountains of Snowdonia National Park. If you like hiking, you should plan more than one day for this region. If you are looking for something less strenuous, visit the medieval castles around Caernarfon and Conwy, or take a stroll through Liverpool, including a visit to the famous Speke Hall.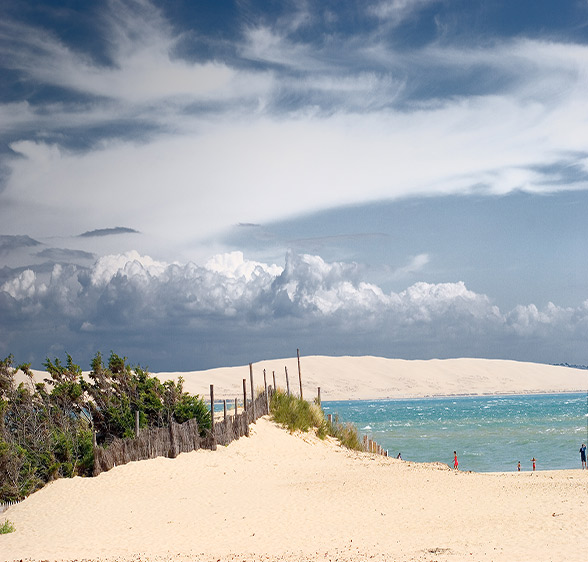 France's Atlantic coast: from Bordeaux to the Loire and Normandy
From the picturesque wine capital of Bordeaux, to the highlights of the Atlantic coast: France's west is an absolute top destination for campers. You will start off your trip with the perfect mix of Bordeaux's old town and the unique nature just outside the city. Our highlight: Europe's largest shifting sand dune, the Dune du Pilat, which stretches picturesquely between the blue sea and green pine forests. The perfect spot to spend the night there is the 4-star campsite Camping Village Panorama du Pyla.
After a short detour inland to Cognac and Saintes, you will continue along the Atlantic coast to Marais d'Yves Nature Reserve and La Rochelle. The pretty harbour town is known for its delicious oysters – make sure to try some! Afterwards the tour continues to Nantes and Rennes at the Loire. Fairytale castles and modern art museums provide a bit of culture before you are heading to the rugged nature of Normandy. There, your camper trip takes you to one of the most famous sights in France: the extraordinary monastery Mont-Saint-Michel.