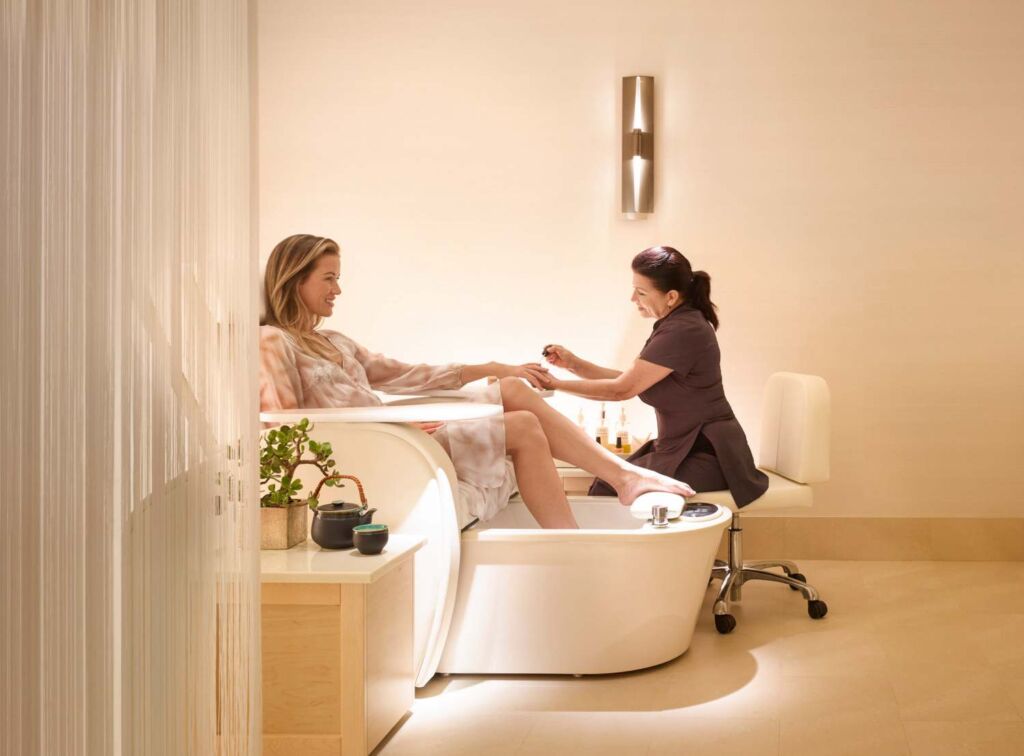 For that next manicure or pedicure session, why not choose a meditation along with the perfect color, in a new nail service treatment at Hawanawana Spa at Four Seasons Resort Lanai? The Hawanawana Signature Manicure or Pedicure featuring Sound of Color merges the beauty ritual of luxury nail services with the ancient practice of meditation, a unique spa experience integrating beauty, health and wellness services.
In this 60- or 90-minute treatment, hands and feet are pampered with nourishing minerals, an organic sugar scrub, organic cuticle care and a massage before the polish application. Made with argan oil, seaweed extract and red tea, the breathable vegan polish formula is a color and treatment for nails, all in one bottle. Deluxe services include an anti-ageing collagen rich mask and extended massage.
Sound of Color was inspired by a Spa goers' desire to receive a luxurious nail treatment yet allow for a true time-out, replete with intentional relaxation and contemplation. There are 72 colors and guided meditations in the line. Each color is paired with a suggested meditation or guests can choose their own meditation theme or style along with their preferred polish hue, connecting to the customised web app and tuning in on a set of comfortable headphones.
Jessica Candy, Hawanawana Spa Director says, "While the concept of color psychology, or links between color and moods, may be more anecdotal than evidence-based, many cultures have incorporated it in healing practices. The curated list we offer at our Spa encompasses these ideas, for example warm tones of red such as Wild Natured may stimulate and evoke energy with a meditation entitled Rockstar Meditation that makes you feel ready to dive in and take on your day. Cooler shades of blue, such as Eternal Wellness incorporate a Balance & Flow meditation that includes some gentle movement to help you dissolve stress and feel more connected and balanced. In experiencing this more relaxing take on a nail salon service for myself, I have found that the shade of polish I choose on a particular day has a beautiful, guided meditation with the spoken portion being exactly what I needed to hear and think upon. It's too hard to choose only one favourite!"
The Hawanawana Signature Manicure or Pedicure featuring Sound of Color features products by SPARITUAL, a clean body-care brand utilising the highest-quality natural, organic ingredients, carefully sourced and sustainably packaged and meditations by Los Angeles-based Unplug, offering a range of healing and therapeutic meditation modalities in real life and via an app. Guests can also continue to enjoy the meditations after their visit via a complimentary seven-day trial of Unplug.
Hawanawana Spa, whose Hawaiian name translates to whispering ocean, offers a range of Spa and Salon services inspired by the blue waves just outside its door. With ingredients and inspirations pulled directly out of the ocean, renewal begins upon entering the sanctuary and continues as therapists customise every treatment to each guest to best achieve one's goals while elements of the ocean are expertly combined with innovative techniques to create experiences that soothe mind, body and spirit. The Spa now features a range of low- and no-touch therapeutic care from Reiki and YoMassage self-care to contactless massages and private fitness sessions, ensuring personalised renewal and experiences that soothe mind, body and spirit.