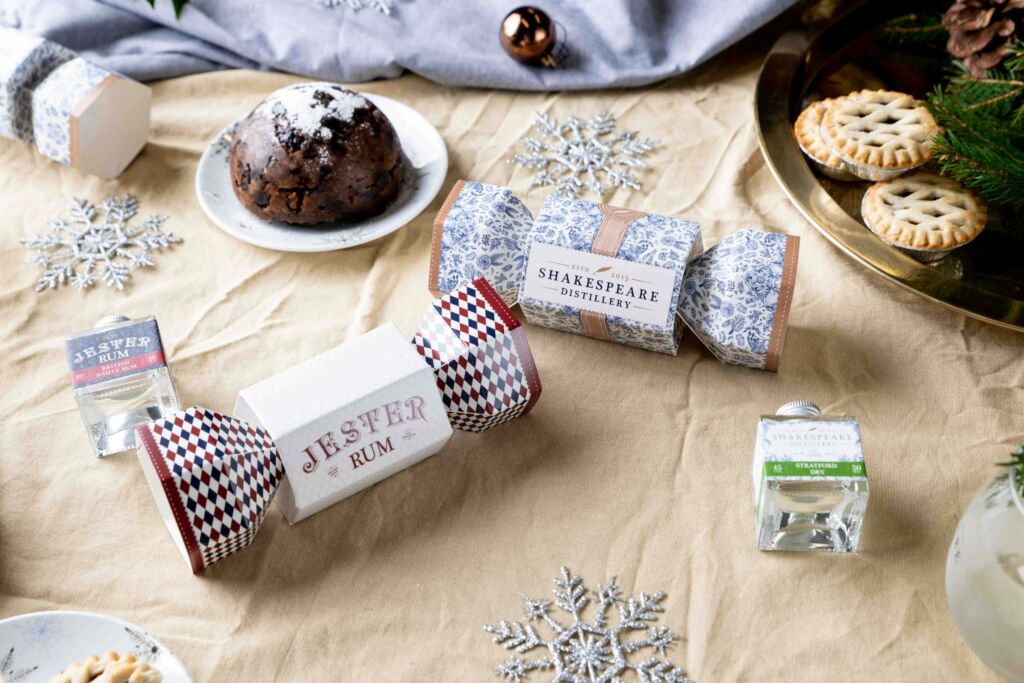 Shakespeare Distillery in Stratford-upon-Avon has Christmas all wrapped up with several exciting new products including a personalisation service on four of their Gin products. The independent artisan spirit producer is offering personalised labels on their Stratford Dry, Rhubarb, Elderflower & Quince and Mulberry Liqueur 50cl Gin bottles. Great as a Christmas gift, birthday treat, celebration or thank you present, these are available to order online or from the No 1 High Street store or Distillery shop in Stratford and costs an additional £3 for up to 22 letters of text.
The Distillery are also launching three new limited edition 'distillery specials' including Jester Chocolate Rum which combines the award-winning Jester White Rum with rich, full flavoured cocoa nibs and carefully selected warming spices resulting in a delicious chocolate coloured rum with a mildly warming and sweet finish. Jester Chocolate Rum is great served with Spiced Orange Ginger Ale or in a White Russian Cocktail. It even makes a deliciously boozy Hot Chocolate! Also available is Mulberry Gin Liqueur New Place, produced from mulberries harvested in August from the mulberry trees at Shakespeare's New Place gardens and Blackberry Gin Liqueur made from local blackberries picked along the estate hedgerows.
Other products available for Christmas are a special 3-Rums Miniature Gift Set containing 3 x 5cl Rums priced at £20, Christmas Gin and Rum Crackers priced at £7.50 each, a Home Rum Tasting Kit priced at £35, a Home Gin Tasting Kit priced at £35, Cocktail Making sets, Miniature, Mixer, & Tumbler sets priced at £15, and a Gin & Rum Truffle Advent Calendar produced by Henley Chocolates priced at £20.
Peter Monks, Director at Shakespeare Distillery said, "We are delighted to launch a range of fabulous unique products in time for Christmas, perfect for anyone who loves Gin or Rum. We are proud to be one of only a small number of distilleries in the UK to offer personalised labels and these make the ultimate Gin Lovers' Christmas gift or thank you present".