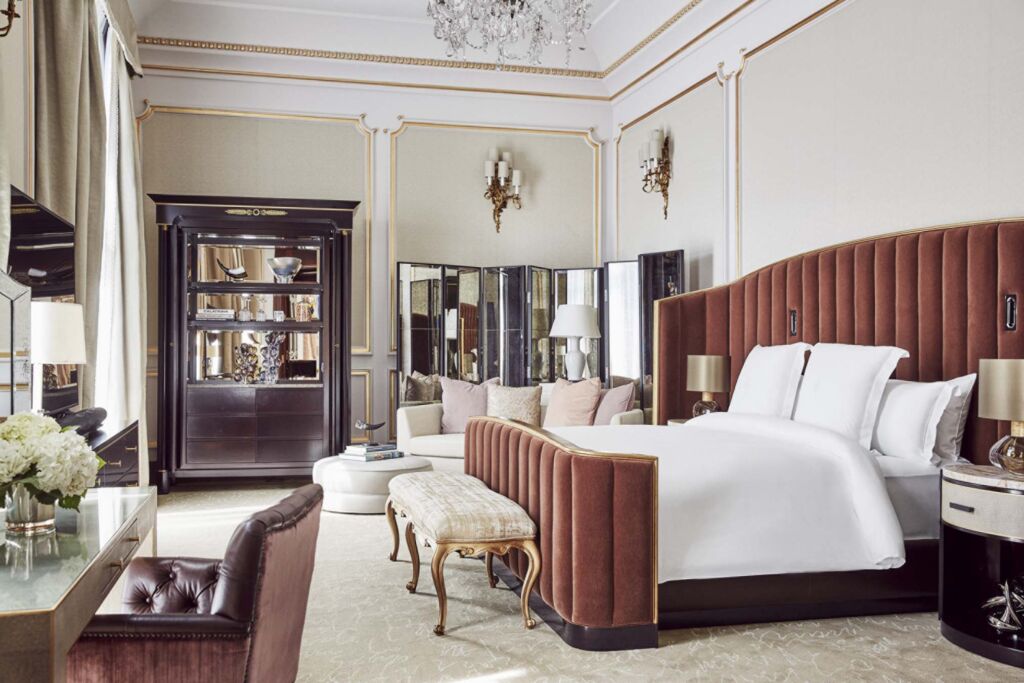 Four Seasons Hotel Madrid presents the Royal Suite, a hidden gem that can finally be revealed and enjoyed. This is the most special room in a Hotel that, since opening its doors in September 2020, has never stopped paying tribute to and highlighting a part of history that continues to be written today for the people of Madrid.
This beautiful room located on the so-called premium floor is the only space that remains practically untouched since the building was first erected in 1887, with its restoration work having been carried out in situ. It took four years to build back in the 19th century. Now, in the 21st century, a whole decade has been spent completing the entire complex and integrating seven historic buildings.
The Royal Suite is not just a physical space but also forms part of the social and economic memory of Madrid and Spain. Its 431 square metres (4,305 square feet) used to house the Main Hall of the Madrid Casino, also known as the Grand Conversation Hall, as well as the boardroom and chairman's office of the former Banco Español de Crédito, which was eventually taken over by Banco Santander in 1994.
In a Louis XV style, its main features include balconies that overlook Calle Alcalá and Calle Sevilla, some beautiful ceiling mouldings and an impressive fireplace that remains intact and forms the centrepiece of this spectacular suite.
A witness to great moments in history, this former office has been redesigned to become a palatial apartment where luxury, history, comfort and all forms of art coexist to create a unique atmosphere.
All the historic windows, the exquisite pine and tropical timber marquetry of the wood flooring, wooden wall panelling and decorative ceiling mouldings have been maintained to create a perfect contrast between the old and the new: impressive side tables stand on historic floors while modernist furniture mingles with classical pieces. It is a suite fashioned with exceptional designer taste that has enabled the quality of Spanish manufacturers and craftsmen to be combined with bespoke pieces that meet the high-end demands of such a historic space.
The total space includes a spacious living-dining room, a study, an exercise room equipped with all the latest technology, a kitchen and a mirrored dressing room that connects to the main bedroom and bathroom. The layout enables flexibility to suit whatever is needed at any given time, with rooms closed off and access allowed to common areas that can be reserved for private events.
Estudio Lamela is the firm responsible for designing this suite as well as the entire Canalejas Complex. "Ensuring that the artistic and architectural work on this specific part of the project fell in line with the project as a whole and, above all, ensuring that it met the architectural recovery goal of allowing it to be potentially enjoyed by all was, without a doubt, the greatest challenge when maintaining the essence of the Royal Suite," says Carlos Lamela.