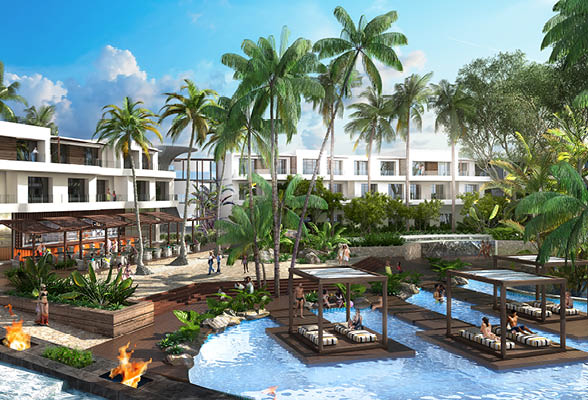 RIU is reopening its luxury 5-star Riu Palace Boavista hotel today after a closure that lasted more than one year. This is good news for the chain, its employees and the guests, as this means resuming its activity on this paradise destination. On Friday, it will be joined by the Riu Funana hotel, the second establishment to open on Sal Island, together with the Riu Palace Santa María, which opened in March of this year.
With these openings, RIU now has three hotels open in Cape Verde, a destination that is coming back to life little by little. All of them are operating with complete normality and applying the strict anti-COVID-19 protocols that have proved successful in all RIU hotels during these months. It should be noted that the employees of the three establishments have started the vaccination process, which is expected to be completed in the upcoming weeks. This will provide employees and guests an additional peace of mind and safety. In addition, before the reopening, all the hotels' departments have undergone training in coordination with the PREVERISK consultancy firm. Thanks to this course, all staff members in Cape Verde have been thoroughly instructed on how to protect themselves and our guests.
The Riu Palace Boavista hotel has 505 rooms and is located in front of the marvellous Praia Das Dunas beach. The hotel offers RIU'S renowned 24-hour All-Inclusive service and a wide variety of activities so that children and adults can enjoy their stay. In addition, the hotel has an extensive gastronomic offer that includes the main and several theme restaurants. It also features bars like Capuchino, Bar Salón and the pool bar with its floating bar.
The Riu Funana, a 5-star hotel on Sal Island, is located right in front of an incredible beach, next to the Riu Palace Santa Maria, and boasts 24-hour All-Inclusive service as well as the Fun4all emblem that ensures fun for the entire family.
With the reopening of these two hotels, the RIU chain is taking a big step towards the complete recovery of its activity. It now has three of its six hotels open, two on Sal Island and one in Boavista. Internationally, of its 100 hotels around the world, the chain has gradually reopened 91 establishments.