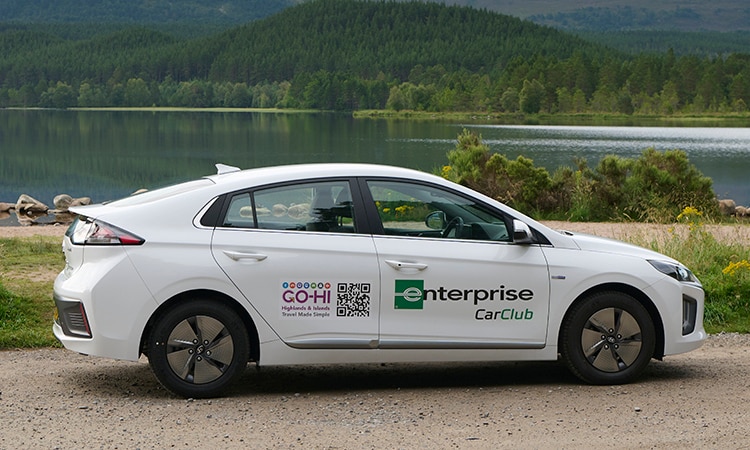 Enterprise Car Club is introducing eight new low-emission hybrid electric cars in the Highlands and Islands region of Scotland, which can now be booked using the new and ground-breaking GO-HI journey planning app.
Parked in dedicated bays close to other transport modes, the vehicles will enable people to use GO-HI to book and plan travel easily for those parts of a trip that are only possible by car, making onward journeys even simpler for locals, business travellers and visitors alike.
Enterprise is one of the founding partners in GO-HI, which launched in June and received additional funding in July from the Scottish government's Mobility as a Service (MaaS) Investment Fund to improve access to transport across Scotland.
The GO-HI app enables users in one go to plan, book and pay for a journey using a variety of different transport options, including Enterprise car hire and car club, trains, buses and ferries, creating a truly integrated transport service in a highly rural area.
The four Toyota Yaris and four Hyundai IONIQ cars are being placed in Fort William (two cars), Aviemore (two cars), Ullapool, Kyle of Localsh, Scrabster Ferry Terminal and Wick Airport.
The vehicles can be booked from as little as £5.90 per hour using the GO-HI app and can be picked up from on-street bays 24/7, any day of the year, and opened using a smartphone.
Enterprise Car Club now has 260 low-emission on-street vehicles across 18 towns, cities and communities across Scotland, providing automated, on-demand rental by the hour or day.
In addition, Enterprise has 27 branches across Scotland, with more planned for later in the year, including three more in the Highlands and Islands region, providing a wide variety of cars and vans that can also be booked and paid for using GO-HI.
The expansion highlights Enterprise's continued investment in Scotland to provide flexible and sustainable motoring, following the recent addition of 30 Renault Zoe electric cars into its daily rental fleet across the country.