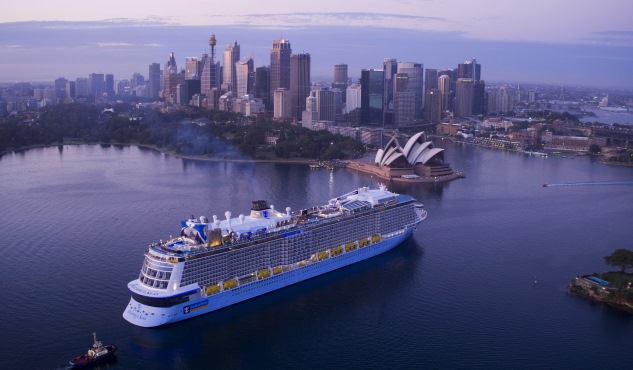 Royal Caribbean International today announced a new season of Australian domestic sailings on board returning favourite Ovation of the Seas. Ovation will sail from Sydney 13 Dec. 2021 through 31 March 2022, offering a mix of 2- to 10-night domestic sailings that visit some of the country's most famous cities and regions.
"We continue to encourage and assist federal and state governments to establish a clear pathway for the return of cruising, and hope that by December we will have guests holidaying with us once again. While Sydney manages its ongoing lockdown, several factors make us hopeful that domestic cruising will return this summer, from rapid advances in COVID-19 research, technology and an emphasis on swift vaccine distribution," says Gavin Smith, vice president and managing director, Australia and New Zealand, Royal Caribbean International.
In lieu of the ongoing uncertainty surrounding the opening of international borders and to ensure guests have peace of mind surrounding their holiday plans, Royal Caribbean has made the decision to cancel the following sailings:
Serenade of the Seas' sailings from Sydney from 24 Oct. 2021 to 27 February 2022 inclusive
Ovation's sailings from Sydney from 27 Oct. 2021 to 10 April 2022 inclusive, and Ovation will be redeployed to a domestic only itinerary
All impacted guests and travel partners have been contacted and advised of their options. Guests automatically will be issued a Future Cruise Credit (FCC) to the value of 125% of their cruise fare to use on future sailings, however, guests are able to opt for a full refund or to Lift & Shift to applicable summer 2022-2023 sailings, if preferred.
"We know our guests look forward to our return to cruising in Australia and these cancellations will be met with disappointment, a sentiment that we strongly share here at Royal Caribbean," says Smith. "We are thankful to our loyal guests and travel partners for their ongoing patience and support since we suspended cruise operations in March 2020. Great progress has been made around the world, and we are eager to welcome guests back as we have successfully done in Singapore, Europe, the USA and UK."