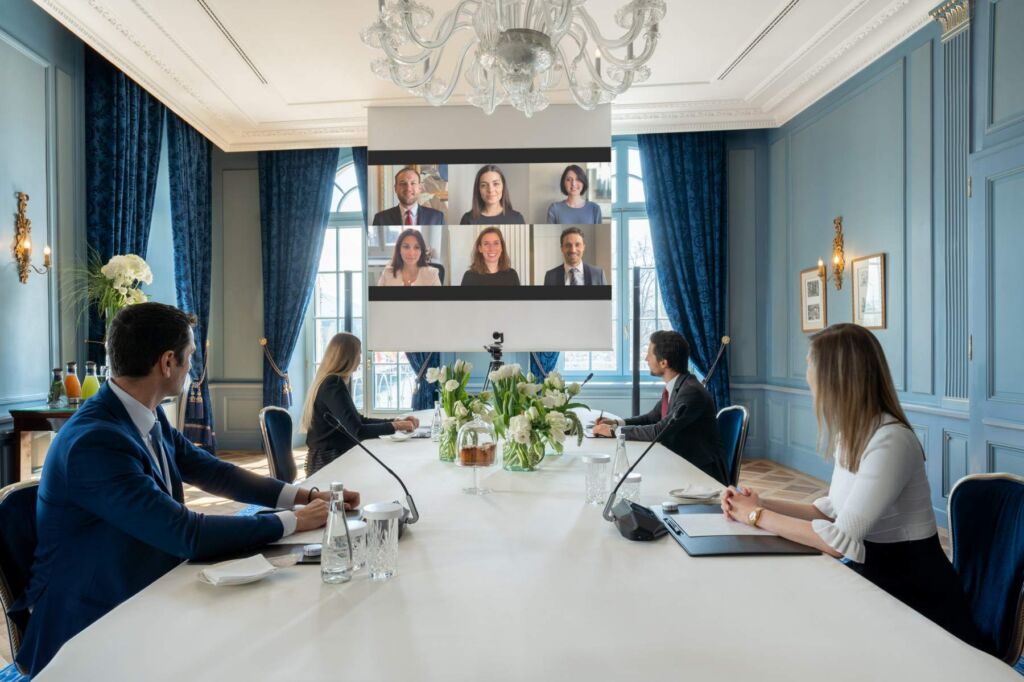 Four Seasons Hotel des Bergues Geneva partners with a leading audio-visual company to deliver state-of-the-art technological solutions for guests to engage with both in-person and virtual audiences around the globe. The Hotel offers elegant spaces equipped with innovative digital solutions to help businesses and individuals hold a wide range of events in an unrivalled location while maintaining guest health and safety.
Set on the tranquil shores of Lake Geneva and surrounded by the snowy Alps, Four Seasons Hotel des Bergues is ideally located moments away from Geneva Old Town. Dating back to 1834, this landmark Hotel is one of Geneva's premier business venues, offering six elegantly appointed rooms flooded with natural light. The event spaces provide the perfect setting to host meetings with small groups, creating an intimate space for video conferencing with Wi-Fi, high-end AV facilities, and food and beverage services available upon request such as a light lunch. Guests can also make the most of the Hotel's fabulous rooms and suites, transforming them into a personal office.
Functioning as a standalone or breakout room, the Hotel's salons on the first floor are equipped with state-of-the-art video conference technology that connects hosts with remote delegates anywhere in the world. The ideal setting for interviews, video conferences and presentations, this intimate space offers studio-quality video and excellent vocal clarity that is compatible with most software-based video conferencing services.
Opening up onto a secluded terrace, the first floor Salon du Lac is a classically elegant space equipped with top-end broadcast solutions, allowing hosts to address both a live audience and virtual attendees. The refined space is enhanced with sophisticated lighting and high-end audio systems, making it the perfect location to hold a global event.
In-house audio-visual experts work closely with guests, offering technical support and assistance to plan every aspect of the event, ensuring highly personalised service and a seamless experience from planning to execution.