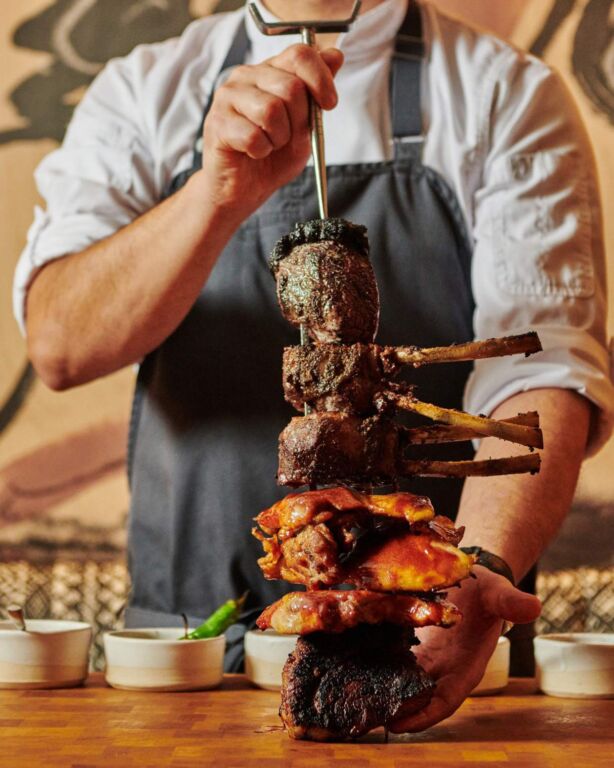 Four Seasons Hotel Houston has partnered with Richard Sandoval Hospitality to bring his award-winning global pan-Latin steakhouse to Houston. Chef Sandoval, known as the "Father of Modern Mexican Cuisine," will open Toro Toro in the Hotel's fully revamped third floor restaurant space, slated to open in fall 2021. Adding to the city's diverse and rich culinary culture, Toro Toro Houston will create an exciting new destination for elevated dining in the Downtown area.
The restaurant name Toro Toro is a clever combination of the Japanese word for tuna (toro) and the Spanish word for bull (also, toro) – a nod to the dynamic menu, which features a wide selection of seafood and steaks. Rooted in a celebration of the vibrant flavours and convivial dining culture of Central and South America, Toro Toro will offer guests a twist on the contemporary steakhouse experience with pan-Latin flavours from rodizio-style churrasco and creative shareable small plates. Inspired by Latin traditions and the art of cooking with fire, the restaurant will feature an open kitchen with a wood-burning grill, meats presented and carved tableside, and family-style ceviches, tiraditos and antojitos. Exceptional beverage options will complement the bold flavours of each dish with an expansive wine list highlighting Latin wines and classic Latin cocktails – Mojitos and Margaritas, all hand-muddled with the freshest ingredients and artful garnishes.
"This is an exciting opportunity to expand upon the success of our existing partnership with Richard Sandoval Hospitality to bring a new, elevated and interactive dining experience to Houston," says Tom Segesta, General Manager of Four Seasons Hotel Houston. "Richard's global reputation coupled with the continued success of his culinary partnerships with many of our sister Four Seasons properties will be the perfect addition to our city's vibrant dining scene."
Renovations are already underway with Meyer Davis taking the lead for redesign of the Hotel's third floor restaurant and dining venues, which culminates a nearly six-year relationship between the beloved Hotel and world-renowned design firm – responsible for reimagining the Hotel's reception, lobby, bar and lounge, meeting areas and recently unveiled Grand Ballroom in previous renovation phases. The addition of Toro Toro will match the comfort and glow of Meyer Davis' previous renovations for the property, pushing the design up a notch to solidify the Hotel as a benchmark of modern Texas style.
At the heart of this new redesign project is specialty restaurant Toro Toro, heightened by brass accents, playful heritage patterns, a stunning art program curated with works of Houston-based female artists, and layered with references to Latin America – from where Sandoval has grounded his flavour profiles. A grand central bar and an elegant lounge will create a perfect meeting point for guests as they arrive, who may then gather in the main dining room, flanked by fluted plaster columns and an inviting steel-clad fireplace. Hugged by soft drapery, the dining room is also marked by elegant glass and steel vitrines, which will exhibit evolving displays of greenery or seasonal fare. An open kitchen will also create a fun and lively focal point inspired by the passion, sounds, smells and energy of Latin America.
In addition to the elegant main dining area, Toro Toro will include an ample overflow banquet room, ideal for corporate events or special gatherings. Framed with moody shelves, this space will be decorated to the same level as the popular bar lounge downstairs, and also incorporates a generous wine room. The restaurant will also incorporate a private dining room for 10, an 8-seater private banquette where guests can "see and be seen," and an 8-seat speakeasy with a leather-clad bar, vibrant green stone and silver oak finishes running through – sure to become a destination bar in the city for those in the know.
Toro Toro Houston will open as the sixth location and the fourth Richard Sandoval concept in Texas. Toro Toro will be open daily serving breakfast, lunch, dinner and weekend brunch.
Project Facts:
Renovation of Hotel's third floor restaurant space
Chef Richard Sandoval
Toro Toro Restaurant: 2675 square feet (250 square metres); 74 dining seats, 10 bar seats
Breakfast Room: 1600 square feet (150 square metres); 56 seats
Banquet Room: 2475 square feet (230 square metres); 96 seats
Wine Room: 300 square feet (28 square metres)
Speakeasy: 400 square feet (37 square metres); 8 seats
Private Dining Room: 400 square feet (37 square metres); 10 seats