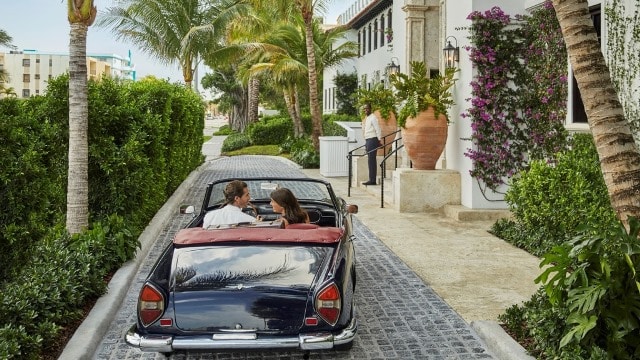 It's historic. It's sophisticated. It has a picturesque setting along the Atlantic Ocean. From the ambiance to the amenities, Four Seasons Hotel and Residences at The Surf Club emanates romance. Whether seeking serenity or an evening of storied dining, Valentine's Day at The Surf Club connects new-world couples through old-world glamour.
Amore Mio Dinner at Lido Restaurant at The Surf Club
At the new Lido Restaurant at The Surf Club, in the grandeur of The Surf Club's fabled ballroom and oceanfront Lido Terrace, Executive Chef Antonio Mermolia presents Amore Mio, a menu that celebrates Southern Italian culture and the special connection between the scenic coastlines of Italy and Miami.
Guests are welcomed with a Champagne toast, caviar and a selection of authentic Mediterranean dishes for the table including oysters, Cantabrian anchovies, tartare di tonno (North Atlantic yellowfin tuna, burrata, toasted sesame seeds, basil), Japanese ricciola (hand-cut hamachi, tangerine, mint) and Chef's Garden pinzimonio. Main courses offer four distinct choices including orata alla Boscaiola (sea bream Boscaiola-style), risotto mozzarella e ricci di mare (risotto with mozzarella and sea urchin), filetto di manzo (filet mignon, mushrooms, beef jus, berries), or filetto di rapa rossa (beets mignon, red wine reduction). For dessert, Chef's selection of sweets features cremino cioccolato e fragole (chocolate cremino, strawberries) and giardino del bronte (pistachio gelato).
With the aura and soulful charm of The Surf Club's early years, The Champagne Bar, found just through Lido's historic archways, offers the perfect pre- or post- dinner experience, offering imaginative cocktails and the largest selection of Champagnes in Miami.
Pricing for the Amore Mio menu is USD 185 per person. For reservations, visit Lido Restaurant on Open Table.
The Spa at The Surf Club
Embrace the soothing experience of self-care or gift this sense of relaxation and rejuvenation to a loved one with a Spa gift card. Four Seasons Hotel and Residences at The Surf Club redefines the Spa experience in the Miami Beaches. Here, inspired by the invigorating energy of its sun-kissed sanctuary, treatments such as the Therapeutic Percussion, Inner Strength or Himalayan Stone massage blend innovative wellness practices with pure bliss.
To arrange a personalised spa experience or to purchase Spa gift cards, including a complimentary enhancement with any gift card purchase of USD 300 or more, call 786 482 2362.