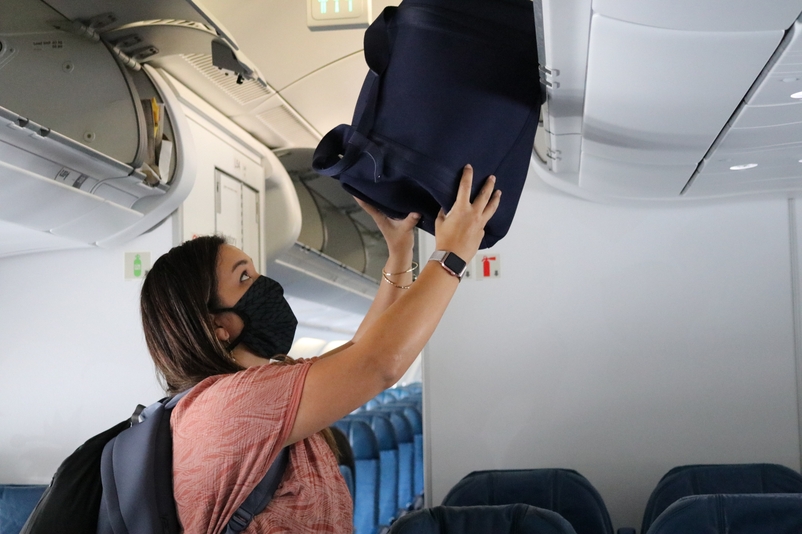 Effective Tuesday, Feb. 2, wearing a mask or face covering in airports and on planes will become federal law. This comes after the Centers for Disease Control and Prevention on Friday issued a mask-wearing order that builds on an executive order issued in January by President Joe Biden. The new mandate will be enforced through a Security Directive issued by the Transportation Security Administration and applies to customers and employees.
"Refusal to wear a mask onboard Delta aircraft and throughout the travel ribbon may result in denial of boarding, removal from the aircraft, and even civil penalties under federal law," said David Garrison, S.V.P. - Corporate Safety, Security & Compliance. "This new mask mandate is a welcome directive from the CDC and will provide much needed back-up to Delta's own mask wearing policy that has been in place since May of last year."
Wearing a mask is one of the most important ways​ Delta customers and employees can help prevent the spread of COVID-19. To date, Delta has banned approximately 950 customers for refusing to comply with the airline's own mask policy.
The CDC's mask order provides limited exemptions for people with a disability and for children under 2 years of age. In July 2020, Delta put in place an exemption process for customers who have underlying conditions that explicitly prevent them from safely wearing a face mask. Customers with a disability who cannot wear a mask for reasons related to their disability are strongly encouraged to reconsider travel or should be prepared to complete Delta's 'Clearance-to-Fly' process, which includes consultation with a third-party medical professional prior to departure at the airport.
Exemptions also apply when asked to temporarily remove the mask for identify verification purposes or while eating, drinking or taking oral medications for brief periods. Prolonged periods of mask removal will not be permitted for eating or drinking, and the mask must be worn between bites and sips.
The CDC has specified the types of masks permitted for travel, which can be found here. Delta recommends a surgical or medical mask, a synthetic or fabric mask made with tightly woven 3- or 4-ply material, or a valve-free respirator (N95 or KN95) mask.
Customers should also take advantage of our easy-to-use interactive map on Delta.com, which outlines travel restrictions around the globe as many countries have additional masking requirements beyond that of the U.S.
The federal mask mandate will be communicated to customers using the same channels we have used to share changes to service and experiences throughout the COVID-19 pandemic. Delta.com, Pre-flight emails and Fly Delta app push notifications will serve as reminders before heading to the airport, while signage, displays and, of course, our incredible Delta people will support this effort via announcements once traveling.
While we continue to encourage customers to bring their own face covering when traveling on Delta, supplies will be available for customers who need them.