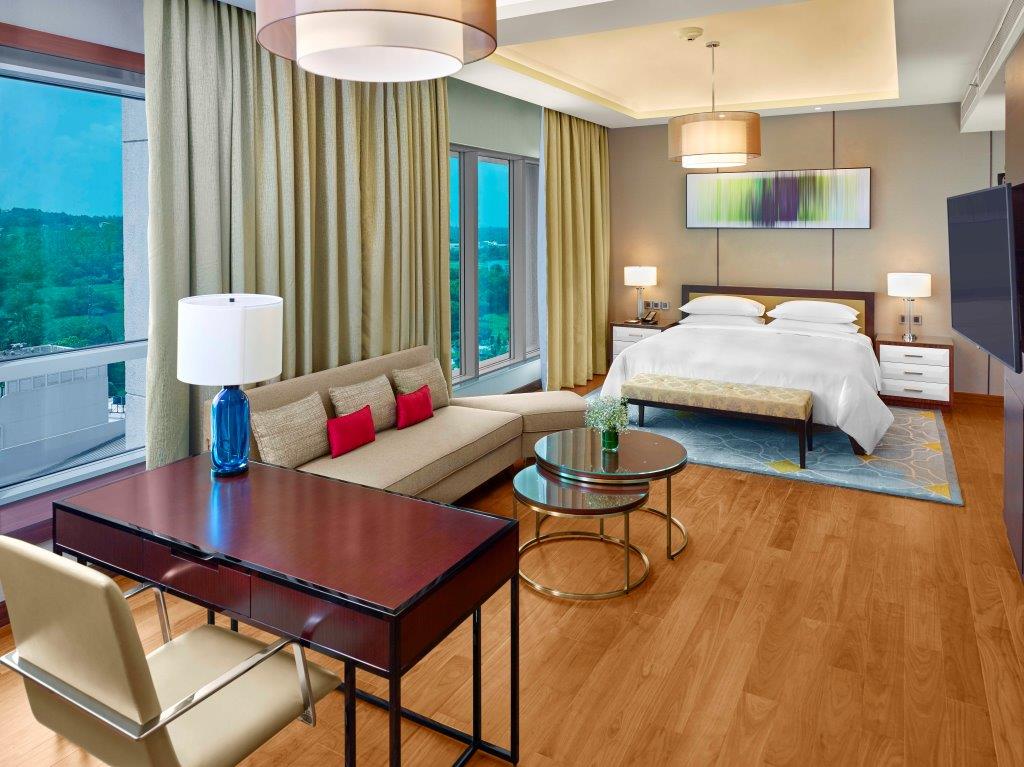 Hyatt Hotels Corporation today announced plans to grow its brand portfolio in Europe significantly by the end of 2023 with more than 20 executed managed and franchised deals for new hotels in some of the most desirable destinations in the world. These properties are expected to join 63 Hyatt-branded hotels across nine distinct brands in 22 European countries. Andaz, Alila, and Hyatt Centric – Hyatt's lifestyle brands – and The Unbound Collection by Hyatt – one of Hyatt's independent collection brands – make up half of Hyatt's executed deals in Europe. This growth is fueled by a growing desire from travelers, World of Hyatt members, and owners for hotels that offer unique, differentiated experiences that foster genuine connections with people and cultures.
In the United Kingdom, which remains a priority growth market, the introduction of the first Park Hyatt hotel in London's redeveloped Nine Elms district will further bolster Hyatt's brand presence. Hyatt plans to nearly double its brand growth in the U.K. in the next few years, and this growth is complemented by strong regional demand in France and Spain – through the development of both Hyatt's full and select service brands – as well as entry into new markets with the first Hyatt-branded properties in Stockholm, Helsinki, Malta and Cyprus.
So far this year, nine new Hyatt properties have opened in Europe, including Hyatt Regency Sofia, the first Hyatt hotel in Bulgaria; Hyatt Regency Malta; Hyatt Place Paris Charles de Gaulle Airport and Hyatt House Paris Charles de Gaulle Airport, Hyatt's first dual-branded select service development in Europe giving travelers the benefits of both brands under one roof; and most recently, the 144-room Hotell Reisen in Stockholm, Sweden marking the first hotel in Scandinavia under The Unbound Collection by Hyatt brand.
Notable newly executed deals include plans for:
The 203-room Park Hyatt London River Thames in London, one of Europe's top places to visit, which will be the first Park Hyatt hotel in the U.K.
The introduction of the Hyatt Centric brand to the U.K. with Hyatt Centric Cambridge
Hyatt's foray into Northern Europe with two new hotels within The Unbound Collection by Hyatt brand, including the 224-room Grand Hansa Hotel in Helsinki, Finland – regarded by travelers as one of the best big city destinations in the world
A Hyatt Centric hotel in Reykjavik, which is noted as one of the trendiest European travel spots, will be the first Hyatt-branded hotel in Iceland
The former Byblos Hotel in Mijas, Spain will be part of The Unbound Collection by Hyatt brand and will mark a significant expansion of Hyatt's brand footprint in the country's most visited region, Andalusia
The first Andaz-branded hotel in Portugal with Andaz Lisbon, and the first Hyatt-branded hotel in the Czech Republic with Andaz Prague
The first Alila-branded resort in Europe with Alila La Gruyère in Switzerland
The Hyatt Place and Hyatt House select service brands remain a strategic priority with eight additional properties planned across Western Europe through 2023
This announcement signals significant intentional growth plans for Hyatt that will increase its brand footprint in Europe by more than 30 percent in nine new countries and grow further in seven existing markets. New hotel openings, rebrands, and executed managed and franchise deals in Europe within Hyatt's independent collection and timeless and boundless portfolios include:
Independent Collections
The Unbound Collection by Hyatt
The Unbound Collection by Hyatt brand is a portfolio of independent, premium hotel properties, ranging from historic urban gems to contemporary trend-setters and boutique properties to one-of-a-kind resorts. Each hotel inspires story-worthy and extraordinary experiences for our guests. unboundcollectionbyhyatt.com
The Wellem, Düsseldorf, Germany (102 guestrooms), rebranded from Hyatt House Düsseldorf/ Andreas Quarter in early November 2020
Hotell Reisen, Stockholm, Sweden (144 guestrooms), opened on December 1, 2020
Grand Hansa Hotel, Helsinki, Finland (224 guestrooms), under development
The former Byblos Hotel, Spain (205 guestrooms), under development
Timeless Portfolio
Park Hyatt
Park Hyatt hotels provide discerning, global travelers with a refined home-away-from-home. Guests of Park Hyatt hotels receive quietly confident and personalized service in an enriching environment. Located in several of the world's premier destinations, each Park Hyatt hotel is custom designed to combine sophistication with understated luxury. parkhyatt.com
Park Hyatt London River Thames in London's Nine Elms development, U.K. (203 guestrooms), under development
Grand Hyatt
Grand Hyatt hotels celebrate the iconic in small details and magnificent moments. Drawing inspiration from each destination, Grand Hyatt hotels provide superior service and signature experiences within a backdrop of dramatic architecture, world-class restaurants, luxury spas, and spectacular meeting and event spaces. grandhyatt.com
Grand Hyatt Limassol, Cyprus (300 guestrooms), under development
Hyatt Regency
Hyatt Regency hotels are intuitively designed to make travel free from stress and filled with success. Conveniently located in urban and resort locations in more than 30 countries, Hyatt Regency hotels offer seamless experiences for any occasion, from energizing vacations to personalized, high-touch meetings. hyattregency.com
Hyatt Regency Sofia, Bulgaria (183 guestrooms), opened September 2020
Hyatt Regency Malta (153 guestrooms), opened October 2020
Hyatt Regency Tirana, Albania (151 rooms), under development
Hyatt Regency Lisbon, Portugal (220 guestrooms), under development
Hyatt Regency Rostov on Don, Russia (187 guestrooms), under development
Hyatt Regency Edinburgh Marina, Scotland (187 guestrooms, 98 residences), under development
Hyatt Regency Zurich Airport The Circle, Switzerland (255 guestrooms), under development
Hyatt Regency Izmir Istinye Park, Turkey (161 guestrooms), under development
Hyatt Regency London Olympia, U.K. (196 guestrooms), under development
Hyatt House
Hyatt House hotels are designed to welcome guests as extended stay residents. Apartment-style suites with fully equipped kitchens and separate living areas remind guests of the conveniences of home. hyatthouse.com
Hyatt House Paris Charles de Gaulle Airport (121 guestrooms), opened in October 2020
Hyatt House Frankfurt Goetheplatz, Germany (181 guestrooms), under development
Hyatt Place
Hyatt Place hotels offer a modern, comfortable and seamless experience, combining style and innovation to create a casual hotel environment for today's multi-tasking traveler. From the lobby to the guest rooms to in-hotel dining, every touchpoint is designed with the high value business traveler in mind. hyattplace.com
Hyatt Place Paris Charles de Gaulle Airport (309 guestrooms), opened in October 2020
Hyatt Place Cannes, France (152 guestrooms), under development
Hyatt Place Rouen, France (85 guestrooms), under development
Hyatt Place Krakow, Poland (216 guestrooms), under development
Hyatt Place Zurich Airport The Circle, Switzerland (300 guestrooms), under development
Hyatt Place London City East, U.K. (280 guestrooms), under development
Boundless Portfolio
Andaz
Global in scale while local in perspective, the Andaz brand of luxury lifestyle hotels weave the sights, sounds, and tastes of each property's surroundings for a distinctively local experience that stimulate the senses. Every Andaz hotel is a unique expression of the culture that surrounds it and enables guests to go beyond the familiar and satiate their curiosity. andaz.com
Andaz Prague, Czech Republic (176 guestrooms), under development
Andaz Lisbon, Portugal (232 guestrooms), under development
Alila
The Alila brand features luxury hotels in unique locations, distinguished by innovative eco-design and a strong commitment to sustainable tourism. Alila means "surprise" in Sanskrit, which suitably describes the refreshing character of Alila hotels, and the impression guests feel when they stay as a guest. alilahotels.com
Alila La Gruyère, Switzerland (85 guestrooms, 27 residences), under development
Hyatt Centric
Hyatt Centric is a brand of full-service lifestyle hotels located in prime destinations around the world and is one of Hyatt's fastest growing lifestyle brand. Hyatt Centric hotels help fuel guest discovery, located in the heart of the action with passionately engaged team members always on-hand to serve up insider knowledge and provide local expertise. hyattcentric.com
Hyatt Centric Reykjavik, Iceland (172 guestrooms), under development
Hyatt Centric Cambridge, U.K. (150 guestrooms), under development