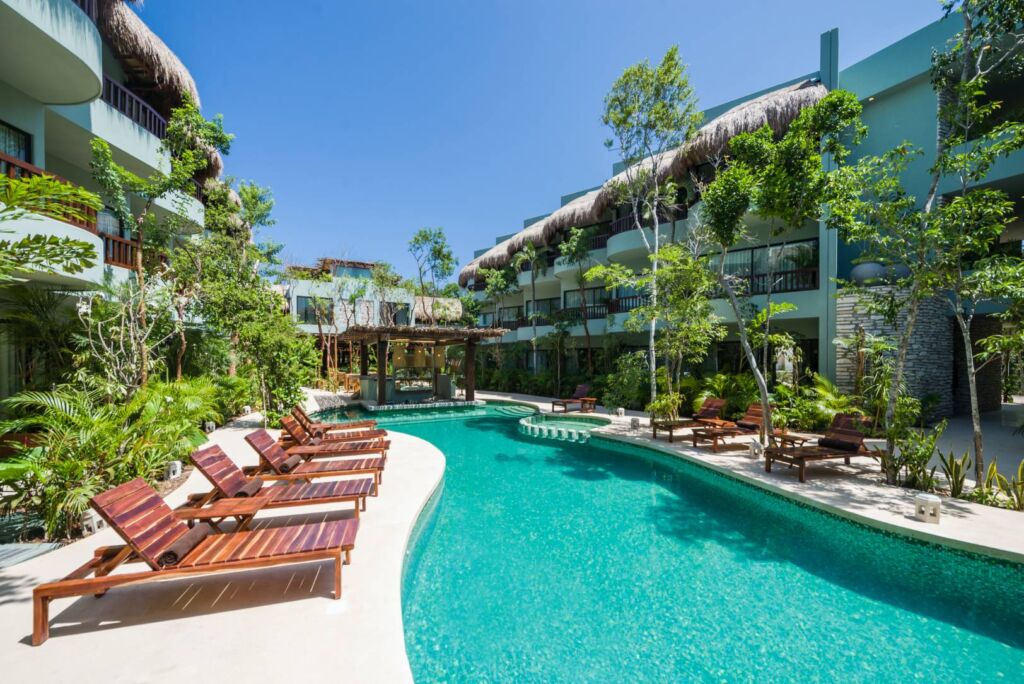 Kimpton Hotels & Restaurants announced today it will open a new 78-room lifestyle luxury hotel in Tulum, marking the brand's first opening in Mexico. Set to open on December 18, the luxurious Kimpton Aluna Hotel offers guests a tucked-away oasis in the Mayan Riviera. Grupo Presidente, a long-standing partner of Kimpton's parent company, IHG® (Intercontinental Hotels Group), will manage hotel operations and bring the Kimpton experience to life.
Originally opened in 2018 as a luxury anchor for the prestigious Aldea Zama community, the now Kimpton Aluna Hotel in Mexico is situated on the edge of nearly one thousand acres of biosphere reserve. Surrounded by lush greenery and a short distance from the bustling downtown and picturesque beaches, the hotel features 72 standard guestrooms and six luxury suites, all offering private terraces with pristine views. A relaxed-yet-refined open-air gathering place for guests and locals alike, the property also features an on-site restaurant and rooftop bar, two outdoor pools, a swim-up pool bar, spa, state of the art fitness center, open-air yoga studio, and business center. The hotel also operates an off-site private beach club that is easily accessible via the property's vintage house cars or complimentary beach cruisers.
Mike DeFrino, CEO, Kimpton, commented: "We're thrilled to welcome the Kimpton Aluna Hotel to the Kimpton family. This opening officially establishes our brand in Mexico, and provides an incredible opportunity for us to take part in the extremely rich culture and growing market of Tulum. We look forward to furthering IHG's trusted relationship with Grupo Presidente to offer guests Kimpton's trademark amenities and heartfelt service."
Located on the southern tip of the Mayan Riviera, roughly an hour drive south of tourism hotspots like Cancun and Playa del Carmen, Tulum has established itself as a must-see, eco-chic leisure destination where sparkling white sand beaches are juxtaposed by world-class dining and retail. A UNESCO World Heritage Site, Tulum is also home to jaw-dropping cenotes, ancient Mayan ruins, the Mesoamerican Coral Reef and the Sian Ka'an Biosphere Reserve – all which are a short jaunt from the property.
Owned by Hotelera Vezzpa SA de CV, the Aluna Hotel will be Kimpton's first opening in Mexico, followed shortly by two new boutique hotels in Mexico City, scheduled to open in late 2021. A trusted operator in the Mexican hospitality industry, Grupo Presidente currently manages more than 15 hotels in Mexico. They've successfully developed several well-known restaurant brands such as Au Pied De Cochon, the Palm Restaurant and Alfredo Di Roma. Grupo Presidente is an associated company of Grupo Gigante, one of the largest companies in the country. The hotel is the company's first with Kimpton.
Braulio Arsuaga, CEO, Grupo Presidente, commented: "We are very proud to strengthen our long-time partnership with InterContinental Hotels Group, and welcome this new brand to the Grupo Presidente portfolio with the opening of the Kimpton Aluna Hotel in Tulum."
IHG® Hotels & Resorts brings Kimpton Hotels & Restaurants' signature heartfelt service and distinctive design to Bangkok.