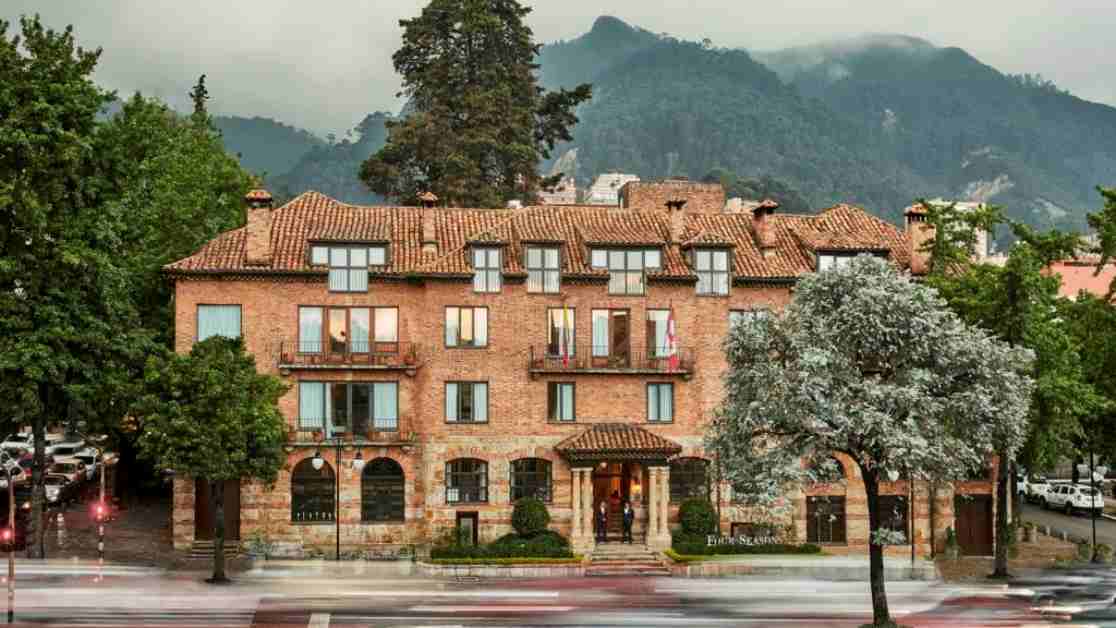 Big hotel news out of the capital of Colombia: Four Seasons Hotel Casa Medina Bogota will be open on November 17, 2020, welcoming guests with exclusive private experiences that reveal local artistic talent where they might least expect it.
Whether lingering to enjoy onsite comforts or heading out to discover the charms of the city, guests will find plenty to inspire them at Four Seasons Hotel Casa Medina. Located in the heart of Bogota's financial district, the red-brick landmark is just steps from the restaurants of "Zona Gourmet" and easy drives from the designer boutiques of Zona Rosa and the history of the colonial quarter.
Delights include the signature dining of Castanyoles Restaurant, which has returned to its roots with a new Spanish-themed menu to play off its steady Colombian tasting menu. Appropriately distanced table seating is available inside or outdoors by the stone fireplace in the courtyard and on the terrace beneath the restaurant's beautiful retractable glass greenhouse atrium. Guests can also order in-room dining from an extensive menu available around the clock, and book private space for personal session in the 24/7 fitness centre to burn off all those delicious calories.
The property's many light-filled event venues are available for meetings and social gatherings, including the outdoor terrace of El Virrey – perfect for cocktails and private dining in the open air. Physical distancing measures have been added for public spaces and services, including housekeeping and contactless check-in and check-out.
The Hotel is also employing Four Seasons Lead With Care program to enhance health and safety throughout the property. The global program conceived with an international healthcare leader provides care, confidence, and comfort to guests and employees through measures before and behind scenes. Four Seasons award-winning App and Chat are also available to grant guests control of how they engage with others, enabling them to limit face-to-face interactions while maintaining tip-top levels of personal service.
Four Seasons Hotel Casa Medina is marking its reopening with two exclusive new private experiences for guests to explore the other side of local art in the city:
Graffiti Tours: An Exploration of Bogota's Unique Street Art – Inspired by the beauty of art in the streets? Let Four Seasons Hotel Casa Medina show something that will really intrigue. This exclusive tour provides unique insights into Bogota's creative underworld led by long-time local graffiti expert Camilo Lopez, Director of Vertigo Graffiti, which was launched by eight of Colombia's best graffiti artists in 2008 to ensure that local graffiti drives new world trends and is framed as an artistic expression of high social impact. The tour will reveal some of the most spectacular works in the city with matchless, in-the-moment expertise and insights. Checkout some of Lopez's work on social media at @camilofidel and @vertigograffiti. Graffiti Tour Experience: 5 hours, USD 899.
VERDI Showroom Experience – Inspired by local traditions of craftsmanship, VERDI is a family-owned textile studio creating striking homeware, fashion, and art. Open since spring 2019 in a rough-around-the-edges industrial neighbourhood, the VERDI Showroom is a destination all its own. This exclusive tailored experience welcomes Four Seasons guests with a Champagne toast as they watch and even join artisans working at looms combining traditional weaving and contemporary materials including organic silk and threads of copper and stainless steel to create unique handbags, rugs, and more. The private experience includes an encounter with a monumental artwork called Tree of Life, views of the Showroom's vertical garden and hanging textile installation, and a farewell drink at the bar where the featured spirit is La Hechicera rum. Three VERDI tour options available: Express (2.5 hours, USD 60 per person), Medium (3.5 hours, USD 340 per person), and Premium (4 hours, USD 700 per person, of which USD 500 is redeemable in purchases) led by VERDI's founder and creative director.