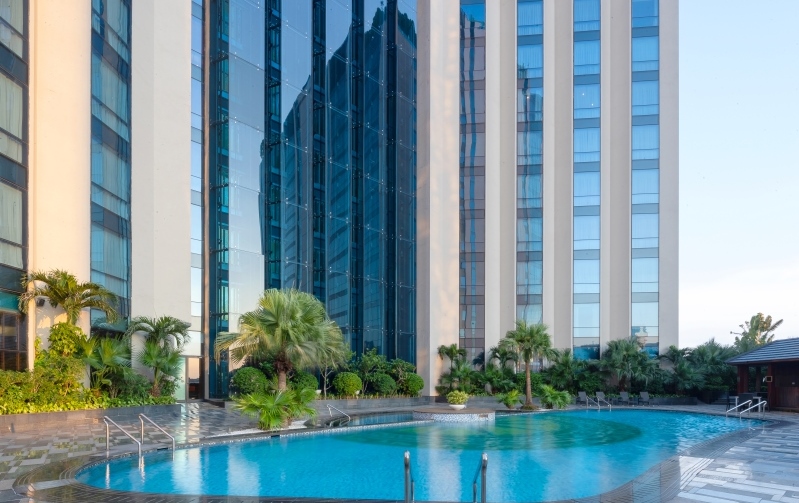 Hyatt Hotels Corporation today announced the opening of Hyatt Regency West Hanoi, the first Hyatt hotel in Hanoi and the third Hyatt hotel in Vietnam. Located in Nam Tu Liem district, Hanoi's new business district near major sporting and convention venues, Hyatt Regency West Hanoi offers 519 modern guestrooms where business travelers and leisure guests can enjoy seamless and relaxing experiences. Hyatt Regency West Hanoi, which has been rebranded from an existing hotel, has undergone an extensive renovation throughout all guestrooms, public areas, event and meeting spaces, and culinary venues, as well as a redesign of its tranquil landscaped garden.
"We are thrilled and grateful to be debuting the very first Hyatt hotel in the capital city of Vietnam alongside ownership company Tran Hong Quan Trading Co Ltd," said Louis Low, general manager, Hyatt Regency West Hanoi. "Conveniently located in a bustling business district, the hotel's tranquil ambiance and modern accommodations, dynamic dining venues and elevated event spaces help ensure guests have a relaxing time when visiting Hyatt Regency West Hanoi."
Convenient Location
Hyatt Regency West Hanoi is situated a few minutes by car from the Ministry of Foreign Affairs, the National Convention Center, and various business districts home to global companies, making the property a convenient base for corporate guests. Also located directly next to My Dinh National Stadium and near the Formula One Grand Prix race track, the hotel is an ideal choice for visitors attending major sporting events in Hanoi. In addition, a soon-to-be-completed road will lead directly from the hotel to Ring Road 3, which will provide guests with easy access to the highway and make it easier to visit popular locations in northern Vietnam such as Sapa, Ninh Binh and Ha Long Bay.
Refreshed Guestrooms
Spanning two towers, the hotel offers guests a bright, stylish urban retreat with 519 guestrooms, including 114 spacious suites and 129 long-stay rooms with kitchenettes and washing machines. The refreshed interiors feature a contemporary palette with natural wood and marble accents, coupled with modern facilities and floor-to-ceiling windows that allow in natural light and impressive views.
Vibrant F&B Venues
For guests looking to unwind after a busy day, the sky bar beckons with its relaxed atmosphere and spacious outdoor terrace, where guests can enjoy signature cocktails and panoramic city views. The hotel's main restaurant, Market Café, offers a vibrant dining experience with its lively open kitchens showcasing different types of local and international cuisine, from fresh seafood to Vietnamese fare. The expansive hotel lounge offers a relaxing spot for guests to connect and socialize.
Modern Meeting and Wellbeing Facilities
Featuring 4,740 square feet (823 square meters) of meeting and event space, including a spacious ballroom and several multifunctional meeting rooms, Hyatt Regency West Hanoi is also a premier venue for meetings, conferences, weddings and events, all accompanied by assistance from event planners delivering seamless and intuitive service. Additionally, an outdoor swimming pool, 24-hour fitness center and luxurious spa provide ample options for guests to relax and re-energize during their stay.