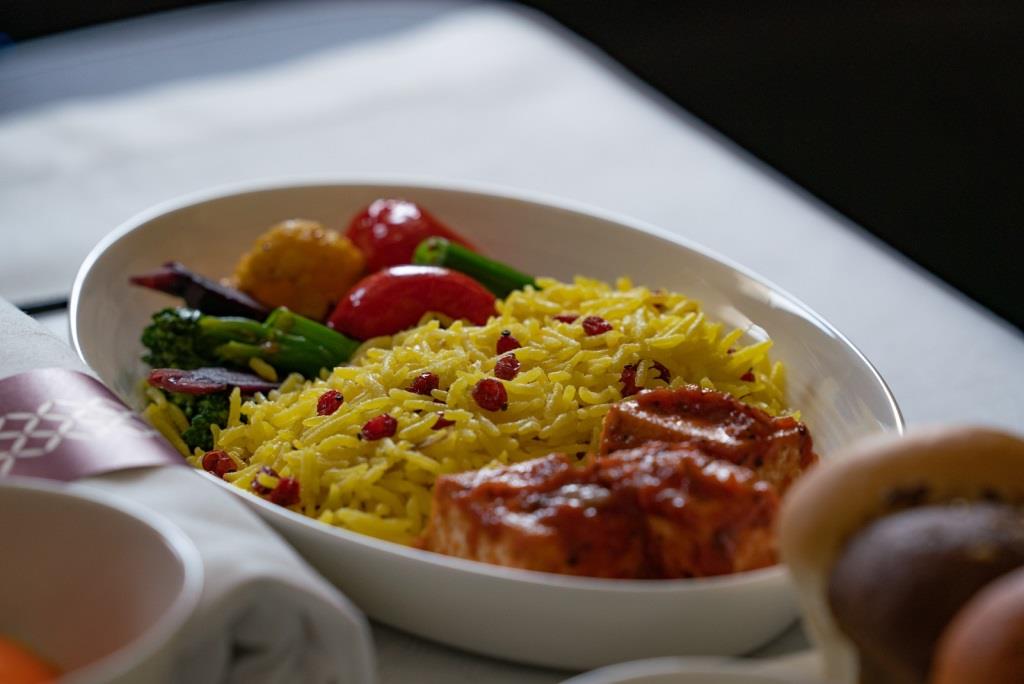 Qatar Airways has introduced its first range of fully vegan dishes to its on-demand à la carte menu for Business Class passengers, designed to cater to the increasing demand for plant-based food while elevating passengers' culinary experience when they travel with the award-winning airline.
The newly crafted vegan dishes are available to all Business Class passengers flying from the airline's Doha hub, Hamad International Airport, and on Qatar Aircraft Catering Company (QACC)-catered return flights. Alternatively, vegetarian meals will continue to be offered onboard flights facilitated by other catering services globally.
Qatar Airways Group Chief Executive, His Excellency Mr. Akbar Al Baker, said: "We are delighted to introduce our first fully vegan menu onboard, offering our esteemed passengers an even wider variety of high quality dishes that cater to a range of diets. We always strive to provide our customers with an authentic and indulgent experience in the skies. Crafted with fresh ingredients, our new vegan menu will offer our passengers dishes that are of the quality expected from a five-star airline."
Some of the new vegan dishes include, tofu and spinach pasta, smoked moutabel, spiral courgettes and arrabbiata sauce, tofu and spinach tortellini, asian barbecue tofu, noodles, scallions and shiitake, fried tofu with vegetable tajine, cauliflower couscous and kalamata bruschetta, and chickpea flour omelette.
When flying with Qatar Airways, Premium passengers on all flights are offered an on-demand à la carte menu, which offers a variety of sumptuous and delectable dishes. The airline also offers a wide selection of special meals to cater to different dietary requirements. Passengers can request a special meal up to 24 hours before their flight, these include young traveller meals, vegetarian or vegan meals, religious meals and medical or health care meals.
Since the start of the COVID-19 crisis, the airline has applied necessary health and safety measures onboard its flights, including in the preparating and serving of food. Business Class meals are served covered on a tray instead of a table set up, and a cutlery wrap is offered to passengers as an alternative to individual cutlery service, in an effort to minimise contact between crew and passengers. Qatar Airways has also introduced single-use menu cards and sealed refreshing wipes. Economy Class meals and cutlery are served sealed as usual, and menu cards have been temporarily discontinued. All social areas onboard the aircraft have been closed adhering to the social distancing measures. For more information about Qatar Airways' safety measures, visit qatarairways.com/Safety.
The national carrier of the State of Qatar now operates over 650 weekly flights to more than 90 destinations, providing more flexible travel options to more global destinations than any other airline. A multiple award-winning airline, Qatar Airways was named 'World's Best Airline' by the 2019 World Airline Awards, managed by the international air transport rating organisation Skytrax. It was also named 'Best Airline in the Middle East', 'World's Best Business Class', and 'Best Business Class Seat', in recognition of its ground-breaking Business Class experience, Qsuite. It is the only airline to have been awarded the coveted "Skytrax Airline of the Year" title, which is recognised as the pinnacle of excellence in the airline industry, five times. Its home and hub, HIA, was recently ranked 'Best Airport in the Middle East' and 'Third Best Airport in the World' by the Skytrax World Airport Awards 2020.