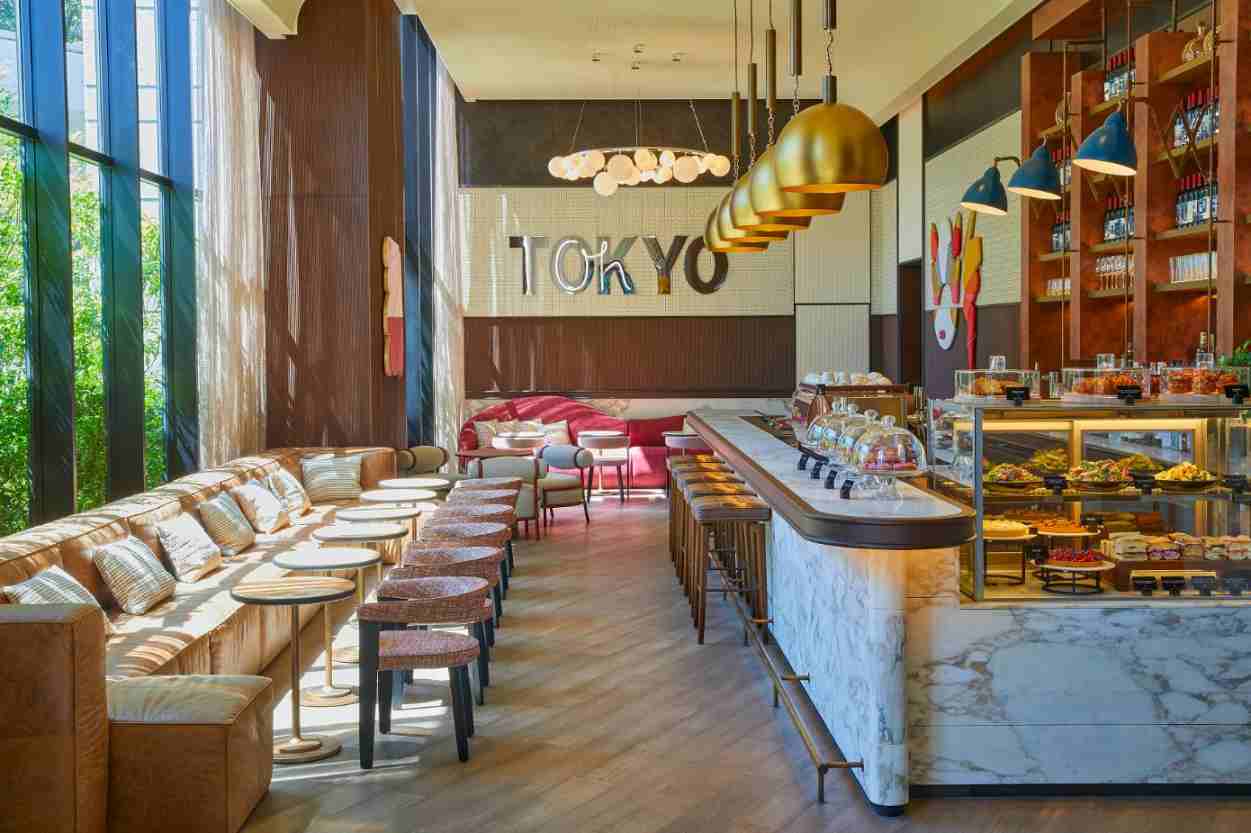 IHG® Hotels & Resorts brings Kimpton Hotels & Restaurants' signature heartfelt service and distinctive design to Tokyo (2 October). The highly anticipated opening promise a differentiated stay experience with locally-loved restaurants and bars and a unique approach to creating one-of-a-kind spaces that infuse local culture, textures and colours with modern sophistication.
Meet Kimpton Shinjuku Tokyo
Located in the heart of Shinjuku – an iconic hub of creativity and trend-setting fashion – Kimpton Shinjuku Tokyo features bold and playful design made richer through collaboration with local artists and community talent. The experience begins with the hotel's exterior: a striking façade conceived by renowned New York design and architecture firm, Rockwell Group. It stars an impressionism wall designed by celebrated Japanese artist, Kusumi, before guests enter into an Art Deco masterpiece inspired by Lower Manhattan's art and fashion scene.
Neighbouring Bunka Fashion College supports Kimpton's celebration of emerging talent, with the hotel's doormen dressed in a stylish wardrobe by Bunka graduate, Oka. Inside, keep an eye on the shoes worn by Kimpton hosts – they sport artwork from iconic Japanese artist, SHETA, renowned for his eye-catching pop art with vibrant colour and humorous design. For an unexpected twist, the resident Kimpton Curator helps energise the social scene with monthly exhibitions in the level 16 art gallery that doubles as a wedding chapel.
151 luxurious rooms and suites promise a pampering experience with La Bottega amenities and well-loved Kimpton perks including a 'bath turndown' with the brand's own scented candles and bath salts. The 'Closet Smile' is a functional pop-up in all rooms, as guests discover their Japanese Yukata and fan designed by Hiroko Takahashi, a permanent exhibitor at the V&A in London and famous for her abstract-designed Kimonos. Lifestyle programming – part of Kimpton's DNA – delivers memorable experiences; starting with a morning kickstart coffee and tea, to yoga lessons with breathtaking views and Kimpton's Social Hour, where the brand's vision to enable human connections comes to life as guests mingle with locals (and four-legged friends) with complimentary rare wines in the evening.
One-of-a-kind dining destinations
Innovative culinary experiences build on Kimpton's legacy of one-of-a-kind, locally loved restaurants. Each of the hotel's dining destinations has origins steeped in New York culture. The Jones Café | Bar is a classic New York deli-style café while District Brasserie-Bar-Lounge uses local produce and takes inspiration from New York's subcultures with a mix of Little Italy, Mexican and Asian influences. Cocktail lovers will flock to the Outdoor Terrace, a sophisticated open-air setting to enjoy signature classics including the Greenwich Village.
Growing in Asia
These openings are part of the brand's continued momentum into new urban markets and resort destinations across Asia, joining Kimpton Da An in Taipei which opened its doors in 2019, and upcoming openings including Bali in 2021; Suzhou in 2022; Hong Kong, Shanghai, Nanjing and Kuala Lumpur in 2023; and Sanya in 2025.