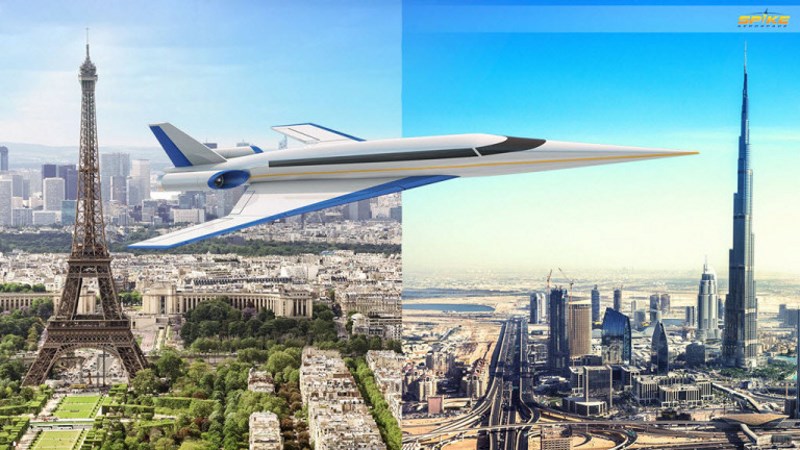 Spike Aerospace is proud to announce Ray Benvenuti is joining their Executive team with the goal of accelerating the company's expansion and development of the Spike Supersonic Jet.
Benvenuti is a senior executive and board member with decades of experience in finance, operations and advisory roles with private equity, aerospace and manufacturing firms. He brings his wealth of knowledge and insight in aerospace, capital raising, deal structuring, negotiations and management to Spike Aerospace.
Ray's insights in aerospace companies derives from his professional and educational background including an M.S. in Mechanical and Aerospace Engineering from Princeton University and an M.B.A. from the Harvard Graduate School of Business Administration, where he graduated as a Baker Scholar. Ray is also an instrument rated private pilot.
"I've invested in, led, managed and consulted to dozens of aerospace suppliers and OEMs. Spike Aerospace's vision to reintroduce supersonic flight that is quieter, sustainable and efficient is game changing. Done right, there will be a significant demand for this aircraft. My goal is to make that happen and help the company achieve its vision!" said Ray Benvenuti.
"I'm very much looking forward to working with Ray Benvenuti. He is an amazing addition to an already impressive executive team at Spike Aerospace. I look forward to Ray's insights on building a world-class aerospace organization." added Vik Kachoria, President & CEO of Spike Aerospace.
Benvenuti is joining Spike's growing executive team which now includes Tom Captain, former Vice-Chairman of Deloitte Aerospace and Defense Group; John Thomas, former CEO of Virgin Australia Airline; and Brian Foley, former director of marketing at Dassault Falcon Jet.
The Spike Supersonic Jet cuts flight times by 40% which enables business travelers to be more effective and competitive – while personal travelers can enjoy more of the world. But unlike the Concorde, the Spike jet will fly at Mach 1.6 overland or oceanic routes without creating the loud sonic boom that is so disturbing on the ground. The company is committed to environmentally responsible aviation, Stage 5 compliance and low-sonic boom for overland flight.
Ray founded Concord Investment Partners, an investment and advisory firm focused on making private and public investments in aerospace, automotive and industrial companies. In addition, he serves as an advisor to various private equity firms and hedge funds investing in transportation related and industrial companies.
As part of Concord Investment Partners, Ray became President and CEO of Stellex Aerostructures, Inc., a manufacturer of large structural assemblies and components for commercial and military aircraft, where he orchestrated a major turnaround culminating in the sale of the company to GKN, plc. in September 2006. From 2007 to 2018, he served as an Operating Partner, Managing Partner and Senior Advisor to Greenbriar Equity Group, responsible for reviewing and overseeing aerospace and automotive private equity investment opportunities.
Before founding Concord Investment Partners, Ray was with Forstmann Little & Co. where he was involved in four large acquisitions and actively helped manage several portfolio companies including Gulfstream Aerospace.
Prior to Forstmann Little, he was a senior consultant with McKinsey & Company, where he was responsible for several operational improvement projects for industrial, telecommunications, and aerospace clients.
Ray is currently a board member of a number of aerospace and manufacturing firms including The Whitcraft Group, a privately held fabricator of jet engine components and assemblies. Previously, he also served as Chairman and interim CEO of Align Aerospace (a master distributor of aerospace fasteners and Class C hardware), as Chairman of AmSafe Partners (the leading manufacturer of passenger and cargo restraint systems for commercial aerospace use), and as Chairman and Director of EDAC Technologies (a manufacturer of composite and metallic jet engine components). Ray served as an advisor to ABL Space Systems at inception, a startup developing a commercial launch vehicle for small satellites, with plans for first launch in 2021.
Brian Foley, long-time business jet industry executive turned aviation industry strategist, is the latest senior executive to join the Spike Aerospace as an executive advisor.