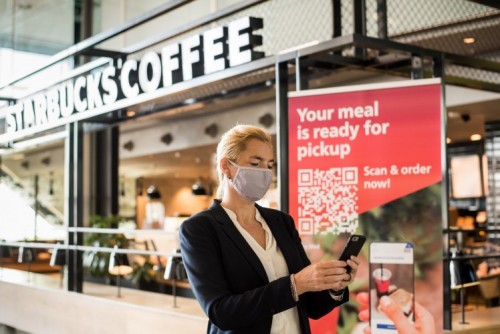 Order your coffee or meal at Schiphol in advance with a new contactless ordering service.
In collaboration with HMSHost International, Schiphol has started a pilot that makes it possible for passengers to order food and drinks at Schiphol outlets after security control in advance with a QR code. Schiphol passengers can scan a QR code from one of the physical banners or media screens located at and after the airport security check. This QR code will allow them to place their order, pay online and choose a time to pick up their order after security.
Schiphol is one of the first airports in Europe to offer this contactless ordering service to its passengers. Visitors to Schiphol Plaza were already able to place an order in advance using the Foodsy app. As the option to pre-order food and drinks proved successful, the airport expands with HMSHost International to catering outlets after security. Nearly all of the catering outlets in Lounge 1 (Schengen) are participating, including Starbucks, La Place, Grand Café Het Paleis and Grab & Fly.
Banners and digital screens with a QR code will be placed at various locations at and after security control. This QR code will take passengers to an order page where they can choose which catering outlet they would like to order from. After the pilot period, Schiphol and HMS-Host International will evaluate whether the number of catering outlets from which you can order in advance will be increased.
With hygiene and safety concerns top of mind, Alaska Airlines is making it easier for guests to travel touch-free.