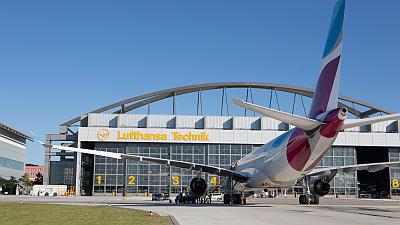 Today (2 SEPT) Eurowings resumed operations between Newcastle and Dusseldorf, becoming the tenth airline to restart flights from the North East's largest airport.
The airline ceased flying between the two cities in April due to the COVID-19 pandemic, but today began operating three flights every week and plans to increase to six flights per week from November.
Located in the west of Germany, Dusseldorf is the country's seventh largest city and is popular with leisure passengers looking for a city break as well as a large number of business passengers traveling from the North East to Germany and beyond.
Eurowings will operate the route on its Airbus A320 aircraft which will provide more than 1000 seats between Newcastle and Dusseldorf each week.
Nick Jones, Chief Executive of Newcastle Airport said: "We're delighted to see Eurowings return to the Airport and look forward to welcoming passengers for their trips to Dusseldorf.
"The connection between the two cities has been established for many years and continues to be a very important connection for the region's business and leisure passengers.
"There is no doubt that this is a challenging time for the aviation industry however it is positive to see the tenth of our airline partners resuming operations from our Airport."
Newcastle Airport announced its Ten Point Plan of measures ahead of passengers returning in June. The plan ensures the terminal is a safe environment for all and includes mandatory face mask wearing, hand sanitiser stations throughout the passenger journey and an enhanced cleaning regime.
Eurowings makes free middle seat bookable from 18 Euro
Eurowings has responded to a changing aviation world with new customer needs by offering innovative products and services: Eurowings is the first German airline to launch a free middle seat that can be booked in advance of the flight. The new offer has been tested very successfully in live operation over the past few weeks and has met with an exceptionally high level of interest right from the start.
"The positive feedback during the test phase showed us very clearly that our guests often want more comfort and distance on board. We therefore assume that the free middle seat will become a very important product for travel in the future," says Eurowing's CEO Jens Bischof.