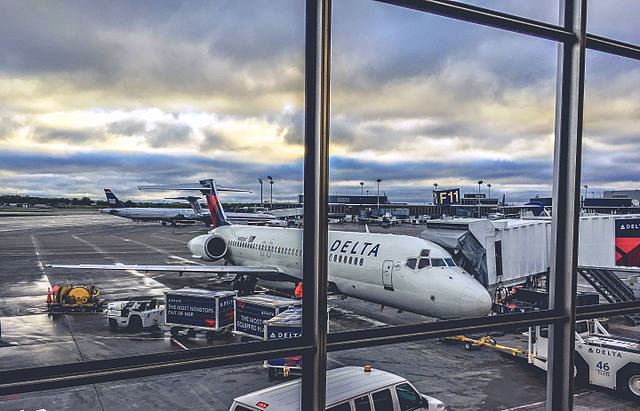 MSP's commitment to a clean environment for travelers shows up each day in the hundreds of hours workers put in to keep the terminals in top shape. And, increasingly, those efforts are apparent to anyone walking through the terminals or going through a security checkpoint at MSP.
"We put additional emphasis on cleaning in March when the pandemic started affecting air travel," said Scott Skramstad, assistant director of operations at MSP Terminal 1. "Now we've added fogging of surfaces, and our touchpoint teams focus on high-traffic areas."
One worker is always assigned to each operating security checkpoint, in both Terminal 1 and Terminal 2. These employees wipe down bins, rollers, and the divestiture tables on both sides of the security scanner, as well as the benches where people sit post-security.
Collectively, the cleaning crews are working 28,000 hours per month – or 933 hours per day – to keep the airport's 3.2 million square feet clean.
Special touchpoint cleaning teams focus on the surfaces that travelers touch most frequently. But the custodial employees who clean the terminals throughout the day perform touchpoint cleaning as well.
Those touchpoints include surfaces in seating areas, including gateholds on the concourses, and knobs and push buttons in bathrooms.
Escalator handrails are cleaned regularly with specialized equipment. Drinking fountains get extra attention as well.
The electrostatic fogging of surfaces is done in the overnight hours when the disinfectant can have 10 to 15 minutes to dry without being touched.
"We want passengers to feel safe knowing that we're going that extra mile for their safety," said Shannon Gale, assistant manager-facilities at Terminal 1.
RusTourismNews.com has found out what it will cost for an hour of parking at 36 US airports.