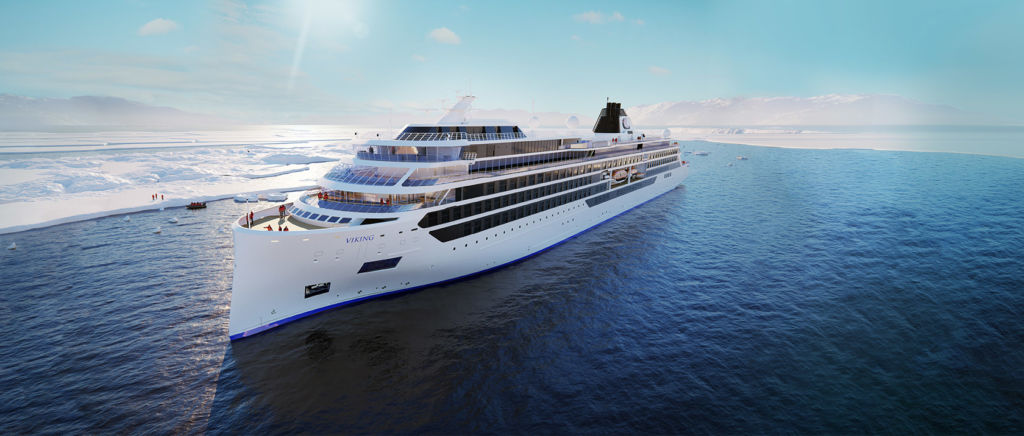 Viking today announced the expansion of its destination-focused travel experiences with the launch of new expedition voyages. Viking Expeditions will begin sailing in January 2022 with its first vessel, Viking Octantis, embarking on voyages to Antarctica and North America's Great Lakes. A second expedition vessel, Viking Polaris, will debut in August 2022, sailing to Antarctica and the Arctic. Viking's arrival to the Great Lakes will bring the newest and most modern vessels ever to explore this region of North America and will mark a major commitment to local tourism and economic development for the states of Michigan, Minnesota and Wisconsin, as well as the Canadian province of Ontario. As part of an exclusive preview, past Viking guests have been able to book select Viking Expeditions polar itineraries since October 9. Starting today, January 15, all expedition voyages – including the new Great Lakes itineraries – are available to the public for booking.
To develop the new expedition voyages, Viking has partnered with some of the world's most prestigious scientific institutions. The lead partner is the University of Cambridge's Scott Polar Research Institute. This relationship is underpinned by a major Viking endowment for scientific research into the polar regions, The Viking Chair of Polar Marine Geoscience, a Cambridge University full professorship based at the Scott Polar Research Institute, as well as a sponsorship fund supporting the Institute's graduate students. As part of this endowment, the Institute's scientists will undertake fieldwork on board Viking's expedition vessels and join voyages to share their expertise with guests. Viking has also partnered with The Cornell Lab of Ornithology, a globally recognized bird research facility, whose ornithologists will regularly be on board the expedition ships, providing guest advice and interaction. Additionally, Viking has partnered with the National Oceanic and Atmospheric Administration (NOAA), whose scientists will join expeditions in the Great Lakes to conduct research focused on changes in the region's weather, climate and ecosystems. NOAA scientists may also offer lectures about the Great Lakes' unique environment to Viking guests during these voyages.
Details of Viking's plans were unveiled by Chairman Hagen this evening during a celebratory launch event in Beverly Hills, Calif. Hagen also announced that famed adventurers and educators Liv Arnesen and Ann Bancroft will be honored as ceremonial godmothers to Viking Octantis and Viking Polaris, respectively. Arnesen, a native Norwegian, became the first woman in the world to ski solo and unsupported to the South Pole in 1994. Bancroft is the first woman to successfully ski to both poles. Arnesen and Bancroft also became the first women to ski across Antarctica in 2001. Together they co-founded Bancroft Arnesen Explore / Access Water, an initiative that aims to engage and empower more than 60 million minds to create a sustainable tomorrow. Arnesen will also periodically serve as a member of the Viking Expedition Team.
Viking Expedition Ships
The new Polar Class 6 Viking Octantis and Viking Polaris will host 378 guests in 189 staterooms; both ships are currently under construction and will be delivered in Norway by Fincantieri's VARD. Designed by the same experienced nautical architects and engineers that designed Viking ocean ships, the ships are optimally sized and built for expeditions – small enough to navigate remote polar regions and the St. Lawrence River, while large enough to provide superior handling and stability in the roughest seas. The ships will feature public spaces that are familiar to Viking's ocean cruise guests but that have been reimagined for expeditions, as well as new public spaces created specifically for expeditions. Straight bows, longer hulls and state-of-the-art fin stabilizers will allow the ships to glide over the waves for the calmest possible journey; ice-strengthened Polar Class 6 hulls will provide the safest way to explore; and U-tank stabilizers will significantly decrease rolling by up to 50 percent when the ships are stationary. Viking 's expedition ships will feature modern Scandinavian design with elegant touches, intimate spaces and attention to detail.
2022-2023 Viking Expedition Inaugural Voyages
Antarctic Explorer (13 days; Buenos Aires to Ushuaia)
Antarctic & South America Discovery (19 days; Buenos Aires to Rio de Janeiro)
Arctic Adventure (13 days; Roundtrip Tromsø)
From the Arctic to the Antarctic (44 days; Tromsø to Ushuaia)
Undiscovered Great Lakes (8 days; Thunder Bay, Ontario to Milwaukee)
Great Lakes Explorer (8 days; Milwaukee to Thunder Bay, Ontario)
Niagara & The Great Lakes (8 days; Toronto to Milwaukee)
Canadian Discovery (13 days; New York to Toronto)
Booking Details
Beginning January 15, 2020 through February 29, 2020, U.S. residents can take advantage of an Inaugural Offer on 2022 & 2023 Viking Expedition itineraries.