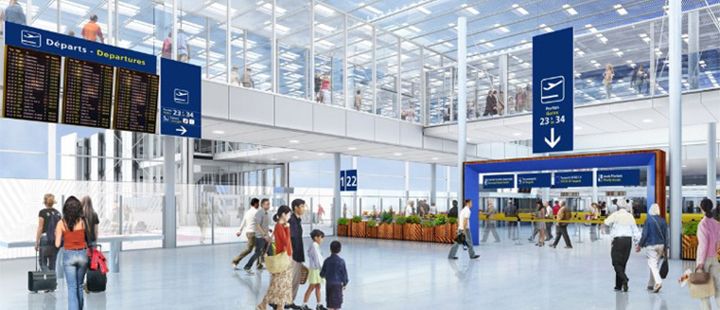 With the inauguration of the new Orly 3 building on April 18, Paris-Orly airport has been transformed into a single terminal, known as Paris Orly 1-2-3-4.
As of May 28, 2019, Air France will welcome all its long-haul customers travelling from Paris-Orly to Pointe-à-Pitre, Fort-de-France, Cayenne, Saint-Denis de la Réunion and New York in this new Orly 3 building. Customers travelling to Corsica, Nantes and Lyon will also check in and board from Orly 3.
The company's other flights, including La Navette, will continue to operate from Orly 1.
To mark this new stage, surprises and special events are planned for our customers leaving from Orly 3 on May 28, such as a magic mirror, distribution of bracelets and special decorations in a warm and festive atmosphere!
Orly 3: more space and comfort for passengers
With 80,000 sq. m. spread over 3 levels and dedicated to passengers, the new Orly 3 infrastructure offers customers more comfortable, spacious and quality conditions for check-in, boarding and arrival. A vast area of restaurants, shopping and services also makes their time at Paris-Orly more pleasant.
Paris Orly 1-2-3-4: clear and intuitive customer channels
Structured around 4 Departure and Arrival areas, the single Paris Orly 1-2-3-4 terminal offers customers simpler, more fluid and faster channels through the airport. Whether they are departing, arriving or have a connection at Paris-Orly, their itinerary is indicated at each stage on the information panels and signs (and on their boarding pass for passengers departing from the airport). To pick up baggage, find a check-in area or a connecting flight, just follow the signs.