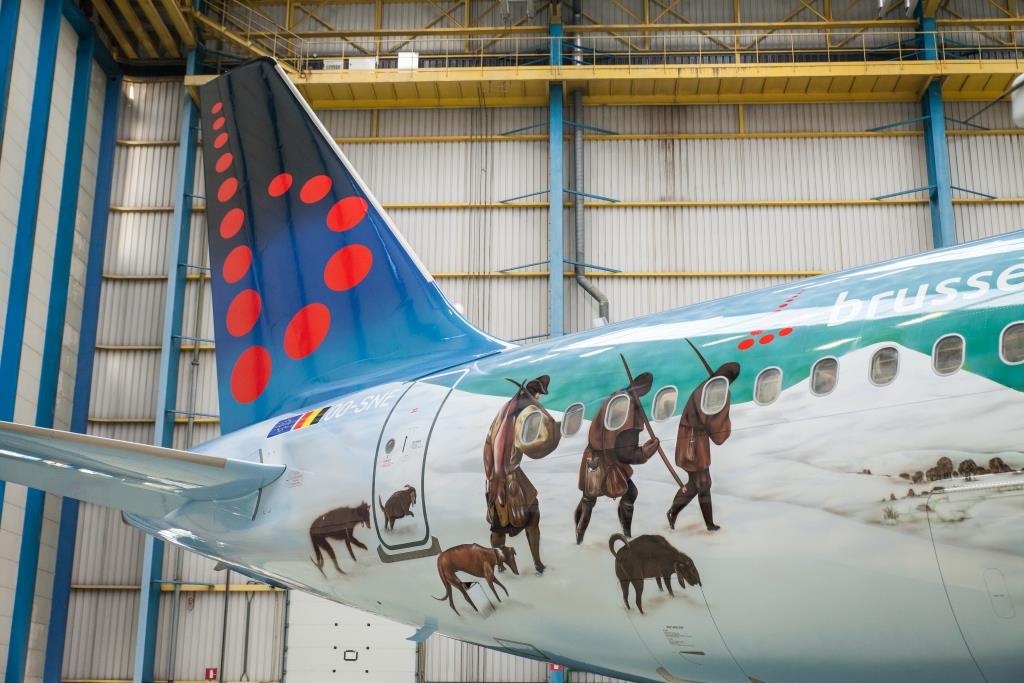 After honoring Tintin in 2015, followed by Magritte, the Red Devils, Tomorrowland and the Smurfs, Brussels Airlines presents its 6th Belgian Icon, a unique aircraft inspired by Flemish painter Bruegel the Elder. The result is a grand piece of art and the most complex plane livery in the world due to the enormous level of detail.
2019 being the year of Bruegel, Brussels Airlines has chosen to pay tribute to the Flemish Master with a new Belgian Icon. For the occasion, the airline joins forces with VISITFLANDERS and BOZAR – Centre for Fine Arts, who acted as curatorial advisor and suggested two contemporary Belgian artists, Jos de Gruyter & Harald Thys. The artist duo was commissioned to imagine a design for the aircraft that looks at the work of the old master from the perspective of their own artistic practice.
Although 450 years separate them, these artists and Bruegel share similarities in the way they observe the real world, its places, people, landscapes and habits. Moreover, they have in common to inhabit a same terrain: Belgium, which, beyond being the place where they live and work also serves as a great inspiration for their artistic productions.
The result is a 37 m long Airbus A320 baptized Bruegel. The two sides of the fuselage feature an entirely different design, which took 19 days to paint by hand, as it is the most complex aircraft livery ever made, due to the very high level of detail. The aircraft was unveiled today in the presence of Christina Foerster, CEO of Brussels Airlines, Ben Weyts, Flemish Minister of Tourism, Peter De Wilde, CEO of VISITFLANDERS, Paul Dujardin, CEO of BOZAR and the artists.
The Bruegel plane is only a part of the entire project to promote the Flemish Masters in 2019 and 2020. Brussels Airlines and VISITFLANDERS also join forces to attract tourists to Belgium with the Hi Belgium Pass: The Flemish Masters Experience. With the pass, tourists can fly from 48 European cities to Brussels, take unlimited train rides to Belgian cities and visit a wealth of cultural attractions for free, including Flemish Masters exhibitions and collections across Flanders and Brussels. Upon arrival in Brussels Airport, travelers will immediately be immersed in the Bruegel universe, thanks to the brand new skullmapping art installation at gate A40 by VISITFLANDERS.