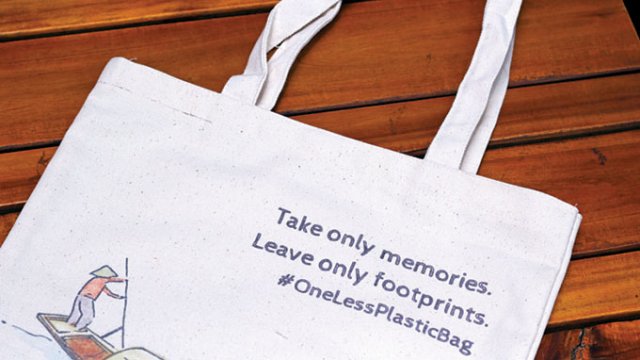 Similar "Before" and "After" photos have been shared on Facebook, Instagram and Zalo in Vietnam recently, featuring two photos side-by-side – one showing an area with a load of trash and the other either an individual or group of people in the same place doing or celebrating a cleanup. Campaigns are being implemented by many young people around the country in response to the new global trend of #ChallengeforChange, started by Byron Román, a Facebooker, in March. This is just one of many activities for people to fight plastic waste and create a clean and green environment.
Together with individuals, groups, and even celebrities becoming involved in #ChallengeforChange, there are also "Challenge for Change" photo contests, launched by local authorities and organizations such as the Ministry of Natural Resources and Environment (MoNRE), the Institute for Development Studies in Thua Thien Hue, the Ho Chi Minh Communist Youth Union, and several newspapers. The contests have received thousands of entrants, with the challenge being accepted by more and more people. Lekima Hung, a local photographer, published thousands of photos on polluted areas, mostly by plastic, that he took on a motorbike trip along the country. The collection shocked the public about the environmental threat and encouraged many to take action.
"No" to plastic waste

Research has shown that plastic is one of the greatest environmental challenges facing the world. About 8 million tons are dumped into the world's oceans every day, with more than half coming from China, Indonesia, the Philippines, Thailand, and Vietnam, according to a 2017 report from Ocean Conservancy.
Southeast Asia has seen some of the fastest economic growth rates in the world recently and plastic production has boomed alongside it, while waste management is still far from needs, according to the UN Environment Program. Studies have shown that microplastics that end up in soil or fresh water sources have a long-term negative effect on ecosystems and cause serious pollution.
At the World Economic Forum's "Meeting of Leaders on Ocean Action Agenda" session earlier this year, Prime Minister Nguyen Xuan Phuc affirmed that Vietnam would join hands in international cooperation for an ocean without plastic waste.
Many "Say 'No' to plastic" campaigns have taken place since last year. MoNRE delivered a message that single actions are not enough to address plastic pollution, but a series of actions like reducing single plastic use, plastic recycling, and seeking alternative energy solutions can help. In March, Mr. Van Thuc, Deputy General Director of the Environment at MoNRE, told local TV that the ministry would require all shopping malls, supermarkets, and local markets replace plastic bags to 100 per cent eco-friendly bags by 2026. Furthermore, it will also tighten the import of waste to reduce the effect on the local environment.
Actions are also being taken in different locations, starting with coastal regions with beaches polluted by plastic waste. Many restaurants, shops, and households in Hoi An ancient town and Cham Island have committed to not using plastic bags, authorities and local people Da Nang have intensified campaigns on trash collection at its beaches and garbage classification into recyclable categories, while environmental volunteers on Co To Island welcome tourists with free tote bags.
Similar campaigns on trash collection and replacing plastic bags then spread to cities and provinces like Hanoi, Ho Chi Minh City, Hue, Nghe An, Nha Trang, Hai Duong, Bac Giang, and Phu Tho. Local people, especially wives and mothers, are encouraged to use paper bags, tote bags, or carry bags when shopping. They are also given free carry bags.
One of them, Ms. Hong Hanh, a retired teacher in Hanoi's Ba Dinh district, said she paid more attention to the issue after seeing more news on TV about different campaigns and was willing to return to using a carry bag, like she did in the 1990s. "There were almost no plastic bags back then," she said. "At markets, things were wrapped in paper or banana or lotus leaves and we carried them back home in carry bags. It was obviously fresher and cleaner than today. Plastic bags are very convenient but they do harm. So I don't mind changing." She added that she has seen many more people using carry bags recently.
In the same spirit, Ms. Ngoc Linh, a shop-owner in the capital's Dong Da district, said she now gives customers paper bags instead of plastic bags. "It costs me more but its less harmful on the environment," she said. "If plastic bags are still produced, many people will still use them. But if they were banned, everything would change."
Along with cleanup campaigns and calls for the reduction of elimination of plastic bags, other voluntary activists have inspired people to adopt new green habits.
"Yes" to eco-friendly products
Together with posting news, images and videos on well-known sites to raise awareness about plastic waste and its damage on the environment, members of "Noi 'Khong' voi tui nylon" (Say 'No' to Plastic Bags) is one of the most popular environmental pages in Vietnam, with nearly 62,000 followers. They also go to shops and offer customers some money back or eco-points if they don't take plastic bags. The names of participating shops are also listed as eco-friendly businesses. "We started in 2016, and many shops still conduct that policy," Ms. Hoang Thao, founder of the page, told VET. "We also see more offering similar policies, including those we didn't talk to. It's a very good sign."
Meanwhile, responding to a call from Nhacuacoffeeholic, a popular Instagram account of a photographer and coffee fan, many coffee and milk tea brands, especially those favored by young Vietnamese, such as M.S.Corner, Cheese Coffee, Thinker and Dreamer, Caztus Blended, and Bobabop, provide eco-friendly bags for take-away drinks. To encourage people to use them, the shops offer a discount for people bringing them back to use on their next visit. The bags also bear slogans such as "This is not a nylon killer" or "Freshen your day" and have catchy patterns and stickers, which attract a lot of customers to the new trend of being young, modern, and green, especially in Ho Chi Minh City.
Other single-use plastic products have also been targeted by different campaigns. While Say "No" to Plastic Bags holds workshops to teach people about making bags from old clothes and recycled plastic, Da Nang Green Hero organizes exhibitions on plastic waste issues as well as campaigns on "My bottle everywhere", which encourage people to always bring a bottle to reduce the consumption of take-away plastic cups and bottles, while Zero Waste Saigon calls for straws to be collected for an art installation built from recovered plastic packaging and straws. They also join with the campaigns of the No Straw Challenge Group to go to restaurants and beverage outlets to call on them to use bamboo, glass, or metal straws.
Phuong Thao, a fan of coffee and milk tea, recently bought a bamboo straw after talking to them, which she always takes with her when she's out. "I knew that plastic waste was harmful but didn't know that it takes only five seconds to produce a single-use plastic product that is usually used for about five minutes but requires 500 years or more to degrade in a landfill," she said. "After I heard that, I felt some responsibility to take action, for myself, my family, and the next generation. I'm worried about when my baby grows up. The environment will be much worse if we continue using single-use plastic products."
Along with campaigns, these groups also connect with local enterprises to offer organic and eco-friendly products such as bamboo straws, spoons and bowls, toothpaste, dish sponges, shoe insoles, wooden toys, net bags, and tote bags – not to earn a profit but to fund their activities and campaigns. "There is a lot of eco-friendly material in our country and more people want to use eco-friendly products," said Hoang Thao. "But they usually have to go to different places for different things. They don't know about certain products either. So, we offer them a one-stop store with more options and convenience as well as introduce them to more products. The road is long. But more and more people have joined us recently. I believe that if everyone joins in taking action, together we can make a major change."