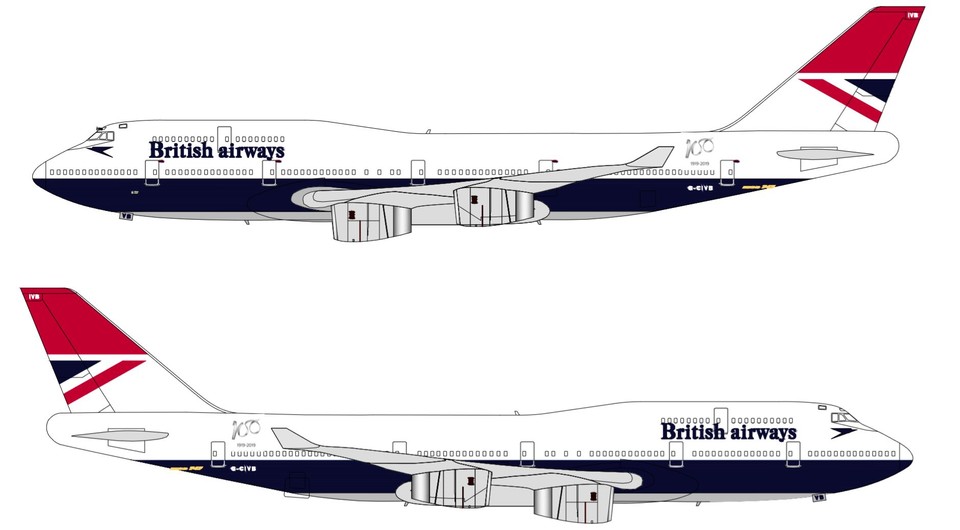 After much speculation, British Airways has today revealed the fourth and final design in its series of heritage liveries to mark the airline's centenary – a Boeing 747 painted in the Negus design.
The 747-400, registration G-CIVB, entered the IAC paint bay at Dublin Airport last Saturday where it is being repainted with the first version of the Negus livery which adorned the British Airways fleet from 1974-1980, directly after the merger of BOAC and BEA and the formation of the airline customers know today.
When it initially flew, the Negus livery was the first time an aircraft had carried "British Airways" since 1939, when the original British Airways Limited merged with Imperial Airways to form BOAC. Interestingly, the Union Flag is not present on the side of the aircraft as, like the final BEA aircraft livery, the flag began to be fully celebrated on the aircraft's tailfin instead.
The repainted 747 will return to Heathrow and enter service later this month flying to long-haul destinations served by the Boeing 747, with the design remaining on the aircraft until it retires in 2022.
The Negus is the fourth and final heritage design to be painted on a British Airways aircraft following a British Overseas Airways Corporate (BOAC) liveried Boeing 747, a British European Airways (BEA) Airbus 319 and a British Airways Landor 747, all of which are already flying.
The special series of designs are being introduced to mark British Airways' centenary, as the airline celebrates its past while looking to the future. Alongside the heritage liveries, all new aircraft entering the fleet, including the A350, will continue to receive today's Chatham Dockyard design.
Alex Cruz, British Airways' Chairman and CEO, said: "Rumours have been circulating for quite some time about this final livery, so it's exciting to confirm it is the Negus design. It's particularly significant for us because it's the first design worn by the British Airways that we all know today, with the distinctive lower case 'a' and the Union Flag on the tailfin."