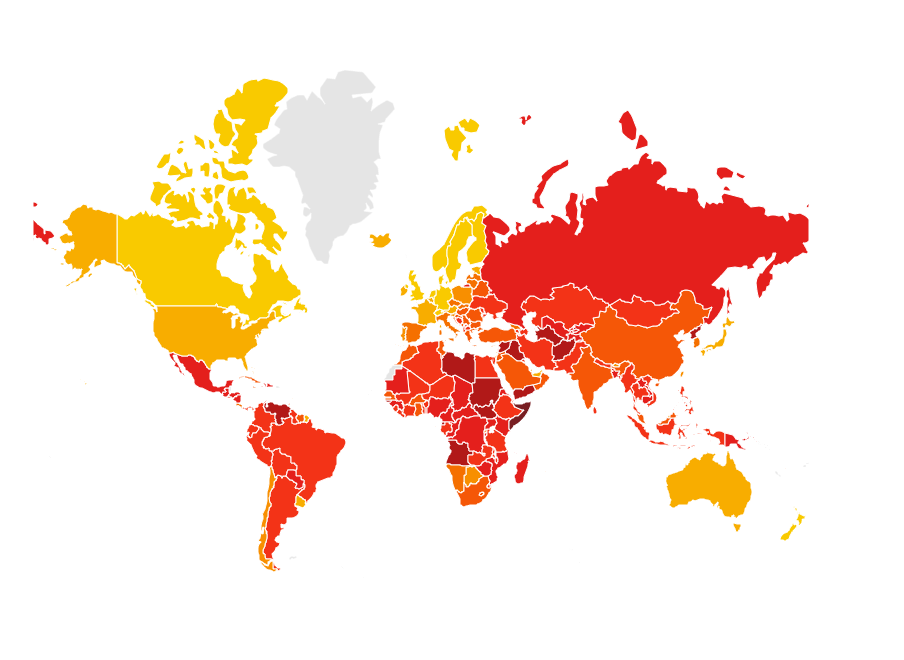 The 2018 Corruption Perceptions Index (CPI) released today by Transparency International reveals the United States as a key country to watch in a global pattern of stagnating anti-corruption efforts and a worldwide crisis of democracy. With a score of 71, the US has dropped four points since last year. This marks the first time since 2011 that the US falls outside of the top 20 countries on the CPI.
The 2018 CPI measures public sector corruption in 180 countries and territories, drawing on 13 expert assessments and surveys of business executives to give each country a score from zero (highly corrupt) to 100 (very clean). Five of the nine sources used to compile the score for the US showed a noteworthy drop in score. The other sources showed no improvement.
Denmark and New Zealand top the Index with 88 and 87 points, respectively. Somalia, Syria and South Sudan are at the bottom of the index, with 10, 13 and 13 points respectively.
Overall, more than two-thirds of countries score below 50 in the 2018 CPI, with an average score of only 43. Since 2012, only 20 countries have significantly improved their scores, including Côte D'Ivoire, and 16 have significantly declined, including, Australia, Chile and Malta.
The World's Most Corrupt Countries:
Somalia
Syria
South Sudan
Yemen
North Korea
Sudan
Guinea Bissau
Equatoria Guinea
Afganistan
Lybia
Top Countries:
Denmark
New Zeland
Finland
Singapore
Sweden
Switzerland
Norway
Netherlands
Canada
Luxemburg