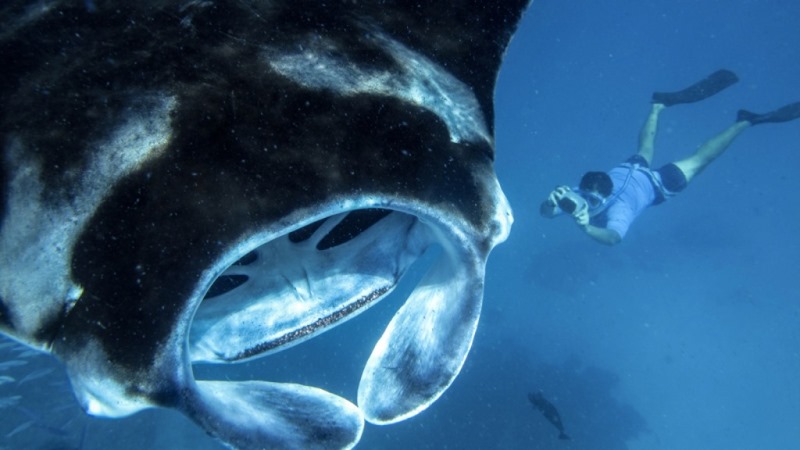 The graceful ballerinas of the ocean, highly curious manta rays have the largest brain of all the world's fish. Under threat, they still have much to teach us. Do you want to immerse yourself in their elusive world to discover more?
A Manta Trust Expedition onboard Four Seasons Explorer places participants at the forefront of cutting-edge research. It's a rare and thrilling opportunity to contribute to this incredible field of science and experience a wonder most can only dream of – regardless of whether an adventure-seeking family, a couple seeking an alternative vacation, or an individual who's passionate about conservation.
To understand the power and presence of these marine marvels – and the work being done to protect them in the Maldives – one has to go back to 2003, when a then-Four Seasons marine biologist, Dr. Guy Stevens, encountered his first manta ray and, in doing so, discovered his life's passion and work: to conserve these captivating creatures through active research and education.
Fast forward over a decade and Guy is now one of the world's leading manta ray experts; the Maldivian Manta Ray Project (MMPR) that he first established at Four Seasons Resort Maldives at Landaa Giraavaru is now the founding project of the world's largest manta ray charity, The Manta Trust; and his team operates projects in more than 20 different counties around the world.
Four Seasons Explorer's Manta Trust Expeditions offer a rare insight into the pioneering research that Guy's team has developed over the years. Participants of all ages are encouraged to free-dive and snorkel with mantas alongside a team of specialist marine biologists, recording critical environmental information, taking manta ID photos, and joining in the ID process – including naming any newly sighted mantas.
"From population size, migratory routes and life history strategies, to social interactions, growth rates, life span, reproduction and more, every time we enter the water with manta rays, we improve our knowledge of them – and the global steps required to protect them," shares Guy Stevens, Chief Executive and Founder of The Manta Trust. "Escorting these trips has the added benefit of transporting me back to that incredible moment when I first swam with a manta ray as guests have their own first manta encounter. It was life-changing for me and I never tire of seeing the impact it has on others too."
Four Seasons Explorer is a floating PADI 5 Star dive centre, a Manta Trust research Lab, a championship surfing venue, an exclusive-use party pad and more. It offers Four Seasons-style accommodation and activities for up to 22 guests across three luxurious decks; a team of 25 adventure-seeking crew; effortless access to up to six different atolls; and many less-expected resort-style benefits too. Spa treatments (on deck or a secluded sandbank); remote island village visits; desert island BBQs; kayaking, wakeboarding, waterskiing and windsurfing; handline or bottom-line fishing from a dhoni; sunbathing decks; evening stargazing by telescope; gourmet dining; and chill-out days on snuggly sofas in the large air-conditioned Lounge.
Refurbished in 2017, the boat is a vision of sleek finishes and stylish soft furnishings across its entire 39 metre / 128 foot expanse. The 10 State Rooms and signature Explorer Suite (complete with a wall of windows and private sun-bathing terrace) all feature upgraded bathrooms, new artworks, plush carpets and curtains, and re-upholstered sofas and headboards. Tropical-coloured chairs in the huge open-plan Dining Room complement the new layout and flexible furniture in the adjacent Living Room and Library. And across the boat, a cool blue, grey and white palette, accentuated by rich dark wood furnishings, showcases contemporary nautical living at its luxurious best.