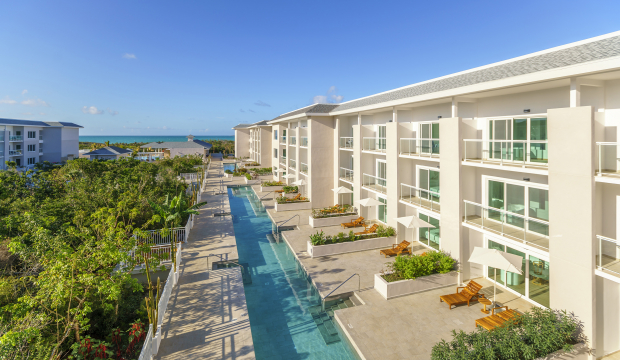 The new Paradisus Los Cayos—the fourth Paradisus hotel in the Meliá Hotels International chain in Cuba and the first in Cayo Santa María—opened its doors on 8 December.
This eco resort is set in a unique natural environment. Cayo Santa María is surrounded by the Buenavista Biosphere Reserve, which boasts the second most important coral reef on the planet. Elegant, sophisticated and modern, Paradisus Los Cayos defines the essence of an all-inclusive natural luxury experience. Overlooking a fine-sand beach stretching for nearly half a mile and bathed by turquoise waters in one of the most unspoilt spots in the key, the establishment blends harmoniously with the nature surrounding it.
Paradisus Los Cayos offers 802 Suites and Junior Suites. A large hotel where the architecture and interior design ensure guests can relax in an exclusive private setting.
One aspect that sets this eco resort apart from the rest is its 34 swimming pools. Guests can go for a refreshing dip directly from their Garden Swim-Up rooms.
The hotel provides two exclusive areas: The Reserve and Royal Service.
Designed for guests seeking personalised attention, The Reserve is suitable for lone travellers or families as it offers the Family Concierge service. The Reserve guests can also enjoy areas and amenities especially designed for the most exacting tastes.
If you prefer a luxury adult-only experience, Paradisus Los Cayos has a Royal Service area. Besides exclusive access to hotel bars, the lobby and swimming pools, other highlights include an exceptional butler service.
The variety and quality of the food is another differentiating factor. With 12 restaurants and 14 bars to choose from, guests can enjoy a huge variety of tastes and textures. They range from Mediterranean dishes to Latin fusion and include the exotic flavours of Asia, signature cuisine and traditional Cuban fare. Guests can also enjoy diverse bar locations and interiors designed to cater for all tastes. Sipping a drink on the beach or gazing at the sunset while savouring a cocktail specially prepared by Cuban cocktail experts are two of the options available for travellers staying at Paradisus Los Cayos.
The facilities for the MICE segment will turn this hotel and Cayo Santa María into a new hub for major events. The establishment provides 959 m² for meetings, with a large ballroom (910 m²) that can hold 910 people in a theatre format and 500 in banquet style. There are also alternative locations: beaches, swimming pools, gardens or terraces.
Paradisus Los Cayos is destined to become the company's flagship in Cayos del Norte de Villa Clara. The hotel's special features and surrounding natural environment make it a unique place for discovering enchanting landscapes and experiencing memorable moments in this Cuban paradise.