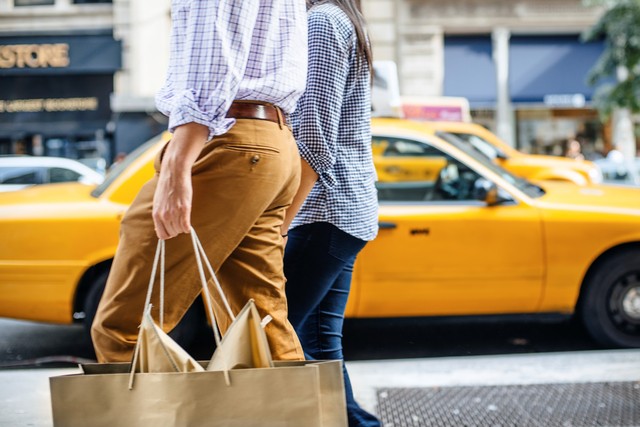 Black Friday Sale kicks off one of the biggest weekends in shopping history, already overtaking the Boxing Day spike of the highest internet searches with over £7.8 billion spent online and instore across the UK alone. Now much more than a one-day event, it's grown into a four-day retail extravaganza dubbed 'Cyber Weekend' with sales in the US, UK, France and Germany topping the global leader board.
British Airways has compiled its top tips for savvy travellers on the hunt for bargains at home and abroad.
Win one: British Airways' Black Friday sale starts at midday on Thursday November 22 with huge discounts on flights and holidays available to book on ba.com.
Map out your travel by booking for the year ahead to notch up even more savings for you and your companions. Customers can secure a holiday online from as little as £150 deposit per booking and the final balance must be paid ten weeks prior to departure. For customers booking flights only there is the option to hold a flight from £5 per person.
Win two: Fly during the Cyber weekend from London to some of the world's most desirable retail districts such as New York, Toronto and Paris – not forgetting to factor in a trip to those outlets with the deepest discounts. Amidst the retail therapy, indulge yourself with a luxury treat like concert tickets or instagramable 'live like a local' tours, to maximise your precious time away.
For customers needing more information British Airways has created a quick guide to the best shopping destinations for Cyber Weekend 2018.
1. New York is synonymous with shopping and will satisfy the hungriest bargain hunters. Even a weak pound makes it worthwhile by exploring outlets like Simon Malls. Don't forget to ask about home deliveries to free up every inch of luggage space – and potential sales tax refunds on your purchases. Return fares from London to New York start from £322 per person in November.
2. Toronto is a robust shopping destination, with friendly 'bite sized' downtown districts and covered walkways creating a warm retail experience. Desirable brands like Canada Goose and DSquared2 can be found in Yorkdale Shopping centre. Return fares from London to Toronto start from £385 per person in November.
3. Berlin is an endless stream of delights but concentrate on the shopping hub of Scheunenviertel in the west then head east for the flea markets. Peel off down the side lanes to discover the coolest concept stores for quirky gifts. Return fares from London to Berlin start from £39 per person in November.
4. Paris where sale shopping is an art form needs a clever strategy to reach all seven districts. Deals can be found in classic downtown stores like Galeries Lafayette to upscale shops in Les Halles or Marais. Return fares from London to Paris start from £38 per person in November.
5. Milan, a byword for fashion, with labels like Prada, Armani and Versace littering the 'golden quad' and countless cafes to recharge in. Save your energy for outlets like Il Salvagente or DMAG. Return fares from London to Milan start from £36 per person in November.
British Airways' Black Friday sale will run from midday on Thursday November 22 until midnight on 'Cyber Monday', November 26.