A truly global cheese event, the World Cheese Awards has been bringing together cheesemakers, retailers, buyers, consumers and food commentators worldwide for over three decades.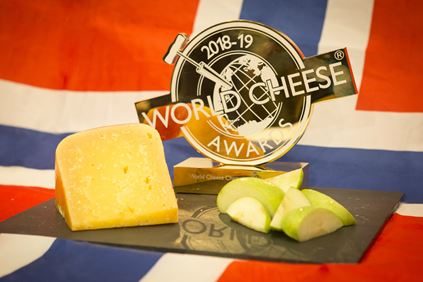 The 2018 edition of the World Cheese Awards was part of a brand new festival, Matnasjonen Norge, in partnership with HANEN, an organisation promoting the best that the Norwegian countryside has to offer.
Records were broken across the board this year, as more nations than ever before entered cheeses into the world's biggest cheese-only event. Representing 41 different countries, entries made their way by boat, truck, train and plane via 12 consolidation points around the world, from places including Brazil, Kenya, New Zealand, Russia, South Africa and the USA. 235 judges from 30 countries then tasted, nosed and graded cheeses from six continents, giving Bronze, Silver, Gold and Super Gold awards to worthy entries.
As 3,472 eventually became 16, the crowds then watched on as the International Super Jury debated the world's top cheese. Made up of the finest palates from the international cheese community, this year's panel featured cheese makers, cheesemongers, buyers, chefs, retailers and writers. Judges including José Pizarro, critically acclaimed Spanish chef, Cathy Strange, global executive coordinator for Whole Foods Market in the USA, Claus Meyer, co-founder of Noma in Denmark, and Carlos Yescas, author and cheesemonger from Mexico, all put forward their chosen cheeses live on World Cheese TV, before crowning this year's World Champion Cheese.
Top 10 Cheeses:
Fanaost
Agour Pur Brebis AOP Ossau Iraty
Helfeit, Brun Geitost, Tinntradisjon
Almnäs Tegel
Riserva del Fondatore
Baffalo Blu
Lihmskov
Taupinette Jousseaume
Caciocavallo
Majorero PDO