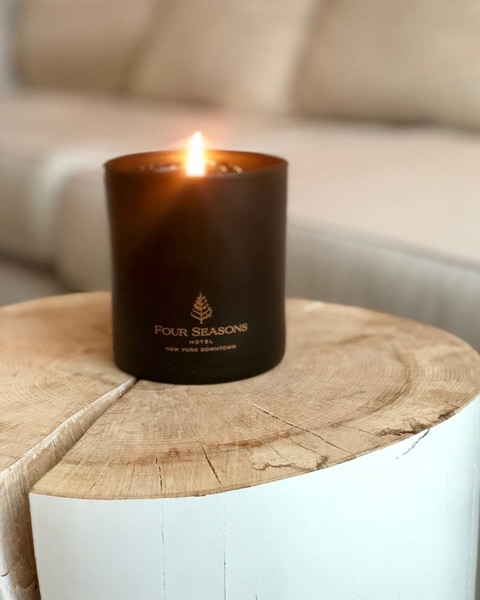 Four Seasons Hotel New York Downtown is launching a new retail Signature Candle Collection featuring five distinctive scents – one for each season and the ever-green spa scent. Available for purchase at The Spa at Four Seasons Hotel New York Downtown, these branded candles allow guests to take home a piece of their New York experience and reminisce over the memories of their stay, long after their trip has ended and they have returned home.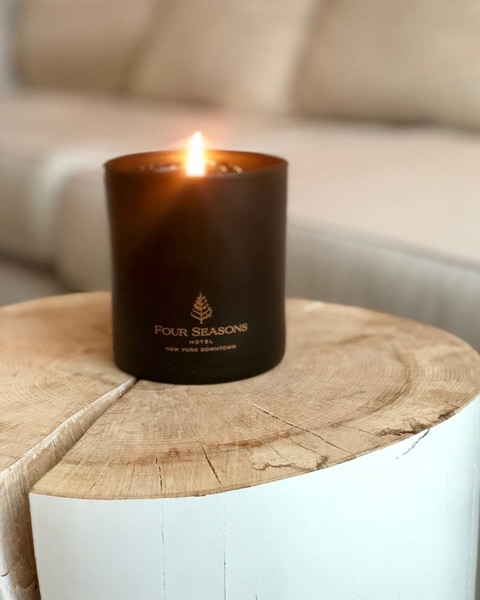 Inspired by the four distinct seasons of New York, plus a fifth spa scent available year-round, the Signature Candle Collection is a direct reaction to so many guests asking about the lobby scent throughout their stay. Hotel Manager Thomas Carreras, a veteran hospitality professional with more than 19 years of tenure with Four Seasons Hotels and Resorts, is the creator and mastermind of the scent program in the lobby of the Hotel, which has featured four distinct scents year-round since the Hotel opened in September 2016. Carreras personally designed each scent and worked closely with a specialty scent partner to match each of the notes for the seasonal scents to ensure they are on-brand and reflect the character of the Hotel throughout the seasons. Each of the scents are specific to Four Seasons Hotel New York Downtown and created with the unique New York City environment in mind.
"I wanted our arrival experience to appeal to all of our senses and create long lasting memories closely connected to our emotions. New York City transforms by season, as does Four Seasons Hotel New York Downtown. There is a wonderful quote by the author Patrick Suskind – 'He who ruled scent ruled the heart of men.' I was inspired by this and have tried to bring it to life in our Hotel," says Carreras.
The Signature Candle Collection features the following five scents:
TriBeCa Tranquility (Spa Scent): Relaxing and luxurious, this fragrance combines juicy black currant with the softness of rose petals. A hint of wood from cedar and white sandalwood blends with ambergris in this intoxicating scent. A calming aroma. Notes: black current, roses, ambergris, white sandalwood, cedar.
Spring in New York: Andy Warhol once said, "My favourite smell is the first of spring in New York." This beautiful fragrance captures that essence. Beautifully crisp notes of eucalyptus, citrus and lush orange flower blend with fresh verbena and blonde woods in this cheerful aroma. Notes: light citrus, orange flower, verbena, eucalyptus, blonde woods.
Summer in the City: Summer in the city. Lush greenery and fresh mint combine in this cool, refreshing fragrance. Rich notes of tea and woody vetiver provide a grounding aroma, while crumpled mint and eucalyptus provide a breath of fresh air as a reprieve from the summer heat. Notes: tea, vetiver, crumpled mint leaves, eucalyptus.
Fall in Love: A beautiful welcome. This sophisticated fragrance blends chic and modern ingredients to create a sophisticated and luxurious scent. Soft floral notes blend with spicy white pepper and tobacco in this stylish and contemporary fragrance. This bespoke aroma provides an alluring atmosphere wherever it is used. Notes: citrus, cypress, white pepper, benzoin, night-blooming jasmine, cedarwood, sandalwood, tobacco leaves, oilbanum.
Winter Wonderland: Warm and welcoming, a sophisticated aroma to comfort and relax guests. Soft, welcoming notes of wood and exotic oud combine with warm suede and saffron to create this luxurious and inspiring fragrance. A beautiful and elegant winter aroma. Notes: oud, saffron, cedarwood, oilbanum, suede.
The Signature Candle Collection is available for purchase in The Spa at Four Seasons Hotel New York Downtown. Each scent retails at USD 75 per candle plus tax.