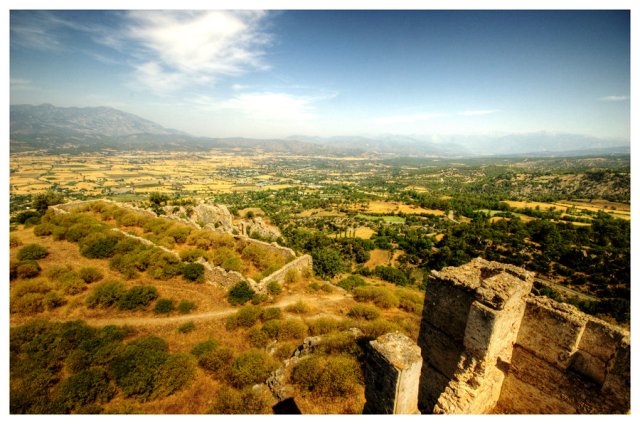 Southwest Turkey is often referred to as The Turquoise Coast, with beautiful beaches and a backdrop of rugged hills and snowcapped peaks, the region was once home to Lycian civilisations and Ancient Greeks. Today it is one of Turkey's top holiday destinations.
Fethiye
Not just a busy port town, Fethiye Turkey is a fantastic launching pad for extreme sports, literally as the nearby Baba Mountain if a renowned paragliding spot, voted one of the best locations in the world for the daring sport and a 40-minute drive will take you to Saklikent Canyon for rafting or tubing.
Just a short walk from the town center you can find a Roman amphitheatre, Lycian cave tombs and a Hellenistic ruined castle. The bay itself curves around in almost a full circle and with a colourful promenade and a coastal park. Glass flowers and elegant restaurants decorate the waterfront, while handsome yachts line up in the commercial harbour offering day trips to the 12 surrounding islands as well as multi-day gulet cruises along the Turquoise coast.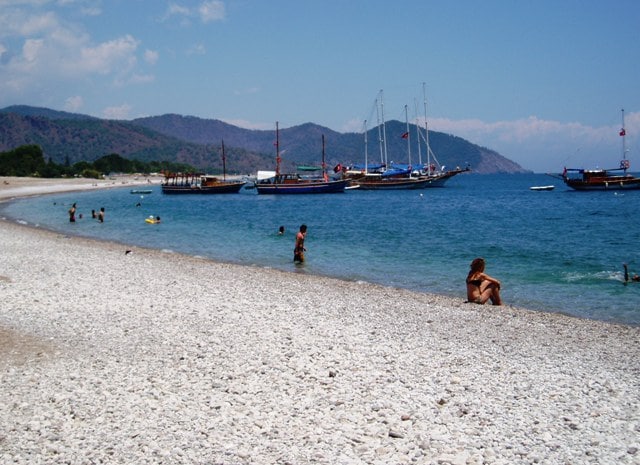 Fethiye's Old town is equally picturesque, with boutique shops nestled among traditional Turkish homes, anything from fresh spices to beachwear can be found in this quirky neighbourhood. The old town, Paspatur in Turkish, is also a great spot for lunch or dinner, popular with both tourists and locals, it's great for people watching as well as enjoying fantastic Turkish dishes.
Oludeniz
At just 14 Kilometers from Fethiye, the Blue Lagoon at Oludeniz can be easily reached by local bus although you may choose to stay a night or two in this laid-back resort town. Oludeniz earns it's name from the incredible blue hue of the water, shades of turquoise, azure and ultramarine blue combine in this circular bay. Belcegiz if local beach where you can rent sunbeds and umbrellas or bring a towel and stretch out on the sandy beach to watch paragliders sail by overhead. If you're looking to enjoy the nightlife Hisaronu, an upscale resort village, is just 5 minutes for Oludeniz, with many modern bars and clubs and a lively crowd.
Butterfly Valley
Kelebekler Vadisi (Butterfly Valley) is a grade 1 protected area with just a few make-shift buildings and a wooden shack selling food and refreshments by the beach, said to be the home of the unique Jersey Tiger Butterfly. Here you can swim in calm waters or hike into the valley to a charming waterfall. The best part of a visit to Butterfly Valley is that it will be relatively free from crowds, even in the height of summer, due to its impressive location. The Butterfly Valley is surrounded by a steep cliff face that juts out into the sea making it impossible to reach by road. Instead, visitors can either take a small boat from Oludeniz beach or hike down the steep trail from Faralya village using safety ropes which are securely fixed to the cliff.
Patara
Patara is a 12 kilometer stretch of sandy beach along the Mediterranean sea, at its west side is the ancient Lycian military base, Pydnai, the abandoned fortress has fallen into ruin and is now heavily overgrown, a short hike from the beach will take you to the entrance, where you can climb through the stone wall and take a look inside. At the opposite end of Patara Beach, where the Xanthos river meets the sea you can find a protected turtle nesting area and another Lycian site. The once prosperous naval city of Patara is in much better condition, originally a major trading port, the central amphitheatre has been well restored the site can be easily explored on foot, further inland on the Xanthos river are the ruins of Letoon and Xanthos.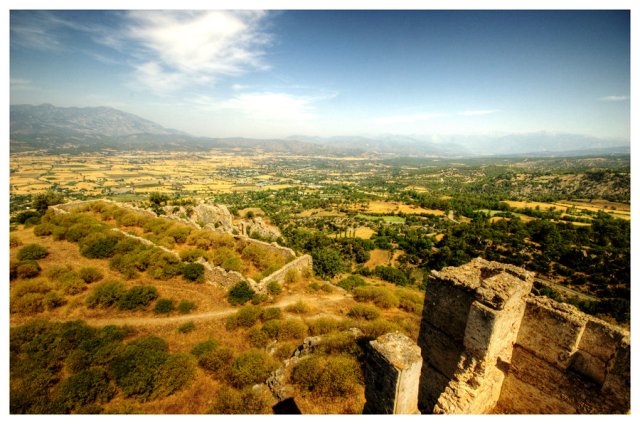 The surrounding area behind Patara beach is mostly wetland, bird watching is good here and other outdoor activities include canoeing on the Xanthos river, sea kayaking and horse riding on the beach.
Kas
A quiet fishing town along the Turquoise coast, many gulet cruises dock here for a few hours of shopping and sightseeing. The town centre is just inland of a fetching harbour with local restaurants and pensions. Within the town, you can visit the Greek amphitheater or if you're feeling energetic you could follow a good trail up to the top of the cliff for a wonderful view overlooking Kas and across the sea to Meis, a small Greek Island, this is a wonderful sunset spot. From Kas you could make a day trip to some of the surrounding Lycian ruins, the rock-cut tombs at Limoni Agazi are accessible by a 2-hour hike or a bus or day cruise could take you to the sunken city of Kekova and Simena Castle.
Olympos and Cirali
Olympos deservedly makes it into the top 10, the ruined Lycian city situated on the river bank close to the sea with sarcophagi scattered throughout the valley forest. Olympos is linked to the seaside village of Cirali by a 4 kilometer wide beach with the steep forest dividing the two towns. Both Olympos and Cirali offer a variety of bars, restaurants and gift shops and are popular weekend getaway destinations. At the far end of Cirali are the Yanartas, forever burning natural flames which spring from the ground they are a geologically interesting feature and a major attraction, it's not unusual to see families roasting marshmallows over the small fires. From either end of the beach are marked hiking trails connecting Olympos/Cirali to Beycik, a quiet mountain village, Tekirova, a busy resort town and Andrasan with a wide sandy beach and pleasant riverside restaurants.
Geyikbayiri
Geyikbayiri is a small mountain village 20 kilometers west of Antalya, less visited than its neighbour Olympos, most accommodation is in luxury campsites 3 kilometers downhill next to the river. Set in a tranquil spot surrounded by bare cliff face, Geyikbayiri is popular with climbers with climbing from grade 4 upwards. This is also the finishing point for the Lycian Way and the ruins of Trebenna are a just a short hike from the campsites.
The Lycian Way
Turkey's first long distance hiking trail runs for 500 kilometers between Fethiye and Antalya over dry land, rural villages, high mountains, beaches, and forests, passing through many of the sites mentioned above. While the entire trail should take between 28 and 33 days it is also possible to hike shorter sections as many of the villages are connected by bus to Fethiye or Antalya. A multi-day route from Cirali to Goynuk via Tahtali Mountain and Goynuk Canyon is particularly stunning and a day hike from Ovacik to Faralya(and Butterfly Valley) is also highly recommended.
Alanya
Also referred to as the Turkish Riviera, Alanya is a popular resort town with attractive Ottoman villas and traditional red tile roofs. Many luxury hotels and pensions line the pristine beaches, the most famous is Cleopatra's beach, where the queen routinely came to swim. For those interested in history, Alanya also offers visitors the opportunity to explore the Seljuk castle and unique open-air museum along the seaside.
Antalya
A large and modern city, Antalya offers an alternative to the quaint towns and villages along the Turquoise coast. It's a paradise for shoppers who can choose from the large Mall, Marca Antalya, in the city centre or the individual artisan shops and stalls that fill the cobbled stone streets around the harbour. The old town offers lively nightlife, sophisticated restaurants, and sea view accommodation. Also worth a visit are Duden falls, the upper falls are located inside a family friendly park north of the city centre, while the lower falls cascade directly into the sea.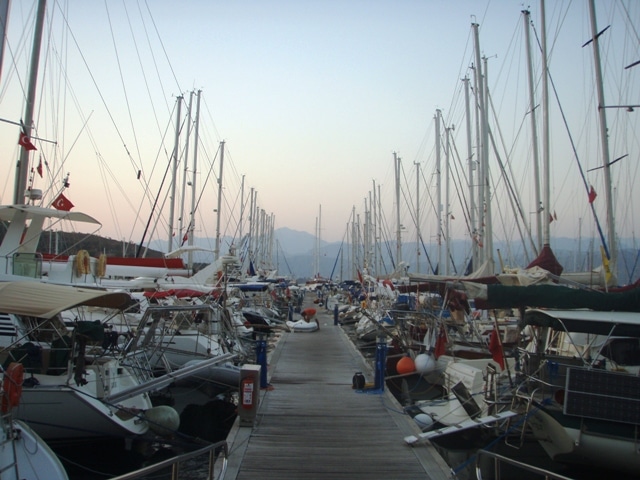 The coastal park is pleasant for picnics and people watching and from Antalya bus station there are excellent public transport links to nearby beaches, is a good place to organise your onward travel along the Mediterranean or Aegean Coast. Comfortable buses leave daily for Istanbul and Cappadocia and there are regular services between Antalya and Fethiye to Pamukkale and Ephesus.