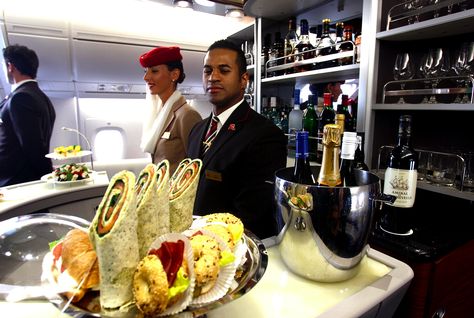 These airlines have called upon master chefs for in-flight cuisine that's a cut above the rest.
The UAE airline took home the honors for "Best First Class Meals" in the 2013 Skytrax World Airline Awards. Over the past two years, Etihad has recruited chefs from the world's top restaurants. On board for select international flights, master chefs offer gourmet fare rivaling that of fine dining restaurants. Fresh and organic ingredients take center stage. The eggs and honey used in the kitchen, for example, come straight from an organic farm in Abu Dhabi.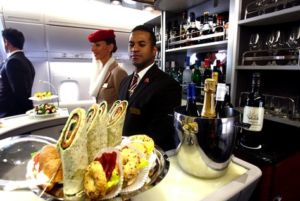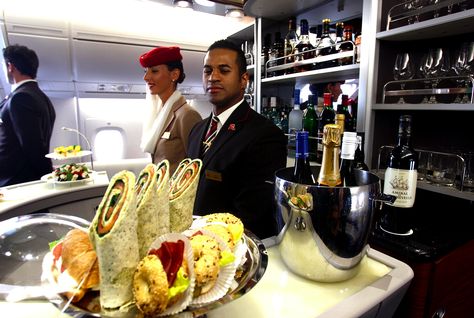 Air France
For its business class, Air France calls upon a new master chef every eight months to create gourmet fare for its long-haul flights from Paris. Through October 2013, travelers can enjoy the cuisine of Michel Roth, chef at "L'Espadon," the restaurant of the Ritz in Paris. In first class, the menus are created by Michelin-starred chefs including Joël Robuchon and Guy Martin.
Qatar Airways
Last year, Qatar Airways recruited a gourmet all-star team to create a transnational menu. Starred chefs Nobu Matsuhisa (Japan) and Tom Aikens (United Kingdom), as well as Lebanese chef Ramzi Choueiri and  Indian chef Vineet Bathia have created dishes inspired by their home countries. The cuisine has been prepared with two particular challenges in mind: limited preparation methods available and the possibility of an altered sense of taste in high altitudes. This globe-trotting gastronomy can be found in first and business class on international flights and on the Boeing 787 Dreamliner.
Lufthansa
The German airline's first class service also includes a high-end culinary experience. On long-haul flights from German cities, master chefs take turns offering well-crafted and creative menus. This summer, Joachim Wissler, who holds three Michelin stars and was voted "Chef of Chefs" by his German colleagues, offers among other delicacies a green pea mousse with mozzarella and tomato basil sauce. Flights to Germany also feature the cuisine of gourmet chefs, chosen from the best restaurants in the countries of departure. Next October and November, for example, passengers will savor the creations of French chef Marc Haeberlin of L'Auberge de l'Ill in the Alsace region.
Singapore Airlines
For several years now, the Singaporean airline has relied on a panel of nine internationally renowned chefs for its in-flight meals. The dishes served in premium and business class were created by French chef George Blanc, whose restaurant in Vonnas holds three Michelin stars, Italian chef Carlo Craco (two Michelin stars) and Alfred Portale of New York.
Delta Air Lines
The US-based carrier recently announced that it was giving its in-flight menu a TV twist, by creating a competitive culinary show that will see four top US chefs — Hugh Acheson, Linton Hopkins, Kelly English, and George Mendes — go up against one another for the prize of developing the dish ideas for passengers. The series, which is a collaboration with US magazine Food & Wine, will launch in October and will be shown on board.