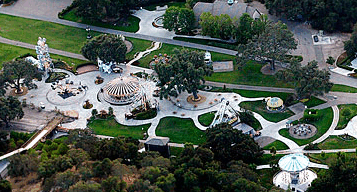 Work is expected to begin this year on a 100-acre Michael Jackson entertainment complex that would include a museum, performing arts center, hotel, golf course and theme park inspired by the pop singer's Neverland Ranch.
"Everything is in the planning stages at this point, but we're moving on a fast track and we're looking forward to actually breaking ground sometime in 2010," said Odie Anderson, president of the Jackson family project in the pop singer's hometown of Gary, Ind.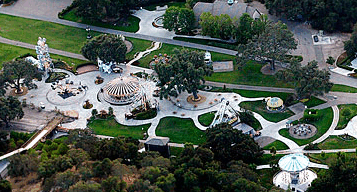 Anderson said the theme park would include rides found at Jackson's 2,700-acre Neverland Ranch near Los Olivos in Santa Barbara County.
In addition to a zoo, aviary and nature preserve, the Neverland theme park included a carousel, Ferris wheel, bumper cars, passenger train and classic carnival rides such as the Zipper, Sea Dragon and Octopus.
A roller coaster with a "Thriller" theme would be part of the planned theme park, the Daily Mirror reported.
The $1-billion project would be built over a 10-year period, starting with the museum, art center and hotel before breaking ground on the golf course and theme park.