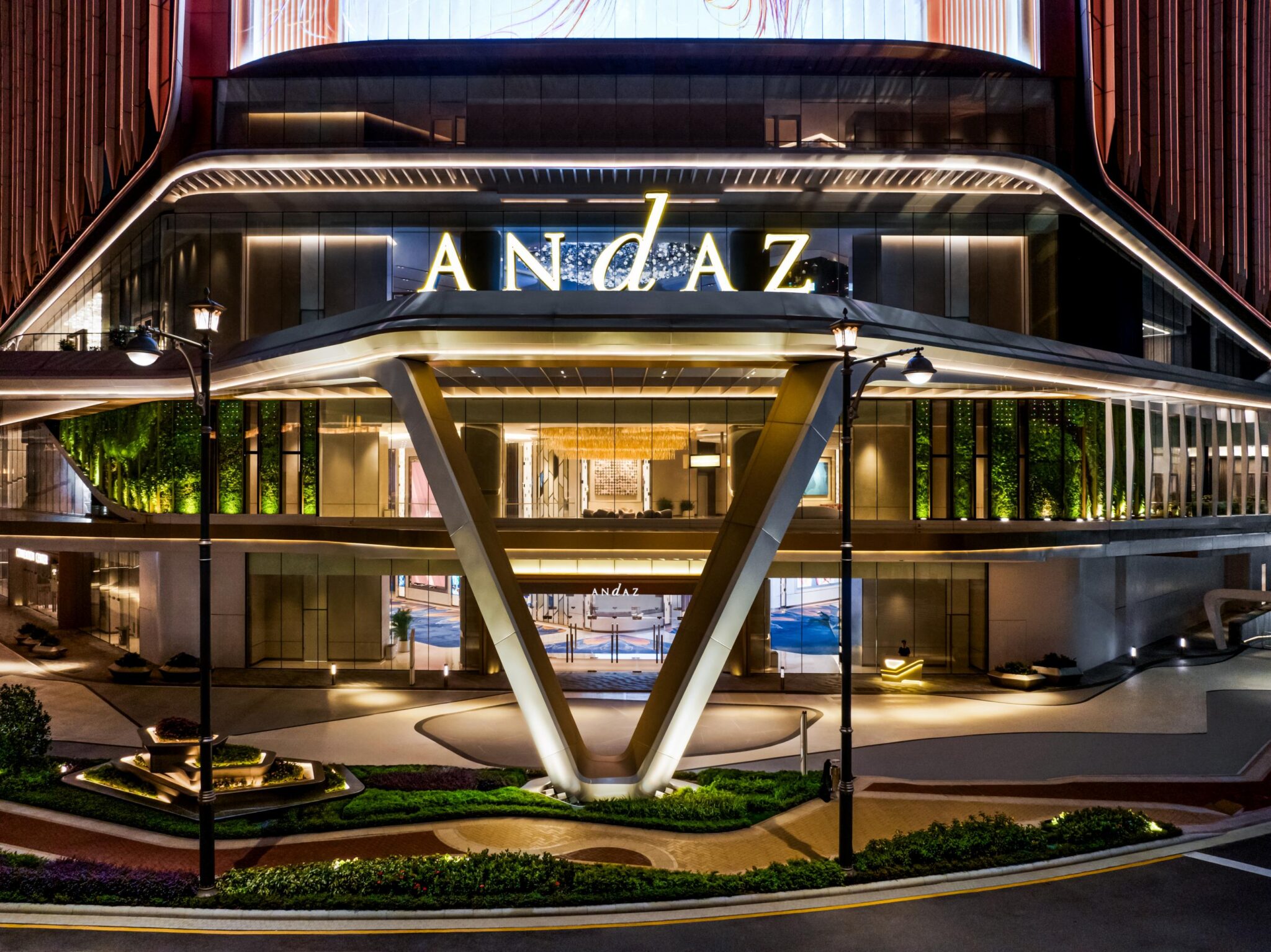 Hyatt Hotels Corporation, in collaboration with Galaxy Macau™, has unveiled its latest gem, Andaz Macau, marking the Andaz brand's debut in Macau and its largest property worldwide. Inspired by the vibrant local art, culture, and architecture, this luxurious hotel boasts over 700 uniquely designed guest rooms and suites, immersing visitors in the essence of Macau.
One of the standout features of Andaz Macau is its impressive collection of artworks and artifacts that narrate the city's story through art. These pieces celebrate Macau's rich heritage while inviting guests to express themselves through art.
Nestled between the charming neighborhoods of Old Taipa and Coloane, Andaz Macau's two hotel towers provide easy access to both the city's traditional attractions and the world-class facilities of Galaxy Macau.
The hotel is also conveniently connected to the Galaxy International Convention Center (GICC) and the 16,000-seat Galaxy Arena. Additionally, it offers a dedicated check-in lounge designed to ensure a seamless arrival experience for large groups, catering to both convention center and leisure guests.
Andaz Macau's design pays homage to the city's heritage and culture, drawing inspiration from Macau's traditional architecture and rich history. Guests will discover a stunning array of art and antiques that reflect the city's diverse cultural layers.
Upon entering the hotel, visitors are greeted by captivating art installations that showcase the unique blend of East-West cultures for which Macau is renowned. Notable among these installations is the "Macau Steps," a multi-sensory staircase that tells the city's history through over 100 videos, creating a captivating journey from bustling streets to serene natural landscapes.
The hotel's guestrooms and suites are thoughtfully designed, with colors and elements reflecting the lush surroundings of Macau. From spacious guestrooms to expansive suites, each space is complemented by locally sourced amenities and a minibar stocked with Macanese delights.
Andaz Macau also caters to gastronomes with three exceptional dining venues. Andaz Kitchen offers a diverse array of Chinese, Portuguese, and Western dishes, all served with live-action cooking. The design of Andaz Kitchen draws inspiration from old Macau shophouses and features a curated collection of blue-and-white ceramic plates.
Adjacent to Andaz Kitchen is Andaz Studio, a versatile space that can host events, cocktail receptions, and interactive experiences. The intimate Andaz Bar is the perfect spot to unwind with creative cocktails and craft beers.
Guests at Andaz Macau can also enjoy a 62-foot swimming pool, a 24-hour fitness center, and complimentary access to the Grand Resort Deck at Galaxy Macau, known as the world's leading Skytop oasis.
For meetings and events, Andaz Macau offers versatile meeting rooms and event spaces in the adjacent Galaxy International Convention Centre, with a dedicated check-in lounge to ensure a smooth arrival for attendees.
Hyatt's Global Care & Cleanliness Commitment further enhances guest safety and peace of mind during their stay. Andaz Macau represents a celebration of Macau's culture, design, and culinary excellence, inviting guests to explore and experience the city's vibrant heritage.