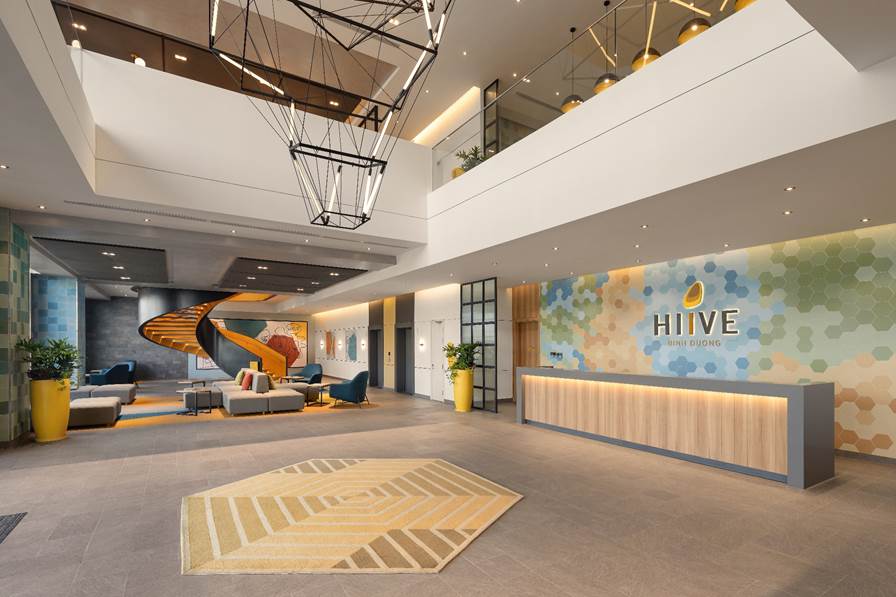 Fusion Hotel Group, a comprehensive hospitality and management company based in Vietnam, has introduced HIIVE Hotels, targeting business travelers in industrial and logistic hubs. The brand's first venture in Southeast Asia will commence with the opening of HIIVE Binh Duong in August.
Located in Thuan An, Binh Duong, HIIVE Binh Duong is a 172-room hotel strategically situated within Vietnam Singapore Industrial Park 1 (VSIP 1). It enjoys proximity to Aeon Mall, Song Be Golf Resort, and is just an hour away from Ho Chi Minh City's international airport.
Designed to cater to both work and leisure travelers, HIIVE hotel boasts spacious rooms ideal for longer stays, versatile meeting rooms, co-working spaces, an all-day dining restaurant, a sports bar, a golf simulator, a 24-hour fitness center, and guest laundry facilities on every floor.
Christopher Hur, President of Lodgis Hospitality Holdings Pte. Ltd., the parent company of Fusion, emphasized the growing influx of foreign investment and business travel in Vietnam, with Binh Duong emerging as a significant manufacturing hub near Ho Chi Minh City. In response to the rising demand for international service and accommodation standards, HIIVE aims to establish itself as the preferred choice for regional business travelers.
The 11-floor property features contemporary interiors with an industrial-inspired aesthetic in its common areas, while the rooms adopt softer, neutral tones. Natural light fills the space, enhancing its ambiance.
Peter Meyer, CEO of Lodgis and Fusion Hotel Group, highlighted the need to create spaces that cater to both work and play in today's interconnected world. The three meeting rooms offer flexible layouts, whiteboard walls, and modern audio-visual technology, accommodating small groups and events of up to 100 attendees. The co-working spaces range from private areas for focused work to communal spaces that encourage interaction among guests.
Guests can indulge in regional Vietnamese cuisine at Zest Restaurant or enjoy the lively atmosphere of Dzo Dzo Sports Bar, equipped with large flat-screen TVs, a billiards table, a dart board, and a variety of craft beers, cocktails, and bar snacks.
The hotel also features a cutting-edge golf simulator that provides access to 72 renowned golf courses. Additionally, there is a modern 24-hour gym equipped with cardio machines, weights, and yoga facilities.
HIIVE Binh Duong offers five room categories to choose from. The Superior rooms, with an area of 26m², include a comfortable king-size bed, an en-suite bathroom, and a dedicated workspace. The majority of the rooms fall under the Deluxe category, offering 38m² of space, including a separate living area. The Premium Deluxe rooms provide the added luxury of a bathtub and a private balcony. For long-stay guests, the Suites, spanning 50m², come equipped with a fully equipped kitchenette and a living room area.
To prioritize sustainability, the rooms incorporate energy management solutions for monitoring and automating the room environment. Reflective window coverings and heat-proofing maintain consistent internal temperatures. The hotel adheres to standard HIIVE practices such as LED lighting, water-efficient sanitary ware, and the use of renewable materials for interior finishes.
Peter Meyer emphasized Fusion's commitment to sustainability in all their new properties and the implementation of standardized practices across all HIIVE hotels. The installation of a centralized water filtration system with refill stations aims to reduce plastic bottle waste, lower operational costs, and enhance the well-being of employees and guests.
The second HIIVE hotel, HIIVE Binh Duong New City (VSIP 2), is scheduled to open in the first quarter of 2024.