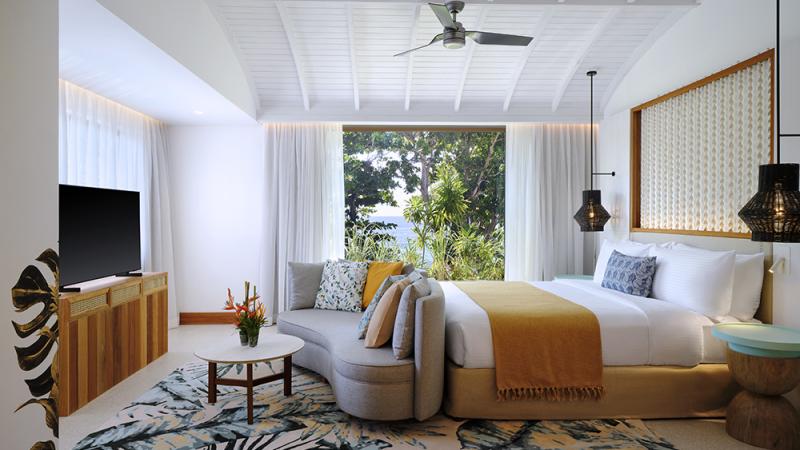 Tribute Portfolio made its first appearance in the Seychelles with the grand opening of laïla, Seychelles, a Tribute Portfolio Resort. The resort is conveniently situated near Anse Royal, a picturesque sandy beach located on the southeastern coast of Mahé, the largest island in the Seychelles.
Each of the 76 guestrooms in the resort exudes a nature-inspired aesthetic, featuring elements such as a mural showcasing the silhouette of Seychelles' plants, a hand-woven macramé bed board, and a room separator crafted from wood and rattan, materials commonly used in the island's traditional architecture. Families and groups of friends can also choose from eight boutique suites, including the Senior Suite, which boasts a private plunge pool and terrace offering breathtaking views of the Indian Ocean and surrounding mountains.
The resort offers an array of amenities for guests to enjoy, including a water sports center, outdoor swimming pool, 24/7 gym, spa, barbershop, and a kids' recreation area. Guests can partake in curated village experiences, such as Creole cooking classes, traditional weaving demonstrations, and evenings filled with dancing to the rhythmic Moutya music around a bonfire. For those seeking an authentic local experience, the resort provides opportunities to join insiders on day trips to explore the village market, embark on fishing trips, hike through the jungle, or take expeditions to neighboring islands organized by knowledgeable native experts. Other available experiences range from sunrise yoga, jogging along tropical trails within the resort, and crafting jewelry using foraged shells, to engaging in water sports like paddleboarding, kayaking, and snorkeling at the renowned uninhabited coral island of "Ile Souris," frequented by a variety of coral fish and sea turtles.
Within the resort, guests will find a selection of five enticing restaurants and bars, catering to both visitors and locals. Laroul, the main dining venue, offers a captivating fusion of international cuisines and cultures, infused with the unique flavors of Seychelles. The breakfast and dinner services feature a delightful array of dishes, highlighting the daily catches from the nearby Indian Ocean and seasonal produce. Guests can savor delectable creations like Grilled Red Snapper and Flambé with Star Fruit.
Kafe Kreol Beachside Bar and Restaurant boasts a charming rustic concept and décor, providing an authentic dining experience with a blend of Creole and Italian cuisine. Here, guests can indulge in a variety of dishes complemented by classic and locally-inspired cocktails crafted using Takamaka Bay rum and fresh local ingredients like coconuts and tamarind.
For those seeking a refreshing sip and swim experience, the poolside Laroul Bar is the perfect spot. Expertly prepared drinks and delectable snacks await guests as they unwind by the pool, immersing themselves in the relaxed atmosphere of the resort.