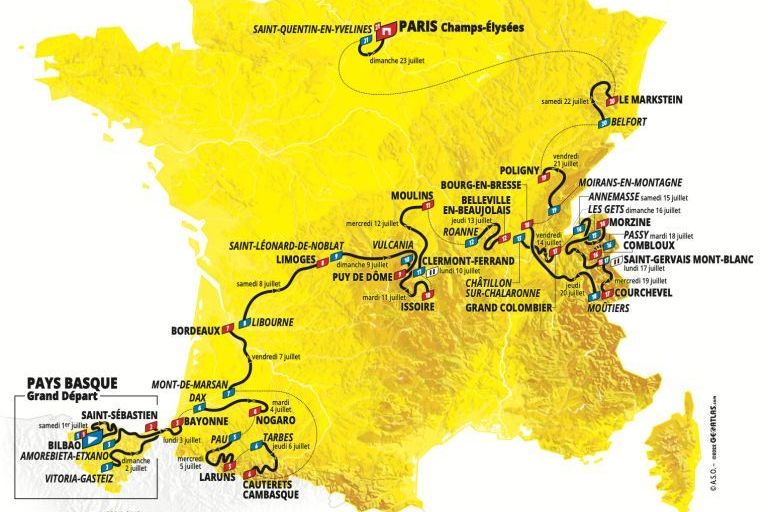 The 109th edition of the Tour de France 2023 will kick off with its Grand Départ in the picturesque Basque Country, commencing with a thrilling stage in Bilbao on July 1st. The race will conclude in Paris on July 23rd, after a grueling 3,404-km route that traverses the demanding slopes of five mountain ranges in the country. Bilbao, chosen for the Grand Départ, is where the Tour de France will celebrate its 120th anniversary, offering a scenic and challenging landscape that pays homage to the race's pioneers from 1903.
The race will immediately immerse riders in a Pyrenean sequence of stages, featuring numerous twists and turns along the Spanish-French border. The punchers will showcase their skills on the roads of the Clasica San Sebastian during stage 2, while the sprinters will have their chance to shine in Bayonne (stage 3), Nogaro circuit (stage 4), and the climbers will face challenging slopes in Laruns (stage 5) and the Cambasque plateau near Cauterets (stage 6).
This edition of the Tour de France will feature a total of 30 climbs categorized as 2 and above, with a significant focus on the mountainous grand slam. The race will visit each of France's five mountain ranges, with special attention given to the ascent of Puy de Dôme (stage 9). This climb, reopening to riders after 35 years, holds historical significance, including memories of the legendary battles between Anquetil and Poulidor in 1964 and Fausto Coppi's victory in 1952. The steep final four kilometers with a gradient of nearly 12% could prove to be the decisive point in the race.
The Tour de France will also witness intense battles on other iconic peaks. On Bastille Day, the riders will tackle the legendary Grand Colombier (stage 13) for the second time in the race's history. The Col de la Loze and the high-altitude airstrip in Courchevel will feature in the Alps (stage 17), where the strongest riders are expected to establish their dominance. The Col de Joux Plane pass and the climb to Le Bettex (stage 14 and 15) will play a crucial role in shaping the hierarchy among the contenders for the Yellow Jersey. The Côte de Domancy slope will test the riders in the sole time-trial of this edition (stage 16).
The thrilling battles are set to continue on the penultimate day with a challenging stage through the Vosges Mountains to Le Markstein. Covering a distance of only 133 km, the stage will include 3,500 meters of climbing, featuring the Col de la Grosse Pierre, Petit Ballon, and Platzerwasel (stage 20). The leader designated in Alsace will be celebrated the next day on the iconic Champs-Elysées in Paris, where the race will culminate in a sprint festival after also visiting Bordeaux, Limoges, Moulins, and Poligny, showcasing victories across all classifications.