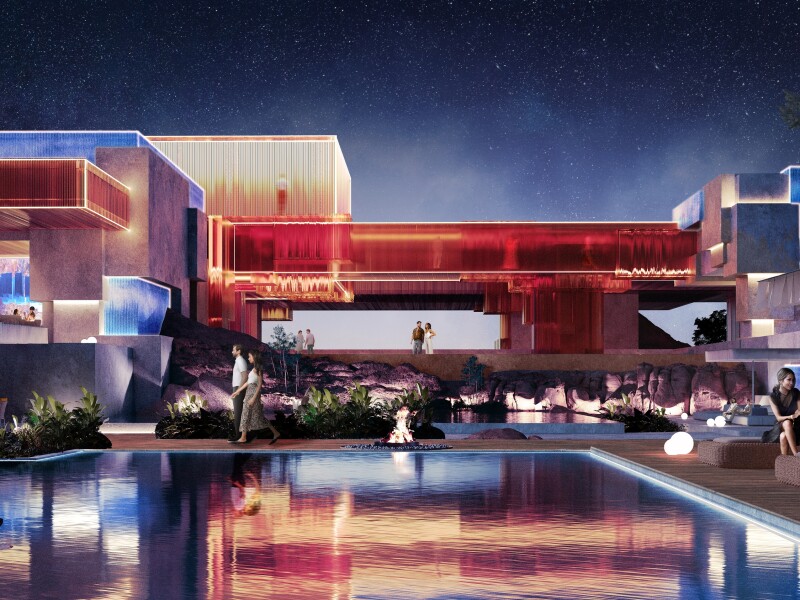 Expected to open in 2024, the Autograph Collection property in Sindalah is anticipated to offer rich immersive moments that will leave a lasting imprint for guests. Plans for the resort include 66 rooms and suites, including one- and two-bedroom villas, multiple dining options, a kids club, and a spa.
Sindalah is the first of a group of islands that will be developed in NEOM and is set to be among the most alluring destinations in the Red Sea. The island will feature exquisite facilities and exclusive offerings surrounded by a stunning and diverse ocean environment home to over 2,000 marine species, 600 of which are endemic to the Red Sea.
Extending over an area of approximately 840,000 square meters, Sindalah will be a new destination for one-of-a-kind nautical and yachting experiences, located just 17 hours sail from the Mediterranean and featuring a prestigious 86-berth marina for yachts up to 75 meters and serviced offshore buoys for superyachts up to 180m. Additionally, the island will include over 400 ultra-premium hotel rooms and 300 top-end suites, a beach club, a glamorous yacht club, and 38 unique culinary offerings.
"Marriott International offers one of the most compelling portfolios in the entire industry and enjoys a stellar reputation in the region. We are thrilled by the prospect of working together and look forward to building a hospitality experience that captures the spirit of Sindalah's year-long appeal, while creating unforgettable memories for our guests," added Chris Newman, Executive Director, Hotel Development at NEOM, the division responsible for building a future-centric hospitality ecosystem in the region.
The first destination in NEOM to start welcoming guests, Sindalah is expected to welcome guests from early 2024. The three projects are expected to the first hotels to open on the island.