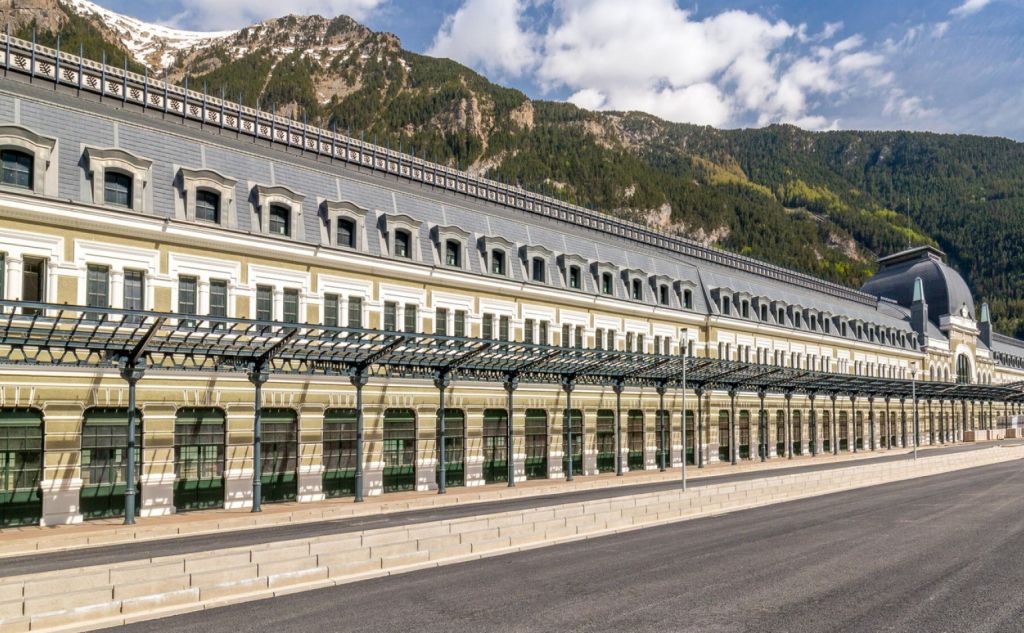 Last Tuesday, January 24, Canfranc Estación, a Royal Hideaway Hotel was reopened in reference to the inauguration of the station by King Alfonso XIII of Spain and French President Gaston Doumergue. The reception is in the old lobby and the restaurant is in two historic carriages. Canfranc Estación, a Royal Hideaway Hotel has 104 rooms designed with warm and elegant spaces that merge with subtle art deco elements to create contemporary and nostalgic environments , where noble materials such as wood and brass stand out, rich fabrics such as velvet and a Color range inspired by the 1920s.
The Canfranc International station was inaugurated in 1928 on the Franco-Spanish border and, more precisely, in the Pyrenees, a thousand meters above sea level.
The Canfranc International Station is one of the most important railway complexes built in Europe in the first third of the 20th century. With its 241-meter-long facade and 365 windows, it was one of the most beautiful stations in Europe. It was closed in 1970 and, although it became a famous place of pilgrimage for railway enthusiasts, it fell into disrepair before being reborn.
One of the characteristics of this charming hotel is its excellent gastronomy, a project led by 2 leaders in Aragonese haute cuisine: Eduardo Salanova and Ana Acín. Canfranc Estación, a Royal Hideaway Hotel has a restaurant where you can enjoy the Royal Breakfast concept and 2 restaurants, gastronomic and à la carte, for which 2 carriages have been rehabilitated following the classic style of the 20th century.
On the ground floor of the hotel are the Wellness Spa with a heated pool and fitness area, as well as the library where you can enjoy a unique cocktail in the area. The historic station concourse houses the reception.
The Pyrenees is a beautiful and popular vacation destination, offering a range of activities and attractions for travelers. If you are planning a vacation in the Pyrenees, there are many different types of accommodation available, including hotels, guesthouses, and self-catering apartments. There are options to suit a range of budgets and preferences, so you can find the perfect place to stay.