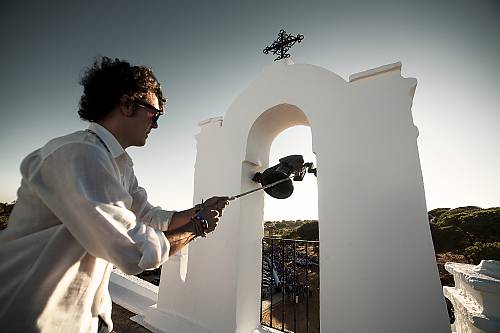 © Bell ringer from Villablanca/José Reyes Belzunce, 2016
During this year's session in Rabat, Kingdom of Morocco, the Intergovernmental Committee for the Safeguarding of the Intangible Cultural Heritage inscribed 4 elements on the List of Intangible Cultural Heritage in Need of Urgent Safeguarding, and 39 elements on the Representative List of the Intangible Cultural Heritage of Humanity.
The list of intangible cultural heritage of UNESCO has been replenished with 11 traditions from the EU countries.
France is represented by a traditional bread loaf – a baguette. Unlike other types of bread, a baguette has only four ingredients (flour, water, salt and sourdough and/or yeast). Baking baguettes requires specific knowledge and methods: they are baked throughout the day in small batches, and the result depends on temperature and humidity. They are also associated with a specific consumption pattern and social practices that distinguish the baguette from other types of bread.
Greece gave the world village holidays in Sirraco and Vlasti. They include two colorful musical and folk dance programs and take place on August 15 at the Assumption of the Blessed Virgin Mary. In Vlasti, dancers of all ages form a large open circle, holding hands and dancing at a slow pace, accompanying the dance with a cappella singing. At the Sirraco festival, the dance is accompanied by an orchestra and singers.
The Bear festivities take place every winter in five villages in the Pyrenees mountain range located in Andorra and France. During the event, young men dress up as bears and run through the streets trying to catch participants. The festivities are punctuated by dances, speeches in Catalan and music. The entire local population takes part, hunting the bears and welcoming the spectators.
In Slovenia, beekeeping is a way of life for many individuals, families and communities, who obtain bee products for food and traditional medicine and use their knowledge and skills to care for the honeybees and the environment. The only subspecies kept in Slovenia is the Carniolan bee.
The Festivity of Saint Tryphon and the Kolo (chain dance) of Saint Tryphon are centred around two main annual events: the Feast Day of St. Tryphon (3 February) and the Boka Nights. The Kolo, performed by members of the Boka Navy dressed in traditional uniform, is the most visible cultural aspect of the festivity. Bearers of this tradition meet throughout February and March in every city where the Boka Navy is situated. Known as Boka Nights, these gatherings present the cultural heritage of Boka Croats to the Croatian public.
The Hungarian string band tradition is one of the country's defining ensembles and one of the most common representatives of folk music culture. The basic fiddle-viola-bass line-up takes many forms across regions and eras and can be expanded to include additional string players or reed instruments. Up until the middle of the twentieth century, string bands provided music for village parties, family and village festivities, agricultural events and religious and public holidays. Today, they play a crucial role in stage performances, local festivities such as dances, and urban táncház ("dance-house" or folk dance parties).
Lipizzan horse breeding traditions were initially used to breed horses for the Habsburg imperial court in Vienna, but today the Lipizzan horse plays a special role in the everyday cultural and social life of communities in rural areas. They are included in events, celebrations and festivities such as horse blessings, carnival processions and parades.
Over the centuries, bell ringing has served as a means of expression and communication in Spain, fulfilling a number of social functions, from information-sharing, to coordination, protection and cohesion. The coded messages conveyed through the ringing are recognized by the various communities and help to structure local life. There is a wide variety of sounds determined by the techniques (chiming, turning or half turning) combined with the skills of bell ringers and the physical characteristics and acoustical properties of the bells, towers and belfries. These elements converge to create a deep and rich repertory in both religious and civic arenas for marking distinct moments in the day, alerting the populace to natural events, such as fires or floods, or to funeral processions, and announcing decrees and other news.
Modern Dance is a form of physical expression distinct from classical ballet. Rather than reproducing predetermined dance positions, the dancers seek a true-to-life expression that reflects emotions and life experiences. The focus lies on solo pieces as well as on co-creation in small groups, and age, social status, origin, physical condition and gender play no role. Modern Dance in Germany is practiced and taught by dancers, choreographers and dance educators of different ages and styles. It includes elementary rhythmic movement education as well as dance projects for children and young people at public schools and leisure facilities.
Timber rafting in Austria, Czechia, Germany, Latvia, Poland and Spain originated in the Middle Ages, when rafts were used to transport wood, goods and people using natural water flows. In the past, rafters traveling to remote destinations spent weeks living and working together on their raft. As a result, a community sharing the knowledge, skills, techniques and values of making and navigating timber rafts emerged. The tradition has been cultivated for generations and remains strong thanks to continuous oral communication, observation and participation, including through youth camps, local schools, festivals and workshops.
Today, 678 objects from 140 countries of the world are included in the UNESCO list of intangible cultural heritage of mankind. This year, 48 new objects from all over the world have joined this list.